What the fiscal-cliff deal says about Paul Ryan and Eric Cantor
One man wants to be president. The other craves the speaker's gavel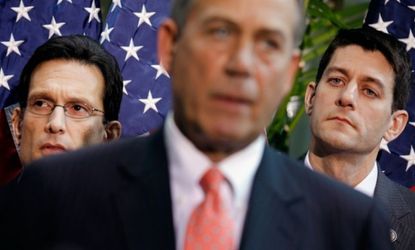 (Image credit: Chip Somodevilla/Getty Images)
Conventional wisdom is that yesterday's fiscal-cliff agreement marks a major victory for the president and congressional Democrats and is a significant blow to Republicans. Indeed, on Wednesday morning, the Drudge Report's banner headline declared, "Republican Horror New Year." Over at The Huffington Post, the headline read, "Take Your Medicine: GOP Caves, House Bill Passes..."
Here's the problem: This conventional narrative dramatically overstates the real world consequences as well as the political (fake world) fallout. Indeed, CBO anticipates the deal might actually add $4 trillion to the country's debt. So suffice it to say, we can expect many more fiscal cliffs in the not-so-distant future, dramatically lessening the sustained political consequences of this particular vote. More interesting is what we learned in the past few days about some big-shot Republicans leaders. Namely, Paul Ryan wants to be president, Eric Cantor wants to be speaker, and Mitch McConnell is the most important fellow of the bunch.
Let's start with Paul Ryan. During the presidential election, liberals gleefully teed off on the handsome, bright smiling, and exceedingly dorky congressman from Wisconsin. They derided him as an extremist. But now, it is going to be considerably more difficult for anyone on the left to make that claim. Paul Ryan not only voted yes on the fiscal-cliff deal, but he did so completely unapologetically. Leaving the floor, Ryan told reporters, "I am not afraid of anything… I think it needed to pass." His office subsequently released written remarks that removed any doubt that the congressman was speaking in the heat of the moment. "As elected officials, we have a duty to apply our principles to the realities of governing. And we must exercise prudence….Will the American people be better off if this law passes relative to the alternative? In the final analysis, the answer is undoubtedly yes. I came to Congress to make tough decisions-not to run away from them."
Subscribe to The Week
Escape your echo chamber. Get the facts behind the news, plus analysis from multiple perspectives.
SUBSCRIBE & SAVE
Sign up for The Week's Free Newsletters
From our morning news briefing to a weekly Good News Newsletter, get the best of The Week delivered directly to your inbox.
From our morning news briefing to a weekly Good News Newsletter, get the best of The Week delivered directly to your inbox.
Ryan is one of the party's hottest stars, and even the speaker would probably have understood if the congressman voted no to maintain his anti-tax purity, especially given his role as a favorite of the Tea Party. Furthermore, Ryan did not need to vote yay even if he did want the bill to pass, since the measure had plenty of votes to spare. In casting his vote, Ryan struck a consciously presidential tone AND quite brazenly distanced himself from the Tea Party. This was almost certainly by design.
Unlike another Tea Party rock star, Marco Rubio, Paul Ryan can claim serious legislative achievements and boast that he has put forth by far the most detailed plan of attack for addressing the deficit not just in the party, but in Washington. Indeed, not even the president has come even close to laying out his vision in anywhere near the detail that Ryan has. Furthermore, Ryan's plan is so conservative that most GOP leaders avoided directly endorsing it for fear that they would be attacked for being extremists of the right. Thus conservative media powerhouse Eric Erickson was very wrong when he tweeted yesterday: "Thus ends the Paul Ryan 2016 Presidential Exploratory Committee." The exact opposite is true: So begins Ryan's move toward 2016. Ryan was already a credible conservative thinker. Now he can fend off claims that he is not pragmatic. Indeed, his words Tuesday sounded positively presidential.
As for Eric Cantor: His no vote sets him up as an obvious threat to John Boehner's speakership. But those of you expecting a palace coup should not hold your breath. Boehner's next move is to use every legislative tool at his disposal to fend off gun control regulation, and given the politics of regulation, I expect he will (for better or for worse) successfully prevent anything meaningful from getting through the House. Once that is done, Cantor will have been put back in his place, and the speaker will have largely secured his position as the leader of House Republicans.
Finally, we were reminded this week why Mitch McConnell is the most powerful Republican in Washington. The great obstructionist, an image that the cagy senator from Kentucky has quite consciously cultivated in the mainstream media, is in fact the most important member of Congress, at least from President Obama's perspective. Despite opening himself up to a potential Tea Party challenge in the 2014 Kentucky Senate primary (if you did not think it possible that anyone could think Mitch McConnell was not conservative enough, you thought wrong), McConnell joined with his old Senate colleague, Vice President Biden, to make this deal happen almost by themselves. The president would do well to take note: If he can get McConnell on board, the president has a chance to accomplish a few things during his second term. Without him? Not so much.
Jeb Golinkin is a 3L at the University of Texas School of Law. From 2008 to 2011, he served as an editor and reporter for FrumForum. Follow Jeb on Twitter: @JGolinkin.

Continue reading for free
We hope you're enjoying The Week's refreshingly open-minded journalism.
Subscribed to The Week? Register your account with the same email as your subscription.