Obama's second term: The case for an Arab-Israeli peace push
U.S. presidents almost always use their second terms to try and get Israelis and Palestinians to forge a lasting peace. They haven't succeeded yet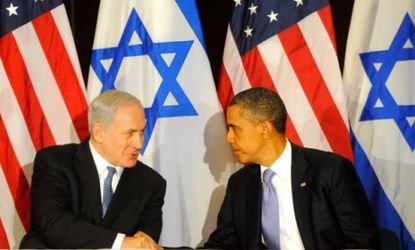 (Image credit: Aaron Showalter-Pool/Getty Images)
Tackling Mideast peace is often a second-term, legacy-oriented project for many commanders-in-chief, but President Obama jumped in on Day 1... almost. "On his second day in office in 2009," says Elise Labott at CNN, "Obama appointed former Sen. George Mitchell as an envoy to Mideast peace and pledged to work 'actively and aggressively' to secure a final peace deal between Israelis and Palestinians." Obviously, that hasn't worked out well. Thanks to a combination of factors — among them dysfunctional Palestinian leadership, a testy relationship with Israeli Prime Minister Benjamin Netanyahu, tensions over Iran's nuclear program, and rising uncertainty from the Arab Spring — "four years later, Israelis and Palestinians are father apart from a deal than at any time in the decades-long peace process."
The issue: Israeli-Palestinian peace
Israelis and the Palestinians next door in the West Bank and Gaza Strip have lived in an uncomfortable limbo since the Jewish state was created during the Truman administration. Forging a final peace agreement — where either the Israelis and Palestinians each have sovereign countries, live together in one nation, or agree to some third option — has been the hope of U.S. presidents ever since. Some, like Jimmy Carter, made progress, getting Israel and its most powerful neighbor, Egypt, to strike an enduring peace deal, and Bill Clinton came tantalizingly close to brokering a two-state deal in 2000. But Clinton wasn't able to seal a deal, and his successor, George W. Bush, didn't have any better luck when he tried in 2007.
Subscribe to The Week
Escape your echo chamber. Get the facts behind the news, plus analysis from multiple perspectives.
SUBSCRIBE & SAVE
Sign up for The Week's Free Newsletters
From our morning news briefing to a weekly Good News Newsletter, get the best of The Week delivered directly to your inbox.
From our morning news briefing to a weekly Good News Newsletter, get the best of The Week delivered directly to your inbox.
The most likely road map for peace, as far as the U.S. and Europe are concerned, has remained basically the same since at least the 1990s: Two states, roughly based on borders drawn before the Six-Day War in 1967, with swaths of land traded to accommodate Israeli settlements and security concerns, and probably a divided Jerusalem as capital of both states.
Why Obama should step up efforts to broker a deal
Like his immediate predecessors, Obama "deeply desires" the elusive key to Israeli-Palestinian peace, say the AP's Bradley Klapper and Matthew Lee. "This summer he listed the lack of progress toward peace among the biggest disappointments of his presidency so far, suggesting another U.S. attempt in the offing." Palestinians and Israelis both put much of the blame on "a lack of U.S. leadership on the issue," says CNN's Labott, so "a second term could inspire bold moves by Obama to bring the parties back to the table."
Indeed, says David Ignatius in The Washington Post, Obama should absolutely, and boldly, pull out all the stops to wheedle and coerce all sides to reach "a deal to create a Palestinian state so that Israel has secure borders and the Arab world can get on with the process of becoming modern and democratic." Will that be easy? Of course not. But as Lyndon Johnson said, if being leader of the free world isn't about fighting for big things, then "what the hell's the presidency for?" History suggests Obama will at least tilt at the windmill, says Jeremy Pressman at The Monkey Cage. "Since 1967, three U.S. presidents have served two terms and all three of them made a concerted effort in their second term to address the Arab-Israeli conflict."
Why he should leave well enough alone
The biggest reason Obama may not tackle Mideast peace in his second term, says Josh Gerstein at Politico, is that "he failed rather dramatically at it during his first." Obama just isn't "going to roll this rock up a hill 100 times if there's no receptivity among Israelis or Palestinians," says former Mideast peace negotiator Aaron David Miller.
And even if Obama was "tempted to secure a legacy as a peacemaker (remember that Nobel Prize?)," says Stephen Walt at Foreign Policy, currenct conditions simply aren't conducive to a deal. "Israel continues to drift rightward," the fractious Palestinian Authority "is less and less popular," fallout from the Arab Spring will "make everyone more cautious (and with good reason)," and Congress won't let Obama push Israel toward concessions even if he wanted to.
Well, Israel "should be so lucky that the president feels he has the time, energy, and political capital to spend wrestling with Bibi [Netanyahu] to forge a peace between Israelis and Palestinians," says Thomas Friedman in The New York Times. Obama has plenty of work to do at home, and " U.S. policy makers have learned that the Middle East only puts a smile on our faces when it starts with them: With Israelis and Arabs." So a push for peace isn't out of the question for Obama's second term, but "only a radical change by Palestinians or Israelis will get us to fully re-engage."
Read more analysis of Obama's second term:
-The case for immigration reform
-The case for intervening in Syria
-The case for new climate change laws
Sources: AP, CNN, Foreign Policy, Monkey Cage, New York Times, Politico, Washington Post

Continue reading for free
We hope you're enjoying The Week's refreshingly open-minded journalism.
Subscribed to The Week? Register your account with the same email as your subscription.