The October Surprise is here, and her name is Sandy
The presidential candidates had big plans for this week. A hurricane is raining on their parade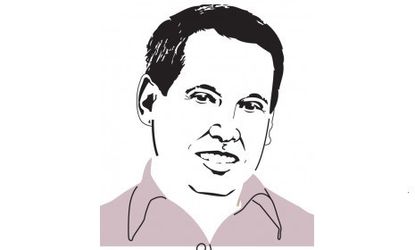 Despite our sense of self-importance, Hurricane Sandy — just like massive wildfires, record-setting droughts, devastating floods, and terrifying earthquakes — has once again shown, as Timothy Egan of The New York Times so deliciously put it several months ago, that Mother Nature makes a mockery of our vanity.
And so it is again, this time with perhaps the biggest, most ominous storm to ever descend upon the East Coast — the entire East Coast. It is a storm said to be so threatening that it has shut down our largest city and our nation's capital, and forced the most powerful man in the world, and the man who wishes to be, to humbly rearrange their schedules, with their election day showdown just eight days away.
How should Barack Obama and Mitt Romney "play" the hurricane? The best thing a president can do in a time of crisis of this magnitude is to look presidential. The "Frankenstorm" is an opportunity for Obama to do just that, and to give undecided voters one last look at his ability to manage the situation. So far he has done all the right things. After church on Sunday (St. John's Episcopal for the "Obama's a Muslim" nuts), he went to the headquarters of the Federal Emergency Management Agency (FEMA) for a briefing, and then a conference call with governors and mayors from up and down the coast.
Subscribe to The Week
Escape your echo chamber. Get the facts behind the news, plus analysis from multiple perspectives.
SUBSCRIBE & SAVE
Sign up for The Week's Free Newsletters
From our morning news briefing to a weekly Good News Newsletter, get the best of The Week delivered directly to your inbox.
From our morning news briefing to a weekly Good News Newsletter, get the best of The Week delivered directly to your inbox.
Mother Nature makes a mockery of our vanity.
Despite the importance of swing states Florida, Ohio, and Virginia to his wobbly re-election hopes, Obama has canceled campaign appearances in all of them today to focus on the storm. A president can be in Timbuktu and still be completely plugged in, but the optics of him in the Oval Office or downstairs in the Situation Room during a crisis can be dramatic and underscores the power of being an incumbent. Mitt Romney canceled his events in Virginia yesterday, and as of this writing, plans to be far from the storm zone: Ohio, Wisconsin, and Iowa today, and Ohio tomorrow. Who has the opportunity to lead and to look in command? Unfortunately for Romney, it isn't him.
From a political standpoint, Sandy is also a timely diversion for Obama, who is under fire, and rightly so, for his administration's handling of the attack on our consulate in Benghazi, Libya. He has yet to answer, with any degree of substance, questions about the death of four Americans including Ambassador Chris Stevens. Coming on the heels of his disastrous first debate with Romney, Benghazi has given his many critics fresh ammo in their campaign to oust him. For a commander-in-chief who ranks well with most voters on matters of national security and foreign policy, it is a serious chink in his already badly-dented armor; there is nothing more he would like than a new crisis to help him sweep Benghazi under the rug. Now he seems to have one.
He also has a chance to remind voters in soon-to-be damaged swing states Virginia and New Hampshire that Romney, during a Republican debate last year, called federal disaster relief "immoral," and suggested that FEMA and its responsibilities — which include not just storm recovery but responding to a crippling cyberattack — could better be handled by the states (which are also digging themselves out of fiscal holes from the Great Recession) or private sector. The federal debt is such, he said, that "We cannot afford to do those things without jeopardizing the future for our kids."
Romney's right on the larger argument, of course: We're $16 trillion in the hole. But for the purposes of winning an election, all politics, as Tip O'Neill pointed out, is local. Call me naïve, but folks in Virginia and New Hampshire who a week ago might have been railing about the deficit may be looking for help tomorrow for their storm-damaged home. Uncle Sam's largesse doesn't look so bad when the one who needs a helping hand is you.
Among the many hats presidents wear — head of party, head of the federal branch of government, commander-in-chief — they are also the "healer-in-chief." Americans expect their presidents to show up in the aftermath of tragedy, and after the storm has passed and the cleanup begins, both candidates will get in front of the cameras visiting disaster zones and comforting victims. This is a role Obama knows only too well, but Romney may have to learn. He has had trouble showing empathy to those less fortunate than him (which is just about everyone), and the "I feel your pain" common touch of a Bill Clinton or Lyndon Johnson would be good for him to learn (LBJ once flew into Louisiana 24 hours after a storm and went up and down neighborhood streets bellowing into a loudspeaker "This is your president! I'm here to help you!").
What does all this mean for the race? Turnout in the swing states will determine the winner. A summer storm knocked out power to parts of the Washington area for a week. In Virginia, where early voting is underway, an outage that long now might hamper the ability of polling stations to operate. But citizens might have trouble getting there if trees or power lines are down. The same conditions would certainly impact the other swing state in this monster storm's path, New Hampshire. Between the two of them, there are 17 electoral votes, which could make all the difference in this razor-thin race. It's ironic that climate change and rising sea levels have been completely ignored during this campaign. In the end, Mother Nature's power may determine its outcome.

Continue reading for free
We hope you're enjoying The Week's refreshingly open-minded journalism.
Subscribed to The Week? Register your account with the same email as your subscription.