6 brutal takedowns of undecided voters
The presidential race may well be decided by a small slice of people who, rather implausibly, have yet to make up their minds. Let's roast them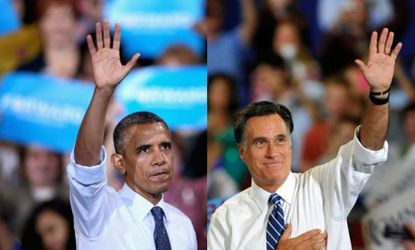 (Image credit: Chip Somodevilla, Rainier Ehrhardt/Getty Images)
They're mocked, they're loathed, and "partisans — and many political reporters — wonder just what the heck they are waiting for," says Chris Cillizza at The Washington Post. Yes, we're talking about the great American undecided voter. Depending on how you count them, these (typically) younger, ideologically moderate, low-information voters make up between 6 and 12 percent of the electorate — and they could very well decide whether President Obama or Mitt Romney wins the White House in three short weeks. On Tuesday night, the nation will celebrate these "up for grabs" voters — about 80 of them will file in to Hofstra University's Mack Sports Complex for the chance to ask Obama or Romney a question in the second presidential debate. But first, let's spend a few moments with those who conspicuously roll their eyes at this frustrating sliver of the U.S. electorate:
1. Undecided? Who are you kidding?
Let's get one thing straight: "'The undecided voter' is a chimera, a mirage, a Hollywood marriage, a coherent plotline this season on Revenge," says Matt Latimer at The Daily Beast. "Such a thing does not exist." And yet, a whole flock of these "Unicorns of Uncertainty" have earned a town-hall audience with Obama and Romney. "This quadrennial 'running of the mulls' almost makes you feel sorry for Barack Obama and Mitt Romney. Each will be forced to pretend that they'd rather do nothing else in the world other than listen to Victor Vacillation grill them about the federal deficit or Mary I-could-vote-for-anybody-at-this-point tell them about her recent visit to a pharmacist and demand a sympathetic response to the cost of the pills she needs to ease her bursitis."
Subscribe to The Week
Escape your echo chamber. Get the facts behind the news, plus analysis from multiple perspectives.
SUBSCRIBE & SAVE
Sign up for The Week's Free Newsletters
From our morning news briefing to a weekly Good News Newsletter, get the best of The Week delivered directly to your inbox.
From our morning news briefing to a weekly Good News Newsletter, get the best of The Week delivered directly to your inbox.
2. Vacillation is not a virtue
Still undecided? says Timothy Egan at The New York Times. Sorry, "your time is up. The rest of us are sick of pretending to care about you, saying nice things to you, doing your damn laundry." There is a very clear choice this election — surely you could see the difference between "Scrooge McDuck and the Kenyan Socialist" if you bothered to look. But you don't. And don't flatter yourself: "You're not Solomon, carefully weighing the choices. You're a ditherer. You probably panic at 'paper or plastic' in the supermarket, backing up the checkout line." Here's a secret, guys: "We don't like you. Not because you can't make up your mind, but because you won't."
3. Low-information voters, indeed
"Politicians are desperate for my vote," says David Rees at The New Republic, channeling a proudly undecided voter. "And believe me, I make them work for it. You see, I don't belong to a political party. I'm more complicated than that. I like to dig a little deeper than most voters, and I take my decision about who to vote for very seriously." Take the vice-presidential debate. I was glad both candidates knew about the attack on our embassy — "this is an important issue for me, as I consider myself a bit of an expert on Liberia" — and I was surprised when "Joe Biden said 47 percent of Americans are his mom and dad. Catholic families are even bigger than I thought!" But in the end, I think Ryan did better. So "I thank both campaigns for their appeals for my vote, but they can stop now: I am casting my vote for Obama/Ryan 2012."
4. You guys are faking it
Let's be honest, says Michelle Cottle at The Daily Beast: "Many of them aren't really undecided at all." Why would voters pretend they haven't made up your mind? Well, "maybe because political types blather on and on about how 'thoughtful' it makes them." The truth is, feigning wishy-washiness is a wasteful, expensive pretension for "people who don't really give a damn one way or the other. If ever there was a slice of the electorate that didn't deserve such pandering, it is these 'thoughtful' few."
5. Can't we just ignore them?
If you think you're sick of undecided voters, meet the experts: Jan van Lohuizen, a pollster for George W. Bush's 2004 campaign, says it's best to write them off. "I think they're cave dwellers who are not going to vote," he tells The Washington Post. And they shouldn't. "Often if you're really in doubt or conflicted about what to do, the best thing can be to do nothing at all." Right, "when it comes to politics, undecided voters don't know anything," Canisius College political scientist Michael Haselswerdt tells The Daily Beast's Cottle. "And they're not going to pay attention long enough to learn anything."
6. Perhaps they're just not very bright
Saturday Night Live's theory, presented without further comment:
Read more political coverage at The Week's 2012 Election Center.

Continue reading for free
We hope you're enjoying The Week's refreshingly open-minded journalism.
Subscribed to The Week? Register your account with the same email as your subscription.