Amped-up veep boosts Democrats
But independents might be frightened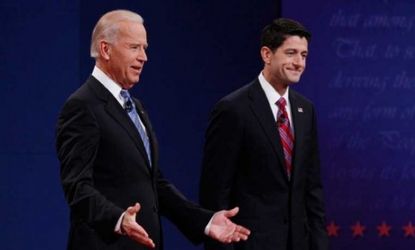 (Image credit: REUTERS/Matt Sullivan)
With brio, boisterous body language, and bravado, Vice President Joe Biden on Thursday beat away Democratic blues over Barack Obama's meek debate last week. But his command performance, which impressed the political class and exposed significant policy vulnerabilities of the Romney-Ryan ticket, may have come across as too aggressive and perhaps even erratic for voters who have yet to form an opinion about the race.
Two instant polls, not terribly scientific but influential in how they shape opinion, gave Biden 20-point margins of victory among undecided voters surveyed. CNN's more rigorous poll of registered voters — a different demographic — gave Rep. Paul Ryan the edge, 48 percent to 44 percent, within the margin of error.
Rep. Paul Ryan, who apparently did not wish to be called "Congressman," did not make any obvious gaffes and was unpretentious. Ryan spent the night close to his comfort zone, rarely deviating from his stump speech and associated talking points, and did not talk about President Obama as often as he might have liked. He seemed, at times, unsure of how to respond to Biden's zealousness, but his composure kept.
Subscribe to The Week
Escape your echo chamber. Get the facts behind the news, plus analysis from multiple perspectives.
SUBSCRIBE & SAVE
Sign up for The Week's Free Newsletters
From our morning news briefing to a weekly Good News Newsletter, get the best of The Week delivered directly to your inbox.
From our morning news briefing to a weekly Good News Newsletter, get the best of The Week delivered directly to your inbox.
Biden's defense of the administration's record was emotional and targeted directly at the middle class. "They just want an even shot," he said in closing statements. Where Obama tended to ruminate before answering questions last week, Biden's rhetorical strategy was different: He answered crisply and cleanly, and then immediately turned to the Romney-Ryan record. Will the troops be home by 2014? "Yes." Whose taxes will be raised under their budget plans? "Millionaires." His response to Martha Raddatz's first question, about the killing of U.S. Ambassador Chris Stevens and several other Americans, was an exception: Biden promised justice and vengeance and then pivoted to a critique of Romney's foreign policy.
Vice presidential debates tend to matter proximately but not ultimately; that is, they dominate a news cycle or two, which helps the winner marginally, and then recede. Undecided voters have plenty of information with which they assess the guys at the top of the ticket.
Two exceptions: One is if the vice presidential candidate fails to meet the commander-in-chief threshold. Ryan met that threshold.
Two: Opening up interesting policy veins that both candidates will struggle to contain and exploit by next Tuesday, when Obama and Romney meet in a town hall debate in New York.
On that score, Ryan said a few things that Obama's campaign is certain to take notice of.
Ryan insisted that the ticket's budget plan would not raise defense spending, which is inaccurate. He didn't have a ready answer about the math either, something that Obama tried to point out last week, only to be eclipsed by Mitt Romney's refusal to acknowledge that math was even an issue.
On his post-debate spin session with NBC News, David Axelrod, Obama's senior strategist, wondered whether Romney agreed with Ryan that U.S. troops might not return home by the end of 2014; in the debate, Ryan tried to preserve breathing space for his running mate to change course on policy, but it came off as a vacillation, as if Ryan both endorsed the timeline policy set out by Obama and yet believed it sent the wrong message to the Taliban at the same time. Biden's defense of the policy, to which he doesn't really subscribe, was forceful but rather empty: While it is technically true that for every U.S. soldier who returns home an Afghan soldier takes his or her place, both the U.S. and Afghan governments are not under the illusion that the average Afghan soldier is or will be nearly as well trained as the average U.S. soldier.
On Iran, Ryan struggled to differentiate his ticket's policy from the administration's. Biden made it clear that the U.S.'s red line was Iran's capacity to weaponize its enriched uranium, something he knew that the U.S. intelligence community has a firm opinion on: They haven't. What's significant here is that both Romney and Ryan have received classified briefings attesting to this, which may explain Ryan's caution.
Several times, Ryan got in a good line about how "Obama's foreign policy is unraveling" on television, a pointed reference to Libya and Syria and Iran, pretty much the only direct attack on Obama's commander-in-chief credentials that Americans might find credible.
Coming out of the debate, there will be several narratives. Several meta-narratives, actually, since they're all the rage. As a rule, the meta-narrative — how a candidate "came off" or "seemed" or "handled himself" dominates the post-debate discourse more thoroughly than it ever has, a function of a large political class, their Twitter accounts, Facebook feeds, and ability to mash together videos giving a self-satisfying spin to a candidate's words.
So: Either Biden was mean ("Disrespectful" is one word that Fox is using) or Biden was forceful and convincing (in MSNBC's sigh-of-relief account.). Low information voters were overwhelmed by his facial expressions, gestures, and giggles, — or Biden's clean score on points broke through.
Which of these you subscribe to probably is a matter of political preference and personal taste.
But significantly, through Biden, Democrats and the Obama campaign itself found their voice again, and found, at a late date, arguments that work, and did so in a national setting.
It may say something about Obama that he is not the best defender of his record: Bill Clinton and Joe Biden make better cases for Obama's re-election than Obama does.
The Biden-on-speed setting may turn off some voters, and Obama is not going to match his enthusiasm. But a kick in the butt is just what Democrats needed. Republicans can take comfort knowing that the fundamentals of the race, whatever they are, haven't changed.

Continue reading for free
We hope you're enjoying The Week's refreshingly open-minded journalism.
Subscribed to The Week? Register your account with the same email as your subscription.