The failed Obama thought experiment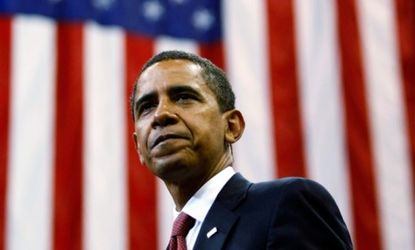 (Image credit: Joe Raedle/Getty Images)
In the 2008 presidential campaign, some of Obama's top advisers would use a thought experiment to project how important the election of someone like Obama would be for the furtherance of American interests in the world. It went something like this:
There is a youth bulge in the Middle East and North Africa. Imagine you are one of those young men, born into a lower middle class family in Egypt or Pakistan, are educated by a combination of poor state institutions and local Islamic influences. You grew up and noticed as America launched two wars against mainly Muslim countries, and if you lived in Pakistan, you may even have experienced terrorism and militancy directed against American forces but taken out on indigenous, innocent people. All you hear is that America is bad; America is evil; America is the source of tension in the world; America elected (and re-elected) George W. Bush and does not apologize even when it is in the wrong; America seeks to de-legitimize the spread of the religion of your family and culture.
Once we are in this young man's shoes, we are then instructed to imagine watching, on low-def television, the collective action of America in electing someone named Barack Hussein Obama, someone who opposed the worst of those wars, someone who clearly knew Islam better than any president before him, a man who looked like us, someone whose election represents a self-correction by the American people. As we try to imagine this young man's brain assimilate this image, we are instructed to think through the cognitive dissonance. Ideally, this young man would be much less susceptible to radicalization than men who came of age before Obama's election.
Subscribe to The Week
Escape your echo chamber. Get the facts behind the news, plus analysis from multiple perspectives.
SUBSCRIBE & SAVE
Sign up for The Week's Free Newsletters
From our morning news briefing to a weekly Good News Newsletter, get the best of The Week delivered directly to your inbox.
From our morning news briefing to a weekly Good News Newsletter, get the best of The Week delivered directly to your inbox.
Yes, Obama's advisers would say, there would be hard work, and yes, economic development in the Muslim world was as much of a precondition for global anti-radicalism as anything else, but the simple act of electing Barack Obama would go a long way. (In Cairo in 2009, the key words were a relationship between America and the Muslim world "based on mutual interest and mutual respect.")
I think Barack Obama's advisers believed in this thought experiment because it was both plausible and therapeutic. I do not think, on the eve of another election, they would agree that it turned out to be a realistic one, or one that happened to correspond to the real thoughts of young Muslim men. It is not reflected in the attitudes of Muslims in many countries toward America. It is not reflected in the actions of governments and their leaders toward America. And where Obama has done well for himself overseas, it has been (usually) because he has resorted to force, cunning, and the projection of American strength.
That said, the assumption that Obama is personally so different than American presidents elected before him remains at the center of the president's global diplomatic posture. There is an irony here — to Americans, Obama's worldliness is not a trope that his advisers are eager to talk about. But his worldliness was supposed to be a game-changer. That's why Obama's message to the Iranian people on Norwuz was supposed to be different than any equivalent message sent by anyone else associated with America. That's why the administration has been (I think) so tender and cautious about the words that Obama utters at the beginning of crises from the Green Revolution to the Arab Spring to Syria. In the long term, they believe, it still matters more that Barack Obama is the American president.

Continue reading for free
We hope you're enjoying The Week's refreshingly open-minded journalism.
Subscribed to The Week? Register your account with the same email as your subscription.