The Democratic National Convention: Winners and losers
The raucous pep rally for President Obama and his party has come to an end. Who came out on top and who sank in the Charlotte mud?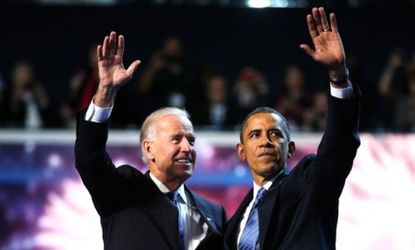 (Image credit: Tom Pennington/Getty Images)
Sign up to our 10 Things You Need to Know Today newsletter
A free daily digest of the biggest news stories of the day - and the best features from our website
Thank you for signing up to TheWeek. You will receive a verification email shortly.
There was a problem. Please refresh the page and try again.
The last gavel has been thumped at the Democratic National Convention in Charlotte, kicking off the final 60-day sprint to the election. Like the Republicans, President Obama and his party showcased a mix of tail-wagging rising stars and seasoned political veterans, some of whom shined while others flopped. Here's a look at the big winners and losers from the 2012 Democratic convention:
WINNERS
President Obama
Subscribe to The Week
Escape your echo chamber. Get the facts behind the news, plus analysis from multiple perspectives.
SUBSCRIBE & SAVE
Sign up for The Week's Free Newsletters
From our morning news briefing to a weekly Good News Newsletter, get the best of The Week delivered directly to your inbox.
From our morning news briefing to a weekly Good News Newsletter, get the best of The Week delivered directly to your inbox.
Obama had a tough sales job in Charlotte, says Noam Scheiber at The New Republic. But he rose to the occasion, with an elegant speech laying out his first-term accomplishments without bragging, needling Romney without harsh "other-guy bashing," and making a strong case that voters should let him finish the job he's started. "If Americans come to the same conclusion about his time in office, Obama will be re-elected." He got a huge assist from his party, says Josh Marshall at Talking Points Memo. "It's hard to imagine a convention better staged or messaged" than Charlotte's DNC. The speeches were on-message and effective, and the enthusiasm was palpable. "My gut tells me that the president and his party had a much, much better couple weeks" than Romney and the GOP.
Bill Clinton
"Clinton's face doesn't appear on Mount Rushmore, and he doesn't have a monument bearing his name in Washington, D.C.," says Aaron Blake at The Washington Post. But after his stemwinder — by far "the best-reviewed speech of the 2012 convention season" — people are talking about the ex-president as one of the greats. His popularity was already at a "stunning 69 percent," and it's likely to go higher now that we've been reminded of his immense rhetorical gifts. "Holy smoke," says Michael Tomasky at The Daily Beast. Clinton gave "the best political speech more or less ever." Absolutely nobody is his equal in using wonky policy details to boost an ally or eviscerate a rival.
Julian Castro
Team Obama plucked the 37-year-old mayor of San Antonio out of obscurity to give the keynote address at the convention, says Chris Cillizza at The Washington Post, and their gamble paid off. His story was "touching and heartfelt," and more importantly, his attacks on Romney and running mate Paul Ryan "were effective but not mean-spirited or overly partisan." Castro has "very clearly established himself as a national rising star." Well, he'll have to compete with his 3-year-old daughter, Carina, says the AP's Suzanne Gamboa. When the camera focused on her during the speech, Carina adorably flipped her hair, and the internet went wild. Castro points out that not every keynote speaker gets a national boost, but "then again, they didn't have a young, hair-flipping Carina helping them."
Gays and lesbians
"[This] Democratic National Convention is a watershed event for America's gay rights movement, which never before has been embraced so warmly by a major political party," says the AP's David Crary. The Democrats endorsed same-sex marriage in their platform and on stage, and a record 486 delegates, hailing from all 50 states, were gay, lesbian, bisexual or transgender — 8 percent of the total delegates. Several of them had speaking slots. "You can't swing a cat without hitting gay people in Charlotte this week," Craig McCartney, a Democratic donor from Dallas, tells The New York Times. Compared with even four years ago, "I hate to say we are more out of the closet, but we are more out of closet politically."
LOSERS
President Obama
The TV commentariat was mixed on Obama's convention speech, but the consensus seems to be that it wasn't one of his better performances. "It was basically his standard stump speech, with a small show of self-reflection" thrown in, says Maggie Haberman at Politico. It was "workmanlike, with a few good lines about the path forward, but with a fair amount missing." That's basically what Romney delivered, "with lesser oratory skills (and therefore lesser expectations)," at his convention. After Clinton's sweeping set-up, Obama bringing his B game was "a missed opportunity."
Mitt Romney
The Democrats were clearly more excited about Obama at their convention than the Republicans were about Romney, and that spells "serious trouble" for the GOP nominee, says Roger Simon at Politico. "Democratic enthusiasm — real fire-in-the-belly enthusiasm — is a killer for Romney for one big reason: There is no sizable pro-Romney movement in this country" and never has been. There's only an anti-Obama one. You don't see this in the polls now, but "it is harder to turn out a vote against someone than a vote for someone."
"God," "Jerusalem," and Bank of America Stadium
"The Democrats put on a better convention," but like the Republicans they "were not immune to their own string of self-inflicted wounds," says Politico's Haberman. First off was a messy and contentious — and "totally predictable and potentially stoppable" — floor fight over reinstating the word "God" and a reference to Jerusalem as the capital of Israel back in the party platform. They did it, but only after "a weird, triple-attempt floor vote that included boos of undetermined origin." Then there was the decision to hold Obama's big speech in the massive, unfortunately named Bank of America football stadium — and the call to move it back inside because of thunderstorm threats. That decision angered at least 40,000 people who'd been expecting to watch Obama accept the nomination.
Switzerland
Day One of the convention might as well have been dubbed "the Assault on Switzerland," says David Weigel at Slate. Speaker after speaker hammered on Romney for his Swiss bank account and Cayman Islands holdings. Despite a veneer of policy criticism about tax rates, it was mostly about tagging Romney as "a gormless, passionless, arrogant rich jerk." Yeah, "who knew Democrats hated Switzerland so much," says Peter Beinart at The Daily Beast.
Read more political coverage at The Week's 2012 Election Center.
Continue reading for free
We hope you're enjoying The Week's refreshingly open-minded journalism.
Subscribed to The Week? Register your account with the same email as your subscription.
Sign up to our 10 Things You Need to Know Today newsletter
A free daily digest of the biggest news stories of the day - and the best features from our website