2012 presidential election: 5 reasons race has become a big issue
Obama supporters charge that Romney is playing the race card with birther jokes and welfare attacks. Wasn't this election supposed to hinge on the economy?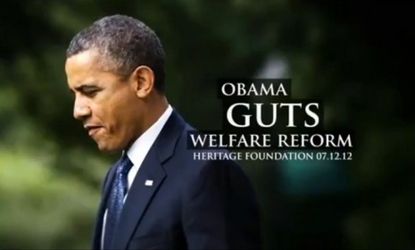 (Image credit: YouTube)
Sign up to our 10 Things You Need to Know Today newsletter
A free daily digest of the biggest news stories of the day - and the best features from our website
Thank you for signing up to TheWeek. You will receive a verification email shortly.
There was a problem. Please refresh the page and try again.
For weeks, Mitt Romney's campaign has seemed to be veering away from its focus on President Obama's handling of the economy. For example: Romney has five ads about welfare posted on his website, and just one on the economy. (Watch one of the welfare clips below.) Few pundits expected welfare to be a major issue in this campaign. Sure, Obama has given states more flexibility to design their welfare programs, but Romney's ad suggests — falsely, according to several analysts — that the change will gut welfare work requirements and result in the government sending checks to people who are just sitting around. Liberals charge that Romney is pandering to white voters who are resentful of black welfare recipients, and that his recent joke alluding to the fringe birther movement is further evidence that the GOP is trying to make the campaign about race. Nonsense, says former GOP presidential candidate Newt Gingrich. If anything, Newt says, it's Democrats who are being racist by assuming welfare ads are attacks on blacks. In an election that was supposed to be about the economy, why has the debate suddenly turned to race? Here, five possible reasons:
1. Romney's focus on the economy wasn't working
Polls are making it clear that harping on "the dismal economy won't be enough to boot President Obama from office," says Josh Marshall at Talking Points Memo, so the Romney campaign has concluded "something more is going to be necessary." And "more," in this case, is wading back into the culture war, "specifically a new campaign angled on race and President Obama as an alien presence in American life." Brace yourselves, because the sprint toward Nov. 6 is going to be a "Birtherpalooza with a hard-edged focus on race."
Subscribe to The Week
Escape your echo chamber. Get the facts behind the news, plus analysis from multiple perspectives.
SUBSCRIBE & SAVE
Sign up for The Week's Free Newsletters
From our morning news briefing to a weekly Good News Newsletter, get the best of The Week delivered directly to your inbox.
From our morning news briefing to a weekly Good News Newsletter, get the best of The Week delivered directly to your inbox.
2. Romney knows white voters are his only chance
Team Romney would be dreaming if it expected big gains among black and Latino voters, says Thomas Edsall at The New York Times. That leaves Romney with no option other than to "adopt a strategy to drive up white turnout." That means "'blowing the dog whistle of racism' — resorting to a campaign appealing to racial symbols, images, and issues" that pit middle-class whites against the minority poor — in the tradition of the notorious 1988 Willie Horton ad that Republicans used against Michael Dukakis.
3. Democrats are just being quick to call Obama's critics racist
Liberals everywhere are "sputtering in indignation ... about perceived racism in Romney's welfare attacks," says Allahpundit at Hot Air. Some even accuse the GOP's ad team of darkening Obama's skin. Sound familiar? It should. Obama backers leveled the same charges at Hillary Clinton's ad team during the 2008 primaries, "back when she was a horrible racist and not a wonderful post-partisan feminist icon and diplomat." Be warned: If you criticize the "liberal welfare policies" of America's first black president, his supporters are going to call you a racist.
4. Race gets people's attention
There's nothing inherently racist about Romney's welfare ads, says Ezra Klein at The Washington Post. But "if the viewer is racist, or at least racially resentful," the ads effectively conjure images in their minds of shiftless minorities who would supposedly rather wait for a government check than work. In politics, when something moves the needle in your favor you stick with it, and that's why "welfare is now the spine of Romney's 2012 on-air message in the battleground states."
5. The liberal media is using race to smear Republicans
Obama's lapdogs in the press will stop at nothing to get him re-elected, says Investor's Business Daily in an editorial. And one way to essentially rig the vote is to discredit Romney by accusing him of having "a racist agenda to oust a black president." So instead of having an honest debate about policies, welfare included, we have liberal propagandists like MSNBC's Chris Matthews spewing "hateful invective" at Republicans, and suggesting that "by pointing out that more Americans than ever now have to resort to food stamps under Obamanomics, Romney was 'playing the race card.'"
Read more political coverage at The Week's 2012 Election Center.
Continue reading for free
We hope you're enjoying The Week's refreshingly open-minded journalism.
Subscribed to The Week? Register your account with the same email as your subscription.
Sign up to our 10 Things You Need to Know Today newsletter
A free daily digest of the biggest news stories of the day - and the best features from our website