Obama's big economic speech: Can he talk his way out of trouble?
The president will give a major speech on the economy Thursday, after weeks of bad campaigning and troubling economic news. But words alone might not be enough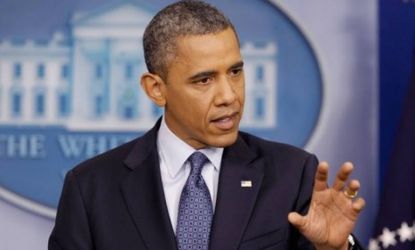 (Image credit: Chip Somodevilla/Getty Images)
Recent economic news has been less than rosy, and the growing sense that the recovery has stalled is taking a toll on President Obama's poll numbers. On Thursday, Obama will try to turn that around, in what's being billed as a major campaign speech on the economy. (Romney will counter with an economic speech of his own, also in Ohio.) The president isn't expected to introduce new proposals in his Ohio speech, but rather ask voters for more time to fix the economy and contrast his plan with that of challenger Mitt Romney. Romney responded that, sure, Obama "will speak eloquently, but words are cheap." The last time Obama tried to reset the narrative, in a June 8 press conference, he slipped in the gaffe about the private sector "doing fine." Is there anything Obama can say that might counter the somber economic numbers coming down the pike?
Obama needs to stop sugar-coating the sour economy
What the American people want to hear is that Obama "understands the depth of the problem and that he has a plan to deal with the deterioration of the middle class," Democratic strategist James Carville tells ABC News. Instead, Obama has been trying to convince people that things are getting better. Unfortunately, when he "talks about the progress that's being made, people take that as a signal that [the White House] thinks that things are fine, and people don't feel they ought to believe that." Yes, "it's a bad idea to try to B.S. the public with economic optimism when they're not feeling optimistic," says Allahpundit at Hot Air.
Subscribe to The Week
Escape your echo chamber. Get the facts behind the news, plus analysis from multiple perspectives.
SUBSCRIBE & SAVE
Sign up for The Week's Free Newsletters
From our morning news briefing to a weekly Good News Newsletter, get the best of The Week delivered directly to your inbox.
From our morning news briefing to a weekly Good News Newsletter, get the best of The Week delivered directly to your inbox.
He needs to lure Republicans into a new grand bargain
Obama can't sweet-talk the economy back to life, but there is one big thing he can do: "Face the coming 'fiscal cliff' of December... and face it now," says A.B. Stoddard at The Hill. Plenty of lawmakers think the looming "$8 trillion in spending cuts and expiring tax cuts" can only be dealt with after the election, but that lets congressional Republicans — and Romney — off the hook from taking tough, decisive stands on taxes and spending. If Obama demands that the GOP meet him at the table, and they do, businesses will know where they stand tax-wise, and the economy will perk up. If Republicans refuse, it becomes clear to swing voters that the GOP is the problem.
It's time to blame Bush...
"Swing voters, especially, tend to be politically indifferent and inattentive," so it's unlikely they'll care much about policy disputes, says Jonathan Bernstein at the Albany, N.Y., Times Union. But everyone understands that the economic recovery is less impressive than the ones in the first terms of Ronald Reagan and Bill Clinton. Obama's "overriding imperative" is to remind voters why that is: Unlike Reagan and Clinton, he took office "right at the deepest point of the downturn," and the "horrific crisis" he inherited from George W. Bush was far worse than the milder recessions his predecessors faced. If Obama can "push voters to see the current economy, weak as it is, as much better than the one he inherited from Bush," he might get re-elected.
...Or blame Congress
A recent ABC/Washington Post poll found that, in fact, 49 percent of Americans still blame Bush for the bad economy, versus 34 percent who blame Obama, says Juan Williams at Fox News. Yet, in a poll last November, "a bipartisan group found 94 percent of Americans think congressional inaction is hurting the economy." Well, it is, and Obama should hammer that point home. "Why is unemployment still so high?" Big job cuts in the public sector, the part government can do something about — but House Republicans have obstinately refused to consider Obama's proposals to invest in schools and local governments. "That is the opening for President Obama to play Harry Truman," and run against a "do-nothing Congress."
Forget the speech, take action
It's certainly understandable that Obama is dealing with this pivotal rough patch with a tried-and-true formula: "When things get hairy politically speaking, give a big speech," says Chris Cillizza at The Washington Post. In 2007 and 2008, candidate Obama gave some major speeches that spectacularly assuaged "doubts his supporters might have had about him while winning over (or at least quieting) his critics." It's not at all certain that Obama "can conjure up that same magic on Thursday," or that even if he does it will have the same effect as it did four years ago. Candidates can be eloquent, but as president you're expected to take action, too.
Read more political coverage at The Week's 2012 Election Center.

Continue reading for free
We hope you're enjoying The Week's refreshingly open-minded journalism.
Subscribed to The Week? Register your account with the same email as your subscription.