Mitt Romney's 'cruel and nasty' high school bullying: 5 ways it hurts him
The story of one mean-spirited act from 50 years ago is causing Team Romney a huge headache. A look at why it could get even worse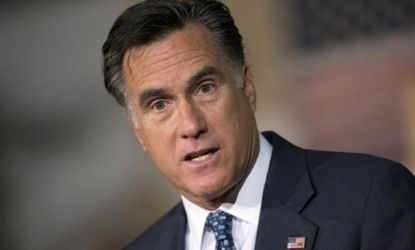 (Image credit: REUTERS/Benjamin Myers)
Sign up to our 10 Things You Need to Know Today newsletter
A free daily digest of the biggest news stories of the day - and the best features from our website
Thank you for signing up to TheWeek. You will receive a verification email shortly.
There was a problem. Please refresh the page and try again.
Mitt Romney is struggling to contain a 50-year-old story that has people discussing why it shouldn't matter almost as much as why it does. On Thursday, The Washington Post ran an article about Romney's history of pranks at his high school, the tony Cranbrook School in a wealthy Detroit suburb, and one incident stuck out: According to several on-the-record classmates, Romney led a posse of boys to pin down a presumptively gay student, John Lauber, and Romney snipped off his bleached blond hair while Lauber cried and screamed for help. Romney says he doesn't recall the incident, and that Lauber's sexual orientation "was the furthest thing from my mind back in the 1960s." His old classmates disagree. Here are five reasons this "cruel and nasty" incident from high school could haunt Romney's presidential bid:
1. It makes him look like a homophobic bully
The fact that The Post dropped this story the day after President Obama endorsed gay marriage "is a horrendous coincidence of timing for Mitt Romney," says Jonathan Chait at New York. It's not really fair to compare "an adolescent Romney, operating under the social mores of the '60s," with an adult Obama acting today, but even 50 years ago viciously bullying a gay classmate suggests that Romney is "a man who lacks a natural sense of compassion." And since the suicide of Rutgers student Tyler Clementi, anti-gay bullying has become "a national, bipartisan issue," says Andrew Belonsky at Towelroad. "The idea that a potential president initiated such an incident could turn off moderate or wary voters."
Subscribe to The Week
Escape your echo chamber. Get the facts behind the news, plus analysis from multiple perspectives.
SUBSCRIBE & SAVE
Sign up for The Week's Free Newsletters
From our morning news briefing to a weekly Good News Newsletter, get the best of The Week delivered directly to your inbox.
From our morning news briefing to a weekly Good News Newsletter, get the best of The Week delivered directly to your inbox.
2. Romney seems like he's flip-flopping again
It doesn't matter what Romney did 50 years ago — it matters what he does today, says Martin Longman at Booman Tribune. "And today, he denies any recollection of the event." That's either a character flaw, or a lie because "it doesn't seem like anyone else that was there that day ever forgot it." Lauber certainly didn't. Well, first Romney didn't remember the haircut incident, says Josh Marshall at Talking Points Memo, but then he vaguely apologized, then he said he "definitely didn't know or think the kid they attacked was gay, even though he apparently didn't remember the attack. None of that really adds up," which is a problem for a candidate already seen as a habitual flip-flopper.
3. It also highlights Romney's other perceived flaws
This pitiless need to punish someone he perceived as different is damaging because it feeds into a larger narrative about Romney, says Don Hamel at Addicting Info. Someone who would cut the hair of a sobbing classmate is "the kind of person who could thoughtlessly strap an animal to the roof of a car," or make a fortune "dismantling the businesses and jobs" of thousands of peons. Romney is clearly not "someone who can understand and empathize with the difficulties" most voters face. This story, says Michael J.W. Stickings at The Reaction, "adds an ugly, violent element to the 'privileged rich douchebag' narrative" dogging Romney.
4. The story reminds us how enigmatic Romney is
"The best way to assess a candidate is not to plumb his youth for clues to his character but to look at his positions and public record," says New York's Chait. That's "almost useless" with Romney. "People know so little about the grown-up Mitt Romney" because, for his own reasons, he wants it that way, says Howard Fineman at The Huffington Post. Big mistake. "Romney needs to tell his own story better, and soon, or the accretion of Cranbrook-style stories will do the telling for him."
5. It makes us all think of our own high school trauma
Yes, this all happened in high school, and people change, says Alexandra Petri at The Washington Post, but grudges live on, and "most life after high school is a form of revenge." Books and movies are chock full of nerds and outcasts getting their revenge on the jocks and bullies for a reason. High school is a brutal, formative time, and people don't forget, especially not in the voting both, says Chris Cillizza at The Washington Post. More than with any other office, "the vote for president is heavily personality dependent," and "what you have done throughout your life does matter."
Continue reading for free
We hope you're enjoying The Week's refreshingly open-minded journalism.
Subscribed to The Week? Register your account with the same email as your subscription.
Sign up to our 10 Things You Need to Know Today newsletter
A free daily digest of the biggest news stories of the day - and the best features from our website