Vladimir Putin: Russia's once and future president
The former KGB agent is elected to his third term as Russia's president. But do Russians really respect him?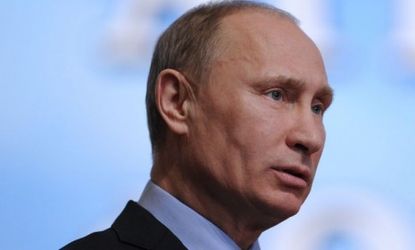 (Image credit: Sharifulin Valery/ITAR-TASS Photo/Corbis)
Was Putin fairly elected?
Not remotely, but that's not to say anyone could have beaten him. Since he first took the helm in Russia, in 1999, Vladimir Putin has ruled with a modified form of Soviet-style authoritarianism that he calls "managed democracy." The idea is that weakened state institutions, including the electoral system, yield to the designs of a strong leader. That entails some outright fraud; monitors found evidence of "carousel voting," in which busloads of voters travel around casting ballots under different names, and in Chechnya, more pro-Putin votes were counted than there were registered voters. But managed democracy relies even more on subtler manipulations. Technical reasons are found to prevent opposition parties from registering. Massive state resources, including almost all TV and radio news, are brought to bear in favor of the Kremlin. Phony "opposition candidates" are put forward. Those tactics delivered Putin an official victory of almost 64 percent. That number was surely inflated, but Putin does inspire heartfelt devotion among many Russians.
Why do they admire him?
Subscribe to The Week
Escape your echo chamber. Get the facts behind the news, plus analysis from multiple perspectives.
SUBSCRIBE & SAVE
Sign up for The Week's Free Newsletters
From our morning news briefing to a weekly Good News Newsletter, get the best of The Week delivered directly to your inbox.
From our morning news briefing to a weekly Good News Newsletter, get the best of The Week delivered directly to your inbox.
Putin represents stability, a welcome contrast to the chaos of the first decade after the Soviet Union dissolved, in 1991. Under Boris Yeltsin, a few tycoons, known as oligarchs, were allowed to plunder state resources in a period of wild privatization that plunged millions into poverty. Putin reversed that process, reasserting firm central control over Russian resources. During his reign, the Russian economy has grown by an average of 7 percent a year, poverty has been halved, and the average monthly salary of Russians has more than tripled. High global prices for Russia's vast oil and natural gas resources played a big role in that success. But many Russians give Putin credit for the fact that they are much better off than ever before.
How did he tame the oligarchs?
He opened fraud proceedings that left some, like Mikhail Khodorkovsky, in jail, and drove others, like Boris Berezovsky, out of the country. But some oligarchs, notably Roman Abramovich, remain close to Putin. Hedge fund manager William Browder, a former Putin admirer who was banned from Russia in 2005, says Putin moved against the oligarchs mainly to secure their wealth for himself and his cronies. "They've now consolidated their position to such an extent that Putin is likely to be one of the richest men in the world," he said last month; by one estimate Putin is worth $40 billion. Still, Putin's battle against the oligarchs helped establish him as a nastoyashi muzhik, or "real man." In a country where the Stalin era is often wistfully recalled as a time of Russian glory, that is an important image. "Russia needs a strong leader," a Moscow vendor told the Toronto Globe and Mail. "It's such a big country, with so many different ethnic groups, that it's very difficult to unite. It requires toughness."
How does Putin project strength?
Through relentless propaganda aimed at promoting a cult of personality. Putin, 59, is physically fit — he doesn't drink and was a judo champion in his youth — and he makes sure the Russian public knows it. State television routinely shows him engaged in manly pursuits like racing cars, hunting big game, piloting fighter jets, riding bare-chested on horseback, and zooming around unhelmeted on a Harley-Davidson. During the terrible forest fires of 2010, Putin personally dumped tons of water on the flames from a water bomber. In one of his more ridiculous photo ops, just last year, he was shown scuba diving in the Black Sea, where he conveniently "discovered" two ancient but curiously pristine Greek urns in just seven feet of water.
Do people believe these stunts?
They seemed to, until recently, but the urn find was a tipping point. The international press quickly mocked Putin, and even Russian commentators expressed skepticism, forcing the Kremlin to finally admit that the episode had been staged. Since then, more cracks have appeared in Putin's popularity. Last September, when he announced his intention to take back the presidency, Russians began grumbling openly about the dearth of democracy in "managed democracy." They were further offended by what looked like the outright stealing of the December parliamentary elections, which Putin's United Russia party won despite trailing badly in exit polls. Tens of thousands of people protested the results, and Putin's approval rating dropped to below 50 percent, down from 73 percent as recently as February 2011.
Will his rule now be challenged?
Yes, but the opposition has yet to prove it has staying power. The series of massive protests since December, particularly of middle-class Muscovites, clearly took the Kremlin by surprise. Anti-corruption blogger Alexey Navalny, who dubbed United Russia the "party of crooks and thieves," has emerged as a grassroots leader, and may be able to better galvanize the anti-Putin movement than more traditional opposition figures. But the protests are already petering out. "We have to think of something more concrete, something other than protests," says Nikolai Belyaev, a businessman who quit his job to join the protest movement. "I very much want to hope that society is not going to fall asleep again."
How Putin came to power
Putin owes his ascent directly to the bloody second war in Chechnya, the separatist Muslim province in the south. He was head of the FSB, the successor to the KGB, when Yeltsin named him prime minister in 1999, saying Putin would "solve the Chechen problem for good." Putin famously vowed to hunt down separatist leaders "even when they're taking a crap." Just weeks later, 300 died in a series of Moscow apartment bombings that was blamed on Chechens. Russia invaded, Yeltsin resigned, and Putin was elected president to prosecute a brutal war that killed tens of thousands, mostly civilians. Several Russian reporters and whistle-blowers have amassed evidence that the FSB staged the apartment bombings to propel Putin to power. At least four of them have been murdered, including Anna Politkovskaya, a reporter gunned down outside her home, and Alexander Litvinenko, an FSB whistle-blower poisoned with radioactive polonium.

Continue reading for free
We hope you're enjoying The Week's refreshingly open-minded journalism.
Subscribed to The Week? Register your account with the same email as your subscription.