Brokered conventions: A guide to political pundits' dream scenario
Not since the days of Reagan and Ford have political junkies and dissastisfied Republicans so loudly pondered the possibility of a deadlocked convention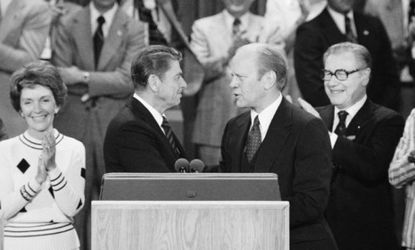 (Image credit: Bettmann/CORBIS)
Sign up to our 10 Things You Need to Know Today newsletter
A free daily digest of the biggest news stories of the day - and the best features from our website
Thank you for signing up to TheWeek. You will receive a verification email shortly.
There was a problem. Please refresh the page and try again.
A brokered Republican presidential convention: "It's the scenario every political reporter, and every West Wing fan, wants to see for real," says Benjy Sarlin at Talking Points Memo. It's also the fantasy of a number of Republicans who are famously unhappy with their choices of presidential contenders. Sarah Palin, Sen. Jim DeMint (R-S.C.), and Ralph Reed all talked up a brokered convention at last weekend's Conservative Political Action Conference (CPAC). But what actually happens if the GOP goes to its nominating convention in Tampa this August without a nominee? And could that really happen? Here's what you should know:
How is a nominee typically chosen?
In many states, candidates bag delegates — either proportionally or on a winner-take-all basis — based on their performance in primaries and caucuses. (In some states, delegates aren't allotted based on election results, but rather later, at state conventions.) Once delegates are "bound" to a candidate through this process, they're expected to support him at the national party convention, where delegates vote for and officially select a nominee. Often, a candidate wins enough delegates before the convention to make his nomination a foregone conclusion.
Subscribe to The Week
Escape your echo chamber. Get the facts behind the news, plus analysis from multiple perspectives.
SUBSCRIBE & SAVE
Sign up for The Week's Free Newsletters
From our morning news briefing to a weekly Good News Newsletter, get the best of The Week delivered directly to your inbox.
From our morning news briefing to a weekly Good News Newsletter, get the best of The Week delivered directly to your inbox.
What is a brokered convention?
If no presidential candidate secures enough delegates to win the nomination on the convention's first ballot — in this case, 1,144 delegates — the race has to be decided by subsequent votes or horse-trading among candidates and power-brokers. "In the romantic imagination of we pundits, a brokered convention conjures up images of gravel-voiced party elders picking a future president in a smoke-filled back room," says John Barron at Australia's ABC News. But "a modern brokered convention is probably going to be smoke-free and involve a lot of hushed phone calls and texting on BlackBerrys."
When was the last one?
The last classic brokered conventions were 1952 for the Democrats (Adlai Stevenson) and 1948 for the GOP (Thomas Dewey). But before the nomination process became more democratic in 1972, primaries were essentially just popularity contests, and it was up to party bosses to pick the nominee.
Have we come close to a brokered convention since?
Republicans flirted with one in 1976, when incumbent Gerald Ford eked out a first-ballot win over Ronald Reagan, and the Democrats had a near-miss in 1984, when Walter Mondale barely won. Mitt Romney's path is looking more and more like Ford and Mondale's, says Nate Silver in The New York Times. And "a few more missteps for Mr. Mondale or Mr. Ford, and the outcome might have been different."
Could this really happen?
Yes, if the cards fall just right. The GOP electorate could stay split by region, with Romney winning the Northeast and West, Rick Santorum dominating the Midwest, and Newt Gingrich performing well in the South, says Sean Trende at RealClearPolitics. Yes, "the path to this outcome is still a very narrow, precarious one. But for the first time, I can see it."
So... what happens if no candidate has enough delegates?
"Basically, if we ever get there, it's up for grabs and we have no idea who the delegates will be loyal to," Jonathan Bernstein tells TPM. After a few deadlocked votes, the delegates (who are initially bound to vote for a specific candidate) would be released to vote for anyone. And at that point, anything could happen — including the conservative fantasy of a "dark horse" candidate like Palin, Jeb Bush, Gov. Chris Christie (N.J.), or Gov. Mitch Daniels (Ind.) winning the nomination. Under party rules, anyone can be nominated if a plurality of five state delegations approve.
Who would win a brokered GOP convention?
Romney, probably. Pundits believe that Mitt could either convince Ron Paul to deal away his delegates for a good speaking slot or plank in the party platform, or "one of the other candidates would cut a deal with Romney to release their delegates before then," says Philip Klein in The Washington Examiner. A dark horse nominee might be fun to dream about, but he or she would be at a huge disadvantage to Obama in terms of organization and money, Republican consultant Soren Dayton tells TPM, and Republican voters might not like being overruled by party insiders.
Should Republicans really be rooting for this?
Absolutely, says Tim Stanley in Britain's The Telegraph. Republicans might end up with "a better candidate than Mitt or Newt," and "a bit of drama at the Republican convention could actually be good for the party's standing in the polls. It would be the single biggest reality TV event in history." Yes, "as entertainment, how great would a deadlocked convention be?" says Carter Eskew at The Washington Post. But in the end, I agree with "the conventional wisdom that it would be a disaster for the Republicans, a bitter reprise of the grievances and fissures that have marked the primaries."
Sources: ABC, New Republic, New York Times, PolitickerNJ, RealClearPolitics, Talking Points Memo, Telegraph, Washington Examiner, Washington Post (2), Washington Times, Wikipedia
Continue reading for free
We hope you're enjoying The Week's refreshingly open-minded journalism.
Subscribed to The Week? Register your account with the same email as your subscription.
Sign up to our 10 Things You Need to Know Today newsletter
A free daily digest of the biggest news stories of the day - and the best features from our website