Iowa's 'soul-baring' GOP debate: 6 highlights
You might have missed it, but six presidential rivals gathered in a church Saturday to confess their faults, tout their virtues, and shed some tears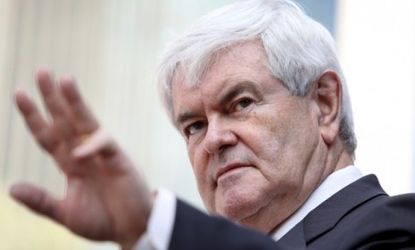 (Image credit: REUTERS/Daron Dean)
Six Republican presidential nominees gathered in a Des Moines, Iowa, mega-church for a debate on Saturday night. The so-called Thanksgiving Family Forum, sponsored by two conservative Christian organizations — The Family Leader and National Organization for Marriage — was not televised. Notably absent were the two Mormon candidates, Jon Huntsman (not invited) and Mitt Romney (chose not to attend). But Michele Bachmann, Herman Cain, Newt Gingrich, Ron Paul, Rick Perry, and Rick Santorum shared a "soul-baring" evening of personal stories, confessions, and emoting for social conservative voters. Here, six highlights of the evening's dinner-table discussion:
1. It felt like a "dishy talk show"
The six candidates and moderator Frank Luntz, a GOP pollster, sat around a Thanksgiving-themed table, so perhaps it's no surprise that the overwhelmingly friendly discussion "felt at times more like a Christian prayer meeting or a dishy talk show than a campaign event," says Jennifer Jacobs in the Des Moines Register. At one point, Luntz exclaimed, "I feel like Dr. Phil!" That dynamic made for a "pretty fascinating debate," says Michael Tomasky at The Daily Beast. "No stupid gotcha questions, six participants..., and candidates actually speaking, on occasion, from their hearts about important moments in their lives." It was the "best GOP debate yet."
Subscribe to The Week
Escape your echo chamber. Get the facts behind the news, plus analysis from multiple perspectives.
SUBSCRIBE & SAVE
Sign up for The Week's Free Newsletters
From our morning news briefing to a weekly Good News Newsletter, get the best of The Week delivered directly to your inbox.
From our morning news briefing to a weekly Good News Newsletter, get the best of The Week delivered directly to your inbox.
2. The candidates shared personal regrets
"If ever there was a place to bare your soul," Luntz told the candidates, "this is the place to do it." The candidates obliged. In a confessional section of the debate, Gingrich spoke of turning to Alcoholics Anonymous literature and the Bible when he was feeling "hollow" in the early 1990s, Cain lamented not being home enough when his kids were growing up and he was climbing "those corporate ladders," and Perry said he'd dreamed of becoming a veterinarian until God "introduced me to organic chemistry."
3. And several Republicans welled up
This event was akin to a "crier-in-chief forum," says Kathie Obradovich in the Des Moines Register. Cain broke down twice: During his work-before-family confession, and while talking about fighting stage 4 cancer with the help of his wife. Santorum choked up while talking about how he emotionally distanced himself from his critically ill, then-infant daughter Isabella. Gingrich "wiped his eyes" after telling about a friend's sick baby. And Perry succumbed to "a little quaver" when talking about committing himself to Jesus.
4. Mitt Romney's absence was felt
Romney opted to campaign in New Hampshire instead of attending this Iowa event. And honestly, who can blame him for skipping a religious event that "would have likely turned into two hours of him defending Mormonism?" says Jazz Shaw at Hot Air. As it was, "Luntz spent part of his time making thinly veiled, derogatory jokes at Romney's expense." Romney was smart to skip this, says Doug Mataconis at Outside the Beltway. He "stood to lose support among independent voters and more moderate Republicans by being associated in any way with the rhetoric of groups like The Family Leader." Not surprisingly, Family Leader leader Bob Vander Plaats didn't see it that way, saying the AWOL Romney "dissed" Christian conservatives and showed "he lacks judgment."
5. The target audience was tiny
Only about 17,000 people watched the event streamed live over the internet, and "that low viewership may be the best thing that happened to the GOP," says Mataconis. Most of the discussion hit common GOP talking points, but there was also plenty of religious chatter "that would likely scare the crap out of people who don't travel in the evangelical, far right circles."
6. Newt Gingrich dissed Occupy Wall Street
The night's biggest applause line came from Gingrich, says Maggie Haberman at Politico, when he "proactively took an opportunity to bash the Occupy Wall Street movement," telling the protesters, "Go get a job right after you take a bath." Predictably, that's driving liberals to the "emotional brink," says Mark Finkelstein at NewsBusters. On MSNBC Monday morning, Mika Brzezinski decrided Newt's comments as "arrogant" and "disgusting."

Continue reading for free
We hope you're enjoying The Week's refreshingly open-minded journalism.
Subscribed to The Week? Register your account with the same email as your subscription.