Pennsylvania's 'Democrat-screwing' 2012 'genius plan'
The GOP-dominated Keystone State government is gunning to change the rules on how it divvies up electoral votes — and it could cost Obama the election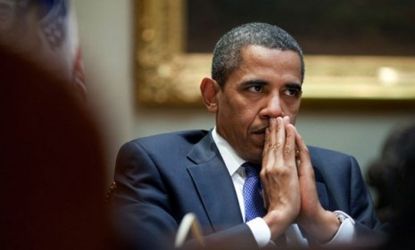 (Image credit: CC BY: The White House)
For the first time in years, Pennsylvania has a Republican governor as well as solid GOP majorities in both houses of the state legislature. State GOP leaders are using that power trifecta to push what Slate's David Weigel calls a "bold Democrat-screwing electoral plan" that could well cost President Obama next year's election. The GOP's proposal would turn the key swing state from a winner-take-all electoral college prize to a district-by-district red-blue puzzle — and the national implications are enormous. Here's how it works:
How exactly does the electoral college system work?
Presidents are elected through a system under which electoral votes are allocated to states based on the number of congressmen and senators a state has — which roughly correlates to population size. There are 538 electoral college votes nationwide, so a candidate needs 270 to win. Currently, Pennsylvania — like every other state but Maine and Nebraska — awards all of its electoral college votes for president to the winner of the state's popular vote. Pennsylvania is considered a swing state of sorts — though its electoral votes have gone to the Democrat in the last five presidential elections.
Subscribe to The Week
Escape your echo chamber. Get the facts behind the news, plus analysis from multiple perspectives.
SUBSCRIBE & SAVE
Sign up for The Week's Free Newsletters
From our morning news briefing to a weekly Good News Newsletter, get the best of The Week delivered directly to your inbox.
From our morning news briefing to a weekly Good News Newsletter, get the best of The Week delivered directly to your inbox.
What does Pennsylvania want to change?
Under state Senate Majority Leader Dominic Pileggi's plan, each of Pennsylvania's 18 congressional districts would get its own electoral vote, with the remaining two electoral votes going to whichever candidate wins the entire state. Obama won Pennsylvania (55 percent to 44 percent) in 2008 — netting all 21 electoral votes. (The state will only have 20 votes in 2012, since it lost one after the 2010 census.) Under the proposed system, Obama would have won 11 electoral votes in 2008. John McCain would have won 10.
How would that swing the 2012 election?
The GOP-controlled legislature gets to redraw the congressional districts this year, and the gerrymandered map is expected to have 12 safe Republican seats and only 6 safe Democratic seats. So even if Obama wins Pennsylvania's popular vote next year, he would likely only get 8 electoral votes. Under the current rules, if Obama took all the states that John Kerry won in 2004 — plus Ohio — he would win re-election. But if Pennsylvania's plan passes, Obama would lose.
Is this really so bad for the Democrats?
In a close election, as 2012 is expected to be, the Pennsylvania GOP's "genius plan" could easily sink Obama, says Nick Baumann at Mother Jones. But it could get even worse for Democrats. Three other key Midwestern swing states that Obama won — Wisconsin, Michigan, and Ohio — swung to total GOP control in 2010, and if they follow Pennsylvania's lead, it would be brutal for Democrats. Yes, agrees Jim Geraghty at National Review. That one "audacious move... would establish, arguably, a GOP lock on the presidency until the country's demographics and political geography changed."
Is there anything Democrats can do?
Not much. Republicans have the votes to muscle the plan through, and "under the U.S. Constitution, the discretion of state legislatures in allocating electoral votes is absolute," says Matthew Yglesias at ThinkProgress. In fact, if it wanted to, Pennsylvania's legislature could pass a law tomorrow turning all the state's electoral votes over to the head of the Republican National Committee. And "Democrats would not be able to retaliate," says Mother Jones' Baumann, since there aren't any Democrat-controlled red states where a plan like Pennsylvania's would do any good.
Is there any downside for the GOP?
It will look to many voters, and some GOP lawmakers, like unfairly "changing the rules after the game has started," says National Review's Geraghty. And of course, the heat on the Pennsylvania statehouse "would make the Wisconsin protests look like a tersely worded letter of disapproval." Not that the GOP will care, says Kevin Drum at Mother Jones. A few decades ago, this wildly "cynical ploy" would have been "a bridge too far for most of the party's mandarins." But there's really no one left on the Right to oppose this "merely out of a decent respect for institutional integrity and fair-mindedness."
Would this be good for Pennsylvania?
Majority Leader Pileggi says the plan would bring more attention to swing districts while leaving Pennsylvanians' "individual votes more accurately reflected." It would certainly give more power to rural Republicans, agrees Geraghty. But most observers agree with Hot Air's Allahpundit that the net effect would be "to essentially detonate Pennsylvania's stature as a prime swing state." Obama and his GOP challenger "will show up if 20 votes are in the balance, but if only four or five are, who cares?"
Sources: Hot Air, Mother Jones (2), National Review, Philadelphia Daily News, Pittsburgh Post-Gazette, RedState, Slate, ThinkProgress, Washington Monthly

Continue reading for free
We hope you're enjoying The Week's refreshingly open-minded journalism.
Subscribed to The Week? Register your account with the same email as your subscription.