Ron Paul: The outsider
The Texas libertarian may not win the GOP's 2012 presidential nomination, but his views have helped reshape the party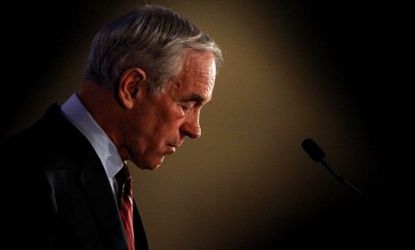 (Image credit: Justin Sullivan/Getty Images)
Sign up to our 10 Things You Need to Know Today newsletter
A free daily digest of the biggest news stories of the day - and the best features from our website
Thank you for signing up to TheWeek. You will receive a verification email shortly.
There was a problem. Please refresh the page and try again.
How influential is Ron Paul?
For more than three decades, Paul's brand of uncompromising libertarianism left him on the fringes of the Republican Party. Only three of the 416 bills he has sponsored in Congress since 1997 even made it out of committee—and two of those were defeated. But events of the last three years—including the meltdown of the financial sector, massive government bailouts of private industry, and an exploding federal deficit—have turned his warnings on the dangers of debt and excessive spending into mainstream Republican thought. The Tea Party has embraced Paul's belief that the best government is the least government, and that taxes are an intrusion on individual liberty. "Time has come around to where the people are agreeing with much of what I've been saying for 30 years," Paul said in May, when he announced his third campaign for the GOP presidential nomination. "The time is right."
Has the GOP embraced all his ideas?
Subscribe to The Week
Escape your echo chamber. Get the facts behind the news, plus analysis from multiple perspectives.
SUBSCRIBE & SAVE
Sign up for The Week's Free Newsletters
From our morning news briefing to a weekly Good News Newsletter, get the best of The Week delivered directly to your inbox.
From our morning news briefing to a weekly Good News Newsletter, get the best of The Week delivered directly to your inbox.
No. Many of them are still anathema to the Republican establishment. A self-described "strict constitutionalist," Paul believes the federal government should do almost nothing beyond punishing fraud and warding off foreign attacks; he has denounced U.S. "militarism" and argued that the U.S. should not meddle in the Middle East or the affairs of other nations. He's voted against everything from humanitarian relief for Hurricane Katrina victims to granting a Congressional Gold Medal to Rosa Parks. (It wasn't personal; he also opposed awards for Ronald Reagan and Pope John Paul II.) Given the chance, he'd shutter the Federal Reserve, the Internal Revenue Service, and "unconstitutional domestic bureaucracies" like the departments of Education, Energy, and Commerce. And although he's a devout Christian, the 12-term congressman from Texas would legalize prostitution, heroin, and cocaine. "If people are only free to make good decisions," Paul said, "they are not truly free." He is not one to make concessions. "I don't like the word 'compromise,'" he said. "You give up half your beliefs."
How did Paul come to his views?
He traces his sense of personal responsibility and self-reliance to his hard-working family in Pittsburgh. At age 5, Paul started working at his father's small dairy, earning a penny every time he spotted a dirty bottle on the conveyor belt. He later delivered newspapers and mowed lawns, and helped pay his own college tuition. While studying medicine at Duke University, he discovered the work of Austrian economists Friedrich Hayek and Ludwig von Mises, who championed unregulated markets and sound currency. When President Nixon abandoned the gold standard in 1971, Paul said, "I decided to speak out." He predicted that a Federal Reserve delinked from gold would print too much money, resulting in a housing bubble, a devalued dollar, massive foreign borrowing, and recession. He still sees a return to the gold standard as the only way to put the U.S. back on a secure financial footing.
What kinds of people support Paul?
His unusual ideas have attracted an equally unusual band of supporters, ranging from pot-smoking college students to hard-core fiscal conservatives. What they have in common is fervent enthusiasm for his message of individual liberty. "When people come to believe in Ron Paul, there is a passion that burns within us," said Elizabeth Day, 57, a 2012 Paul campaign volunteer. His fans back their love with money: Paul's presidential campaign received $4.5 million in donations in the second quarter of 2011—more than all of his competitors except Mitt Romney. The Paulites also turn out en masse whenever there's a GOP presidential straw poll.
Can Paul win the 2012 presidential nomination?
History suggests not. In 1988, when Paul ran as the Libertarian Party's presidential candidate, he won just 0.5 percent of the vote; in the 2008 GOP primaries, he took 5.6 percent. Today Paul is polling between 7 and 8 percent, far behind Republican front-runners Romney and Michele Bachmann. Ironically, the resonance of Paul's anti-Washington message could be undermining his 2012 campaign. The GOP field is crowded with candidates who have adopted his argument for stripped-down government. Paul's rivals, moreover, aren't tied to libertarian policies that spook most Republicans, such as legalizing heroin and bringing all U.S. troops home. "The conservatives who might have gone with him in the past have enough other choices this time," said Fran Wendelboe, a former Republican New Hampshire state representative.
So why is Paul running?
The message has always been more important than the office for Paul, who will retire from Congress next year. He sees every TV interview or Republican debate as a chance to persuade more Americans of the merits of libertarianism, and to wake them up to the "tyranny" of central government. As awareness of his stance grows, he believes, so does the chance that a like-minded candidate—perhaps his son Rand Paul, a Tea Party idol and Kentucky senator—might one day win the White House. "Politicians don't amount to much," said Paul, "but ideas do."
Civil rights vs. the free market
The 1964 Civil Rights Act helped end racial segregation in the U.S. But if Paul had been in Congress at the time, he would have voted against this landmark piece of legislation. His problem with the law, he recently explained, was its "property rights element," not the fact that it brought about greater racial equality. In Paul's strict libertarian ideology, the federal government has no right to tell a private business what it can or cannot do on its own property. So any hairdresser who wants to bar black people from his or her salon should be free to do so. Paul says that this argument doesn't make him a racist, and he contends that racist businesses would be punished by customers, and by the free market itself. Any business owner that did ban blacks, he said, "would be an idiot and out of business."
Continue reading for free
We hope you're enjoying The Week's refreshingly open-minded journalism.
Subscribed to The Week? Register your account with the same email as your subscription.
Sign up to our 10 Things You Need to Know Today newsletter
A free daily digest of the biggest news stories of the day - and the best features from our website