Obama's 'Rolling Stone' interview: 5 best takeaways
The president takes on Fox, reveals his new iPod picks, tells his base to "buck up," and dishes on meeting Dylan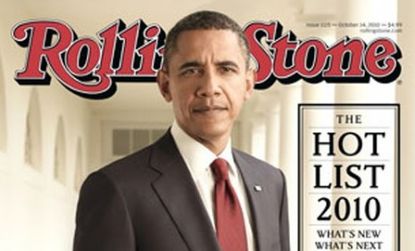 (Image credit: RollingStone.com)
In a long, wide-ranging Oval Office interview with Rolling Stone publisher Jann Wenner, President Obama makes a case for why his Democratic base should "buck up" and not sit out the election. Obama's critics on the left didn't appreciate his "hectoring" (FiredogLake's Jane Hamsher), while his critics on the right disparaged Wenner's "tongue bath" interviewing style (Hot Air's Ed Morrissey). But it wasn't all about politics. Here's five key takeaways from the Rolling Stone interview:
1. Obama thinks Fox News is "destructive"
When asked if Fox News is "a good institution for America and for democracy," Obama unsurprisingly says no: He thinks Fox News' "undeniable point of view... is ultimately destructive for the long-term growth of a country that has a vibrant middle class and is competitive in the world." At the same time, he considers Fox part of a long tradition of "opinionated" journalism, including "folks like Hearst who used their newspapers very intentionally to promote their viewpoints." The "golden age of an objective press," Obama points out, "was a pretty narrow span of time in our history."
Subscribe to The Week
Escape your echo chamber. Get the facts behind the news, plus analysis from multiple perspectives.
SUBSCRIBE & SAVE
Sign up for The Week's Free Newsletters
From our morning news briefing to a weekly Good News Newsletter, get the best of The Week delivered directly to your inbox.
From our morning news briefing to a weekly Good News Newsletter, get the best of The Week delivered directly to your inbox.
2. His next battles: Immigration and climate change
In a move Republicans could easily jump on, Obama commits to throwing "the whole weight of the presidency" behind policies to address climate change and immigration, as he ultimately did with health-care reform. The energy/climate-change legislation might have to be passed "in chunks," Obama says, unlike this year's failed push for more sweeping change, but "we're going to stay on this because it is good for our economy, it's good for our national security, and, ultimately, it's good for our environment."
3. Obama keeps a list of campaign promises in his pocket
When Obama gives dispirited supporters his "buck up" pep talk, he starts by reminding them that he has "accomplished 70 percent of the things that we said we were going to do" during the 2008 election season. (He even keeps "a checklist of the promises I made during the campaign" in his pocket.) As for the remaining 30 percent of those goals, that's "what the next two years... or maybe the next six" are for. He winds up the pep talk sternly, saying that it's "inexcusable" to "stand on the sidelines" in November. "Change is hard," Obama says. "If people now want to take their ball and go home, that tells me folks weren't serious in the first place."
4. He's getting into "gangsta rap"
Given that he's the editor of Rolling Stone, Wenner naturally queries Obama about his current musical tastes. Obama says, while his iPod is "heavily weighted" toward the "old standards" he grew up with — Stevie Wonder, the Rolling Stones, and Miles Davis — there's also "a lot of classical," including some opera (some days, "Maria Callas is exactly what I need"). The headline-grabbing news: Under the tutelage of aide Reggie Love, Obama's "rap palate" has evolved from Jay-Z to "a little Nas and a little Lil Wayne and some other stuff." Fox Nation's takeaway: "President of the United States loves gangsta rap."
5. A "skeptical" Bob Dylan didn't want a photo-op
When Dylan performed at the White House, Obama says, "he was exactly as you'd expect he would be." He didn't rehearse beforehand and didn't want a photo with the president. He just came in, played "The Times They Are A-Changin'," walked up to Obama in the first row, "shakes my hand, sort of tips his head, gives me just a little grin, and then leaves." And "that's how you want Bob Dylan, right?" says Obama. "You don't want him to be all cheesin' and grinnin' with you. You want him to be a little skeptical about the whole enterprise."
Read the entire interview at Rolling Stone.

Continue reading for free
We hope you're enjoying The Week's refreshingly open-minded journalism.
Subscribed to The Week? Register your account with the same email as your subscription.