Rahm Emanuel: Obama's main man
Incoming Chief of Staff Rahm Emanuel is known for his fierce partisanship and take-no-prisoners style. Why did Obama pick him?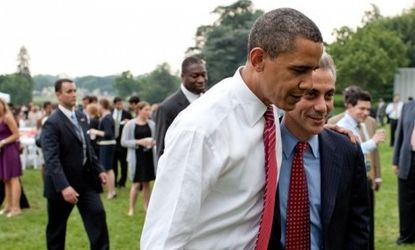 (Image credit: CC BY: The White House)
Sign up to our 10 Things You Need to Know Today newsletter
A free daily digest of the biggest news stories of the day - and the best features from our website
Thank you for signing up to TheWeek. You will receive a verification email shortly.
There was a problem. Please refresh the page and try again.
Incoming Chief of Staff Rahm Emanuel is known for his fierce partisanship and take-no-prisoners style. Why did Obama pick him to run the White House?
Who is Rahm Emanuel?
A savvy 49-year-old former congressman and political operative famous for his sharp elbows, fanatical devotion to his job, and prodigious fundraising. Emanuel's legacy is the stuff of Hollywood—literally. He inspired the Josh Lyman character on NBC's West Wing drama, and one of his two brothers, Ariel, served as inspiration for Hollywood über-agent Ari Gold on HBO's Entourage series. His own mother calls him by his nickname: "Rahmbo." One of his friends recently called him "a cross between a hemorrhoid and a toothache."
Subscribe to The Week
Escape your echo chamber. Get the facts behind the news, plus analysis from multiple perspectives.
SUBSCRIBE & SAVE
Sign up for The Week's Free Newsletters
From our morning news briefing to a weekly Good News Newsletter, get the best of The Week delivered directly to your inbox.
From our morning news briefing to a weekly Good News Newsletter, get the best of The Week delivered directly to your inbox.
What does the chief of staff do?
As the name implies, he oversees the White House staff—but that understates the true power of the position. The chief of staff functions as the presidential gatekeeper, determining who gets access to the president, and plays a key role in virtually everything from presidential appointments to press strategy. It will be Emanuel's job to manage some of the giant egos Obama has brought into his administration, keep congressional Democrats in line, and generally ensure that the White House doesn't descend into a free-for-all of infighting and backstabbing. In a very real sense, Emanuel will be Obama's enforcer.
Why did Obama choose him?
They both have roots in Chicago politics and know each other well. More important, Emanuel shares Obama's fundamental political pragmatism. As a primary architect of the Democrats' return to majority status in the House, Emanuel pushed Democrats to the center on trade and other issues and has even recruited candidates in "red" states who stray from the party orthodoxy on abortion and guns. Obama has a simple explanation for choosing Emanuel for what many consider the second most powerful post in the executive branch: "No one I know is better at getting things done."
Is he well-liked?
Respected, yes; liked, no. Emanuel seems to derive pleasure from driving his enemies crazy. He once sent a disfavored pollster a stinking dead fish. As an aide to Bill Clinton during his first presidential run, Emanuel shook up a dinner party by plunging a knife into the table and screaming "Dead!" while reciting the names of several Democrats he considered disloyal. Emanuel himself makes hay out of his less-than-lovable persona. His first name, he once joked, "roughly translated from Hebrew, means 'go screw yourself.'"
What drives him?
Friends say aggressive ambition is in his genes. He grew up in a well-off Chicago suburb, the son of an Israeli-born pediatrician and a social worker. His mother, the daughter of a union organizer, took her kids to civil-rights marches in the 1960s and was arrested numerous times. His father was a member of the Irgun, the hard-line militant group that fought for Israeli independence (see below). Emanuel's mother made him take ballet lessons, and he threw himself into the task with abandon. He won a scholarship to the prestigious Joffrey Ballet, but turned it down and went instead to Sarah Lawrence College. After getting a master's in speech from Northwestern, he worked on the campaigns of Chicago Mayor Richard Daley and Illinois Sen. Paul Simon before joining the Clinton presidential campaign, in 1991. As one of Clinton's top White House aides, Emanuel helped shepherd his major initiatives through Congress, including NAFTA and welfare reform. After seven years in the White House, Emanuel began thinking about pursuing his own political career. But since he was married with three children, he decided he first needed some financial security.
So what did he do?
He got rich. Emanuel joined a Wall Street investment bank headed by Bruce Wasserstein, a major Democratic donor, and earned some $18 million in just a few years—in part by using his political connections to spearhead several big deals. He also sat on the board of mortgage giant Freddie Mac during the time the company misstated its earnings by $5 billion. Three top officials were forced out in the scandal, but Emanuel was never directly implicated. In 2002, he returned to politics and won a tough race for a Chicago congressional seat. In Washington, he quickly rose through the Democratic ranks. After just three terms, he was the fourth-ranking member of the Democratic leadership.
How did he pull that off?
He's simply relentless. His fundraising skills and hardball tactics were on display in 2006, when he led the successful effort to win back the House for Democrats after 12 years in the wilderness. As head of the Democratic Congressional Campaign Committee, he weeded out Democratic candidates he considered weak, and he targeted vulnerable Republicans by pushing negative stories in their hometown press. He also pushed Democrats to make the overarching campaign theme Republican corruption and mismanagement. "He's the one who taught the Democrats how to play offense again," says Democratic operative Brian Wolff.
Is he well-suited for his new job?
It remains to be seen whether Emanuel's famous temper will make it hard to craft compromises. (When Republicans complained about Democrats' tactics after they regained the House majority, Emanuel recommended that they "go f--- themselves.") But the chief of staff must protect the president from distractions and be willing to deliver bad news, and Emanuel seems well-equipped to do that. The chief of staff must be "a bad guy at times," says Illinois legislator John Fritchey. "That's a role Emanuel can not only excel at but even relish."
Emanuel and Israel
Emanuel is an observant Jew who as a kid went to summer camp in Israel, though contrary to widely circulated reports, he never served in the Israeli army. During the first Iraq war, with Iraqi Scud missiles falling on Israel, he did volunteer for civilian duty in Israel near the Lebanese border. His appointment has generated disappointment and even paranoid conspiracy theories in the Arab world, with commentators saying that any hope that Obama would deviate from President Bush's staunchly pro-Israel stance could be laid to rest. Emanuel's Israeli-born father, Benjamin, caused a new stir when he told an Israeli newspaper that as chief of staff, his son "obviously will influence the president to be pro-Israel. Why wouldn't he? What is he, an Arab?" Rahm quickly issued an apology for his father's remark and offered to meet with representatives of the Arab-American community.
Continue reading for free
We hope you're enjoying The Week's refreshingly open-minded journalism.
Subscribed to The Week? Register your account with the same email as your subscription.
Sign up to our 10 Things You Need to Know Today newsletter
A free daily digest of the biggest news stories of the day - and the best features from our website