The incredible chutzpah of Mitt Romney
The one thing Romney isn't lacking is confidence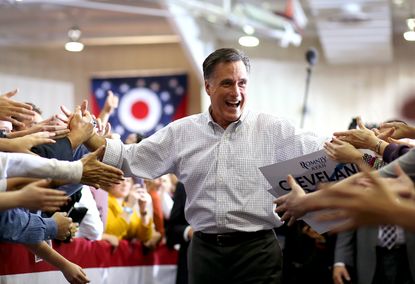 (Image credit: (Justin Sullivan/Getty Images))
"I have looked at what happens to anybody in this country who loses as the nominee of their party," Mitt Romney says in the eponymous Netflix documentary about his two failed White House bids. "They become a loser for life."
So much for all that.
Romney now fancies himself the ideal candidate to break the losers' curse. After insisting for the past two years that he was through with campaigns, the twice-spurned, oft-mocked, would-be president once again thinks America needs him. And that assumption shows an almost breathtaking level of chutzpah.
Subscribe to The Week
Escape your echo chamber. Get the facts behind the news, plus analysis from multiple perspectives.
SUBSCRIBE & SAVE
Sign up for The Week's Free Newsletters
From our morning news briefing to a weekly Good News Newsletter, get the best of The Week delivered directly to your inbox.
From our morning news briefing to a weekly Good News Newsletter, get the best of The Week delivered directly to your inbox.
Romney's impetus for dusting off the old yard signs is that he thinks Americans aren't too quick on the uptake.
"In the mind of Romney and his top advisers, the country made a mistake in not electing Romney in 2012," The Boston Globe's Matt Viser writes in a behind-the-scenes look at the nascent Romney 3.0 campaign. "They want to give the country another shot at sending him to the White House."
This is fantasy. Romney's favorability remains underwater, and there is no grassroots movement clamoring for him to come save America. The people yearning for a Romney redux — the ones hyping to the press Romney's supposed viability and demand among the general public — are stupendously wealthy donors eager to see a a stupendously wealthy person occupy the White House.
True, a CNN poll last year appeared to show voters with intense buyer's remorse ove the 2012 election. In a hypothetical re-do, respondents "elected" Romney, 53 percent to 44 percent.
But these do-over polls are dubious indicators of potential electoral outcomes, serving more as barometers of how respondents feel about incumbents at specific points in time. Romney topping Obama in one poll last summer is far less impressive when you consider Obama was at the time saddled with global crises and the worst approval rating of his presidency. And it's even less impressive when you consider that in the same survey, Romney still trailed Hillary Clinton by double-digits.
Romneyland has been quick to note that the GOP's patron saint, Ronald Reagan, ran for president three times before he got the job. Invoking Reagan speaks volumes about Romney's lofty image of himself, but it's an inapt comparison. Reagan nearly knocked off a sitting president in a divisive primary before winning the White House as the head of a new conservative movement that would eventually dominate the Republican Party. Romney has no such constituency, and his last campagin featured him coming from behind in the polls to best a pizza magnate accused of serial sexual harassment.
So why does Romney think he would fare better against a much tougher GOP field in 2016?
For one, Romney believes history has vindicated his candidacy. Last year saw the emergence of a whole cottage industry of "Romney was right" bloviation; BuzzFeed went so far as to ask if Romney was "right about everything." So with Romney inching toward another run, one adviser claimed that in an alternate universe with President Romney, "There wouldn't be an ISIS at all, and Putin would know his place in life."
This is historical revisionism at its worst. Though Romney seemed prescient when Russia first invaded Crimea, he seems less so now that Russia's economy is tanking, in part, due to U.S. sanctions.
Meanwhile, the U.S. economy is humming along, oil prices are plummeting, and ObamaCare, despite its poor rollout and lukewarm popularity, has been a resounding success. Romney predicted the opposite of that, total disaster. Indeed, Romney claimed he would drop the unemployment rate to 6 percent by the end of 2016; Obama accomplished that goal two years ahead of Romney's timetable.
Romney's camp is also under the impression that some fresh policy lipstick is all Romney needs to win over voters who soundly rejected him before. However, Romney's biggest hurdle has always been convincing voters he is a genuine human being and not a pandering cyborg. The candidate who called 47 percent of the nation freeloaders, and who admitted he was "not concerned about the very poor," believes he can convincingly pass himself off as the antipoverty guy in 2016. Good luck with that.
There's also a stunning hubris to Team Romney's dismissal of Jeb — "a Bush can't beat a Clinton" — and Hillary — a "beatable candidate." And there's a rich conceit in the belief that a decade of ceaselessly and ineffectually running for president has finally convinced Americans that Romney would make a good president after all.
To be sure, Romney has yet to say he will definitely run again. But Romney's early maneuvering reveals not only that he wants to be president, but that he thinks he deserves to be president, too.

Continue reading for free
We hope you're enjoying The Week's refreshingly open-minded journalism.
Subscribed to The Week? Register your account with the same email as your subscription.