Barack Obama, Jon Stewart, and the problem with American liberalism
Like it or not, politics is a bloodsport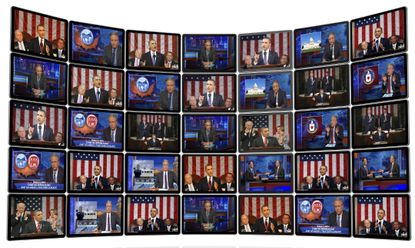 (Image credit: (Illustration by Lauren Hansen | Images courtesy Getty Images (18), Facebook.com/TheDailyShow (17) )
During his State of the Union address this week, President Obama took aim at people like me.
He has often argued, most prominently during his speech to the Democratic National Convention in 2004, that a toxic media and political culture has undermined the American citizenry's natural propensity to work together. "There is not a liberal America and a conservative America, there is the United States of America," he said at the time.
He returned to that theme on Tuesday:
Subscribe to The Week
Escape your echo chamber. Get the facts behind the news, plus analysis from multiple perspectives.
SUBSCRIBE & SAVE
Sign up for The Week's Free Newsletters
From our morning news briefing to a weekly Good News Newsletter, get the best of The Week delivered directly to your inbox.
From our morning news briefing to a weekly Good News Newsletter, get the best of The Week delivered directly to your inbox.
But the fact is that we are clearly not one people. Our media and politics are indeed toxic. But by glossing over the fact that there are fundamental, unavoidable disagreements about what is good for the country, the president paints a simply incorrect picture of how modern politics works. It's a classic liberal mistake, one that must be overcome if Democrats are to ever win back power.
Jon Stewart is perhaps an even more important advocate of Obama's anti-partisan view. Especially during the Bush years, he was one of the most trusted figures in the country on the left. He has used that position to consistently argue that political fecklessness (as opposed to bad policy) is the most important issue facing the country, enabled by a media that has lost sight of its proper role as objective mediator. As Jonathan Ladd has written:
In this view, rancorous political conflict is due to a lack of professionalism, moderation, and civility. Elected political leaders, regardless of party affiliation, ought to come together, hash out which policies are best by a process of rational debate, and then pass them. Conflicts ought to be sorted out through compromise, not standoffs.
There is certainly something to this. There's no reason that even a very extreme Republican Party can't compromise to get half of what it wants, instead of repeatedly creating high-stakes hostage crises that result in nothing. Small nations with a high degree of political consensus, like Switzerland, can manage effective governance without very much political fighting.
But there are also enormous problems with importing this view to the U.S. The first is that, very often, there are unavoidable disagreements about which policies are best. Republicans, for example, prefer to cut taxes on the rich and raise them on the poor; Democrats prefer the opposite. Conflict is therefore inevitable. Any debate on the merits is going to break down on fundamental disagreements on values. In the United States, politics is blood and struggle, and always has been.
Indeed, there is more than a whiff of anti-democratic sentiment about the desire for bipartisan compromise. The mid-20th century days when the federal government operated through constant wrangling among a semi-permanent Washington elite were also days when average people could not even understand who was making which decisions.
Another problem is that it only takes one party to start a fight. Being reasonable and deferential towards one's opponents is utterly pointless if they are fanatics who will not be persuaded by argument or evidence. Today's Republicans are more conservative than at any point in the last century at least. In a straight battle, failing to fight means admitting defeat.
Stewart exemplified this during his most overtly political act, the 2010 Rally to Restore Sanity and/or Fear, which brought over 200,000 people to the National Mall right before that year's election. In a final speech before the crowd, he constructed a lengthy analogy to cars taking turns to enter the Lincoln Tunnel as an appropriate model for politics:
Days later, with turnout 20 points lower than in 2008, Democrats were utterly annihilated at the polls, losing 63 House seats, six Senate seats, and over 600 seats in state legislatures. Stewart's response? "Tough shit... I have no obligation to the Democrats or progressives or liberals or unions. Our feeling is: corruption is corruption."
Maybe so. But any widely adored liberal icon has no business holding mass rallies if he's going to claim he's not really a political actor. Even his metaphor was partly bungled. The Lincoln Tunnel was no product of bipartisan compromise: it was a 1934 New Deal project by the Public Works Administration.
In any case, probably the most convincing piece of evidence undermining President Obama's thesis came during the speech itself. Right in the middle of his paean to bipartisanship, he mentioned that he won't be campaigning for president again, sparking gleeful laughter and cheering among Republicans. Momentarily wrong-footed, he retorted, "I know, because I won both of them," sparking gleeful laughter and cheering among Democrats. Liberals loved the moment.
That is, so far as I can tell, how America really is. Two bitter, mutually hostile camps that love nothing quite so much as getting one over on the other side. It's a worrisome trend, no question. But one thing is for sure — wishing it weren't so isn't going to change anything.

Continue reading for free
We hope you're enjoying The Week's refreshingly open-minded journalism.
Subscribed to The Week? Register your account with the same email as your subscription.