A letter to Alabama Chief Justice Roy Moore on gay marriage
In praise of the Deep South's tradition of resisting social change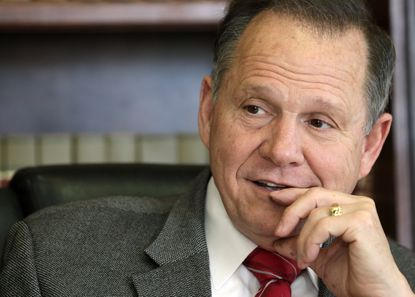 (Image credit: (AP Photo/Dave Martin, File))
Sign up to our 10 Things You Need to Know Today newsletter
A free daily digest of the biggest news stories of the day - and the best features from our website
Thank you for signing up to TheWeek. You will receive a verification email shortly.
There was a problem. Please refresh the page and try again.
Chief Justice Roy S. Moore
The Supreme Court of Alabama
Dear Chief Justice Moore:
Subscribe to The Week
Escape your echo chamber. Get the facts behind the news, plus analysis from multiple perspectives.
SUBSCRIBE & SAVE
Sign up for The Week's Free Newsletters
From our morning news briefing to a weekly Good News Newsletter, get the best of The Week delivered directly to your inbox.
From our morning news briefing to a weekly Good News Newsletter, get the best of The Week delivered directly to your inbox.
I'm writing today to express my heartfelt admiration for the strong stand you're taking in favor of states' rights and against the tyranny of the federal courts. Judge Callie V.S. Granade of the U.S. District Court ruled in January that Alabama's prohibition on same-sex marriage is unconstitutional, and you reject her reasoning. You also disagree with the U.S. Supreme Court, which on Monday refused to block Judge Granade's ruling. And so you (and the roughly three quarters of Alabama voters who, if given the chance, would vote against same-sex marriage) are refusing to go along. That's how I see your decision ordering Alabama's probate judges to defy these higher courts — as an expression of principled opposition to meddlesome judges who would "take away institutions ordained by God" in an act of "unlawful authority," as you're quoted as saying in The New York Times.
Bravo, Mr. Chief Justice. Bravo.
I've respected your willingness to take these kind of stands for a long time. I just loved how you placed that 5,000-pound granite monument listing the Ten Commandments inside the state judicial building in Montgomery — and then refused to get rid of it after the federal courts ruled against you. You were even willing to be removed from office by the busybodies on that state ethics panel who disapproved of your act of civil disobedience. But you and your Alabama admirers got the last laugh, didn't you? How great is it that the voters re-elected you to the state's high court after all that controversy! I guess it just shows how many of them firmly share your view that America is a fundamentally Christian nation.
I certainly see where they're coming from. I mean, sure, the Ten Commandments come from the Hebrew Bible, but Christians have always liked that part of it. And what could be more relevant for 21st-century Americans than to be reminded that our laws should be modeled on the Decalogue? Just look at those commandments: proscribing murder and theft, just like we do. If only we had the confidence to go further in following divine law by outlawing adultery and covetousness and making graven images and worshiping other gods (Jesus doesn't count, silly!) and taking God's name in vain and working on the Sabbath and dishonoring parents. (I have two kids myself, so I really like that last one!)
I'm a big fan, in other words.
And yet, I am troubled by one small thing about this same-sex marriage business, and I hope you may be able to help me think it through.
I've argued in the past that opposing same-sex marriage doesn't automatically make one a bigot — that it isn't morally identical to defending segregation and other elements of Jim Crow in the 1950s and '60s. That's why I was especially cheered to read in the Times that you "have never been a segregationist," which must mean that although you're today a rather passionately committed member of the religious right, the 16-year-old Roy Moore was a left-liberal supporter of the Civil Rights Movement at the very moment, in 1963, when George Wallace took his famous stand in the schoolhouse door against desegregation.
Given this youthful support for racial equality in the South, you, too, must be worried about the disturbing parallels between your actions and Wallace's. I don't necessarily mean the most obvious and mean-spirited parallels — the ones that would portray your fight against same-sex marriage as a straightforward substitution of anti-gay bigotry for racism.
What I mean is something subtler — namely, the process of historical change itself. Whether we label it progress or decline, it is undeniable. You might not have been a segregationist, but surely you remember a lot of people who were — maybe members of your own family. When you were growing up, millions of these people in Alabama and across the Deep South were strongly motivated to uphold Jim Crow, sometimes backed up by extra-judicial acts of deadly violence.
And yet here we are, 50-odd years later, and there's hardly anyone around who pines for a return to segregation. Even its staunchest defenders in the early 1960s — let alone their children, and their children's children — have moved on, given up, conceded defeat, and accepted the end of white supremacy in the South. They lost, it's over.
Tell me, Chief Justice Moore, what will make the battle against same-sex marriage different? Do you really doubt that 50 years from now the vast majority of Americans — yes, even in Alabama — will accept the legitimacy of same-sex marriage? Can you point to any socio-cultural revolution — in race, gender, and now sexual orientation — that's ever been halted or reversed?
Me, neither.
But then how do you manage to muster the strength to fight on so vigorously? Do you really believe that you'll prevail? Or is it, as I suspect, that you're playing out some distinctively Southern morality play in which you embrace and fight for a noble lost cause and then fall grandiloquently on your sword at the last moment, becoming a martyr venerated by all the True Believers who are left behind to make their peace with Inevitability?
I'm certainly willing to entertain the possibility that this interpretation of your actions is a product of my Yankee prejudices. But you need to show me that I'm wrong — that I shouldn't feel demoralized about your prospects. Until I receive a response that makes the case, I'm afraid I'll be unable to stave off my suspicion that not even you believe you can prevail in this fight.
The hour is late. The Supreme Court appears poised to impose same-sex marriage throughout the land. And it looks like not even the venerable Chief Justice Roy S. Moore can do anything to stop it.
Yours truly,
Damon Linker
Continue reading for free
We hope you're enjoying The Week's refreshingly open-minded journalism.
Subscribed to The Week? Register your account with the same email as your subscription.