Obama, gay marriage, and wrapping a lie in the cloak of faith
More important than the president's gay marriage double-talk is the way he used God to buttress an argument he didn't believe in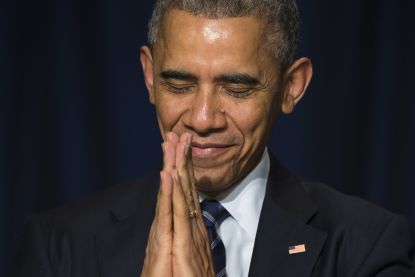 (Image credit: (AP Photo/Evan Vucci))
In his new book Believer, former Obama strategist David Axelrod reveals that President Obama misled the American public when he said for several years that he opposed gay marriage.
In Axelrod's telling, Obama was, at heart, a supporter of same-sex marriage when he ran in 2008, but Axelrod advised him not to reveal his beliefs because "opposition to gay marriage was particularly strong in the black church." And indeed, it wasn't until 2012 that President Obama publicly came around in favor of gay marriage, after a much-mocked, faux-Hamlet period of "evolving."
In the wake of Axelrod's revelation, conservatives have been quick to note that Obama had often in the past cited his faith when opposing gay marriage. "What I believe, in my faith, is that a man and a woman when they get married are performing something before God, and it's not simply the two persons who are meeting," he said in 2004. "I believe that marriage is the union between a man and a woman," he told Rick Warren in 2008. "For me as a Christian, it is also a sacred union — God is in the mix."
Subscribe to The Week
Escape your echo chamber. Get the facts behind the news, plus analysis from multiple perspectives.
SUBSCRIBE & SAVE
Sign up for The Week's Free Newsletters
From our morning news briefing to a weekly Good News Newsletter, get the best of The Week delivered directly to your inbox.
From our morning news briefing to a weekly Good News Newsletter, get the best of The Week delivered directly to your inbox.
I've seen conservatives and Christians cite this fact as though it were prima facie damning evidence. National Review, for example, ran a post titled: "Obama Didn't Just Lie About Opposing Gay Marriage; He Kept Citing His Faith While Doing It." Critics have documented the faith element of Obama's apparent lying as if the implications were self-evident. But let's spell it out: Why is masking a lie in the cloak of faith so inherently disturbing and telling?
In terms of its magnitude, this lie might seem pretty harmless to a nonbeliever. FDR's campaign promise that "your boys are not going to be sent into any foreign wars" was obviously much more significant in the grand scheme of things. George H.W. Bush's "Read my lips" tax pledge and Bill Clinton's "I did not have sexual relations with that woman" were arguably more substantive lies than Obama's. But Obama's still belongs in a category by itself.
Consider this imperfect analogy. You say, "On the life of my daughter, I'm telling the truth..." and I find out that you lied. The lie itself might be about something terribly minor. But what kind of person would do that?
That's the problem here. Obama cited his belief in something sacred to buttress an argument he apparently didn't actually believe. By making his faith an accessory to a lie, he subjected something sacred to something profane.
For the faithful, this really is a damning revelation.
I'm less interested in how Obama feels about gay marriage than I am in the fact that he's the kind of person who would cite his faith to justify a lie.

Continue reading for free
We hope you're enjoying The Week's refreshingly open-minded journalism.
Subscribed to The Week? Register your account with the same email as your subscription.