Grading CPAC: How each of the potential Republican 2016 candidates fared
The annual conservative summit has become an audition for the presidency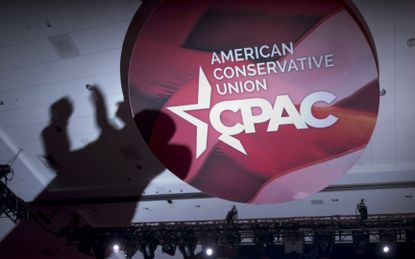 (Image credit: (AP Photo/Carolyn Kaster))
Sign up to our 10 Things You Need to Know Today newsletter
A free daily digest of the biggest news stories of the day - and the best features from our website
Thank you for signing up to TheWeek. You will receive a verification email shortly.
There was a problem. Please refresh the page and try again.
In recent years, the Conservative Political Action Conference, better known by its acronym CPAC, has grown to a scale that makes it a kind of audition for the presidency. A place for players to show how convincing they are in the lead role, before the show goes to primetime. How do they look in front of a podium? How do they sound? The potential candidates typically make short 15-20 minute speeches, and this year they faced questions. It's a good time to assess the state of this packed field.
Top Tier
Scott Walker
Subscribe to The Week
Escape your echo chamber. Get the facts behind the news, plus analysis from multiple perspectives.
SUBSCRIBE & SAVE
Sign up for The Week's Free Newsletters
From our morning news briefing to a weekly Good News Newsletter, get the best of The Week delivered directly to your inbox.
From our morning news briefing to a weekly Good News Newsletter, get the best of The Week delivered directly to your inbox.
Grade: B-
Wins: Well-earned brags about his record in Wisconsin, on eliminating teacher tenure, defunding Planned Parenthood, and requiring a photo ID to vote.
Oddities: On ISIS: "If I can take on 100,000 protesters, I can do the same across the world."
Walker was a bit shouty, but he surpassed low expectations on his speechmaking. The comparison of his showdown with public union workers to ISIS was stupid in two directions. He sought to clarify afterward that he was not, in fact, comparing his state's teachers to crucifiers, or crucifiers to teachers. But the speech and clarification only told us that he doesn't have much to say on foreign policy.
Going Forward: Walker has to be much more specific on foreign policy. He spoke well to middle-class aspirations, which is something that he and the party need to build on for 2016.
Jeb Bush
Grade: B
Wins: Not backing down on immigration. Willing to be booed.
Oddities: "I'm not familiar with the ways of Washington." Give us a break.
Bush didn't give a speech. He was booed throughout the conference. And he was booed some more when tackling Sean Hannity's immigration questions. Bush was also hit with reports that he bussed in supporters from Georgetown and K Street. It was reminiscent of Romney's 2007 performance at CPAC, including the massive party after his speech. By the next year, Romney was the great anti-McCain hope of the conference.
Going Forward: Bush is right in the mainstream of GOP foreign policy. He needs to say more about health care. He needs to be careful bragging about Florida's economic growth compared to Rick Perry's Texas. Much of that growth was a housing bubble that turned into misery. He used a phrase, "More like the '80s," to describe the America he wants. That would be political suicide if used against Clinton.
Marco Rubio
Grade: B
Wins: Acknowledged the unpopularity of his efforts on immigration.
Oddities: None.
Rubio was booed enough times throughout to confirm that some of the damage done on immigration reform is irreparable. Rubio is the most polished speaker of the bunch.
Going Forward: Rubio needs another "move" besides blending his family's story with the story of American aspiration. Also, he needs to pick a fight on an issue and win it. Maybe Common Core.
Second Tier
Rand Paul
Grade: B
Wins: "Phone records of law-abiding citizens are none of [the government's] damn business"; "Hillary's war in Libya."
Oddities: "Origami condoms."
Paul is at his best when he transforms his disagreements with the party elite (on foreign policy, for instance) into partisan attacks on Hillary Clinton. But despite winning the CPAC straw poll on Saturday, he seems to have a hard ceiling on his speechmaking abilities. The other strong moment was his assertion that the party will grow when it stands for the whole Bill of Rights, and his condemnation of the lack of a swift, fair trial for Kalief Browder.
Going Forward: Paul needs to be deft. He needs to continue finding wedge issues against the top tier candidates/donor class, where his position is either more popular with a key group of voters or sounds more partisan.
Rick Perry
Grade: B+
Wins:"If Egypt and Jordan recognize that they are at war with radical Islam, isn't it about time our president proclaimed the same?"
Oddities: A lame joke about Jimmy Carter, 30 years out of date.
Perry is lucky to have the facts of Texas' growth on his side. It's blessed with cheaper land, a light regulatory touch, and, until recently, a booming energy economy. Perry's answer to a question about the environment managed to be both legitimately skeptical of climate change and a brag about emissions decreases. This is Perry's signature two-step on most issues, though it got him into trouble on immigration in 2012.
Going Forward: He needs to make people forget the guy who couldn't remember which federal agencies he wanted to abolish. Didn't do that at CPAC.
Ted Cruz:
Grade: B-
Wins: "When have you been willing to stand up against Republicans?"
Oddities: Imitating wannabe conservatives: "You betcha, hoo diddly I'm a conservative as all get out."
Depending on your taste, Cruz is either a bright, enthusiastic firebrand or an oleaginous, narcissistic creep.
Going Forward: Style matters. He needs to find a way to make his megachurch-pastor style translate to Catholic voters in swing states, who usually find that kind of thing off-putting.
Rick Santorum
Grade: C+
Wins: Stands for the "little guy" message. Supports domestic manufacturing, internal economic development.
Oddities: Obvious partiality for Crusades.
Santorum's weakness and strength are the same: his authenticity. He won't modulate. He insists that the surprising successes of his last run weren't just because he was the last anti-Romney candidate standing. But in a field with accomplished ex-governors and untarnished sitting senators, someone who lost his Senate seat by double digits in 2006 is a low priority.
Going Forward: He needs to sharpen his attack on economic elites in both parties, and come up with a list of "deliverables" for the broad middle class constituency he wants.
Chris Christie
Grade: B
Wins: "Sometimes people need to be told to sit down and shut up."
Oddities: None.
Christie sinks further with every news cycle. But the adversarial style of Laura Ingraham's interview was a good showcase for him. Confidence in the face of hostility is appealing.
Going Forward: Why not turn his rhetorical guns away from public workers in Jersey and fire them at Clinton?
Somewhere Below Second Tier
Carly Fiorina:
Grade: A-
Wins: "Mrs. Clinton, name an accomplishment"; "She tweets about women's rights in this country and takes money from governments that deny women the most basic human rights." Yowza!
Oddities: None.
The former Senate candidate from California blew away expectations. The conservative faithful see a female candidate from a blue state and think of the Maine moderates, like Olympia Snowe. Fiorina's attacks on Clinton were very sharp. They felt like Matthew Scully's best work for Sarah Palin in the 2008 campaign. But not much was said on policy in her speech or in the Q&A.
Going Forward: Lack of public service means she can't compete on turning around public institutions or passing legislation. But she'll be in any Republican's file of veep candidates.
Bobby Jindal
Grade: C-
Wins: Ripping Common Core with a good anecdote about his son.
Oddities: None.
Jindal is improving as a speaker. He is firing hard on repealing ObamaCare, and was willing to tear Republicans up over it.
Going Forward: He needs something positive to say about Louisiana under his leadership. Not an easy task. He also needs Cruz to flop.
Ben Carson
Grade: C-
Wins: "I'm not interested in getting rid of the safety net, I'm interested in getting rid of dependency."
Oddities: "That's why God gave us these fancy brains." As a response to the controversy over voter ID laws, he also encouraged people to help invalid grandmothers cast votes.
He was the least shouty of the speakers. In real life, Dr. Ben Carson is the most accomplished man in any room he enters, a legend in the field of brain surgery, a walking inspiration. In the world of politics, he's a bit lame. He talks about politics the way passionate non-politicians do. He lacks so many basic skills as a speechmaker that you wonder if he could win sympathy merely by looking helpless next to Hillary Clinton. He can hold a stage with great poise though.
Going forward: He needs policy chops. He needs to learn how to throw a punch, rather than just an opinion. And he needs his pro-family values message to seem broad, not sectarian.
Donald Trump
Grade: D-
Wins: Inapplicable.
Oddities: Actual quote: "Common Core is bad, is bad. Second Amendment is good."
Going Forward: No need to indulge this man.
Non-candidate round
Laura Ingraham: The host torched Jeb Bush in her own speech, and really grilled Chris Christie. She makes a good argument that certain partisan Republicans are better at turning the screws than their more conciliatory counterparts.
Sean Hannity: He was everywhere. He soft-pitched to everyone he questioned, until Bush. He's the counterpoint to the argument against letting conservative media vet GOP candidates.
Phil Robertson: More gripping than Clint Eastwood, frankly. Unlikely his anti-Shintoist remarks will hurt the party.
Bottom line: Unless Rubio or Paul significantly raise their game and soon, next year's CPAC will feature Jeb Bush reconciling himself to the conservative base, or Scott Walker beginning to pivot toward the middle.
Continue reading for free
We hope you're enjoying The Week's refreshingly open-minded journalism.
Subscribed to The Week? Register your account with the same email as your subscription.
Sign up to our 10 Things You Need to Know Today newsletter
A free daily digest of the biggest news stories of the day - and the best features from our website
Michael Brendan Dougherty is senior correspondent at TheWeek.com. He is the founder and editor of The Slurve, a newsletter about baseball. His work has appeared in The New York Times Magazine, ESPN Magazine, Slate and The American Conservative.