Why a Clinton-Bush presidential race fills me with nothing but despair
Anyone but these two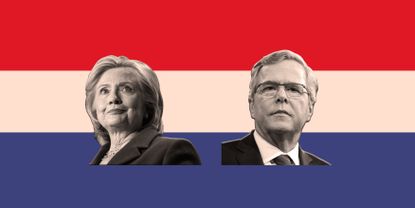 (Image credit: (Illustration by Lauren Hansen | Images courtesy Brooks Kraft/Corbis))
Have you ever felt as if a mysterious black cloud of despair was rising from the great depths of the universe? That it was cresting over the horizons of your life, blotting out all sunlight as it closes in and paralyzes you in fear? And maybe you felt that this slow-motion tsunami of dread was a deserved punishment for you personally, and humanity in general. And you realized, as I have, that this unstoppable, groaning wave was a natural outgrowth of your own moral torpor — the listlessness you had demonstrated over and over again, allowing injustices, petty cruelties, and incompetence to extend their reign over everything you loved, until finally it crashed on you, plunging you into a darkness beyond the reach of light, hope, and redemption.
That's pretty much exactly what it feels like to read the words "clintonemail.com" for a whole week, and realize that Democrats have no other response to that story but to shrug and press on. It's that feeling that grips your throat when you realize that Jeb Bush is buying up every brain on the right-wing worth buying, and that his challengers look confused and weak.
It's really happening to us.
Subscribe to The Week
Escape your echo chamber. Get the facts behind the news, plus analysis from multiple perspectives.
SUBSCRIBE & SAVE
Sign up for The Week's Free Newsletters
From our morning news briefing to a weekly Good News Newsletter, get the best of The Week delivered directly to your inbox.
From our morning news briefing to a weekly Good News Newsletter, get the best of The Week delivered directly to your inbox.
The inevitable Bush-Clinton presidential campaign is gathering itself along the horizon. It will be a boring, substance-less grind that turns on just which candidate's operation can direct slightly more of the public's disgust over the worst parts of the last two decades at the other candidate.
They'll both say they are for the middle-class families. They are friends of small business and the little guy. They want border security and a path to citizenship. They want to put the social safety net on a secure footing, but keep taxes low. They want a strong assertive foreign policy that confronts our enemies but not with the costs of the Iraq War. Perhaps they'll venture that they want to make health care better and cheaper. It will be like the presidential campaign of 2000. But darker.
Remember the great issues of the 2000 presidential campaign? Me neither. If you're a real junkie you'll remember Al Gore talking about a social security "lockbox," and George W. Bush promising over and over again to "restore the honor and dignity" of the presidential office. Maybe you recall Will Ferrell's memorable coinage of the word "strategery." Look at the debate transcripts, if you dare. About the hottest it gets is George W. Bush saying that he feels strongly that marriage is between a man and a woman. And Al Gore responding, "I agree with that." Sometimes Bush said, "It's just a difference of opinion."
2016 will be like that, but worse. If the past two weeks is prologue, Bush III vs. Clinton third-term will turn on a series of stories that are meant to enliven your prejudices about Bushes and Clintons. There's Jeb Bush's wife's jewelry box. So much more lavish than your own. Rich. Bush. Plutocrat. Hedge Fund.
Now there is Hillary Clinton's personal email and foreign donor scandals. Sleazy. Grifter. Corrupt. Secretive.
A Bush-Clinton race is just what the country needs. And when I say the country needs this race, I mean that in a divine-chastisement way. America needs Bush-Clinton like the Israelites needed the Babylonians.
I'm sure that cruel fate will cooperate with the necessary illusion that the Bush-Clinton choice matters much. Maybe Ruth Bader Ginsburg will develop a serious cough in August 2016. Or Vladimir Putin will start conducting military "exercises" along the border of Estonia. By September 2016, we'll convince ourselves that the great fate of the nation is at stake and tune into our Apple watches for the latest attack ad. Maybe Jeb Bush will spend five figures on veterinary bills for his grief-stricken wife's pet. If we're really lucky Hillary Clinton will get a sext from a Clinton foundation-donor-slash-third-world-kleptocrat.
The great dread cloud gathers beneath our feet. We should resign ourselves now to the fact that we deserved this for not stopping them a long, long time ago. And then we should do the decent thing and throw ourselves down into the darkness.

Continue reading for free
We hope you're enjoying The Week's refreshingly open-minded journalism.
Subscribed to The Week? Register your account with the same email as your subscription.