The most interesting candidate in the 2016 race is about to get very clichéd
If Rand Paul really wants to shake up politics, he should look to his own campaign first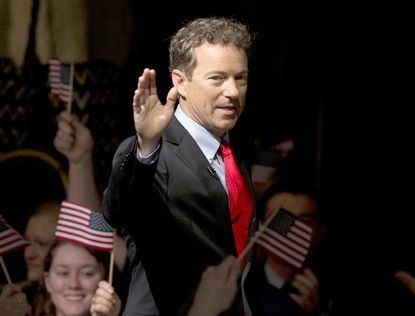 (Image credit: (AP Photo/Carolyn Kaster))
It feels ungenerous to proclaim a presidential candidacy doomed just a day after it began, but it's awfully hard to see how Rand Paul, the second official candidate in the 2016 race, can become the Republican nominee. That doesn't mean he won't have a significant impact on the race, however, or that his candidacy won't help define the ongoing debate about the state of the GOP and what it needs to do to win back the White House. Rand Paul remains, in the word everyone uses, "interesting" — but interesting doesn't win you the nomination. And I suspect that the more we see of Paul, the less interesting he could become.
The Washington Post called Paul a "fresh-faced disrupter," but the first part of that description may be more accurate than the second. While he has been a relatively high-profile member of the Senate since he joined five years ago (you've seen him on TV a lot more than, say, John Boozman or Jim Risch), it's easy to forget that Paul has run for office exactly one time in his life. By the time they make their run for the White House, most politicians have gone through the rigor of at least a few campaigns (and most of the good ones suffered a crushing yet educational defeat, something that happened early in their careers to Barack Obama, George W. Bush, and Bill Clinton, among others).
But Paul has only his 2010 Senate run under his belt, and while that wasn't exactly a walk (at least in the primary), it was made possible by his father's enthusiastic devotees, who donated money and time to help make the son a senator. Those same fans will probably help Paul become at least a middle-tier presidential candidate; in almost any primary, he can count on enough support from libertarian-leaning Republicans to put him ahead of the also-rans. He'll manage a more serious campaign than his father did, if by "serious" you mean intended to get the nomination. Ron Paul ran to make a point (or several), not because he thought he could actually become president.
Subscribe to The Week
Escape your echo chamber. Get the facts behind the news, plus analysis from multiple perspectives.
SUBSCRIBE & SAVE
Sign up for The Week's Free Newsletters
From our morning news briefing to a weekly Good News Newsletter, get the best of The Week delivered directly to your inbox.
From our morning news briefing to a weekly Good News Newsletter, get the best of The Week delivered directly to your inbox.
But therein lies Paul's problem: What makes him "interesting" is his libertarian leanings that cause occasional deviations from right-wing orthodoxy, but that's precisely what could put a ceiling on the support he can get from Republicans. Primary voters don't want to know where you differ from them; quite the contrary, in fact. So over the last year or so, while he has continued to talk about issues like privacy, Paul has reversed his views on some things that actually matter more to Republicans, like aid to Israel and military spending.
Those moves have naturally infuriated the libertarians who hoped Paul would be, if not a soul mate, at least a kindred spirit. But any who were surprised should have seen it coming a long time ago; back in August I wrote that "the more serious his presidential candidacy becomes…the more he'll resemble an ordinary Republican."
Paul isn't the only candidate confronting this fundamental contradiction. Back in December, Jeb Bush mused that a candidate might have to be willing to "lose the primary to win the general" — in other words, not spend so much time pandering to primary voters that you make yourself unpalatable to the broader electorate. Republicans who disagree with Bush on an issue like Common Core have decided he's not a "real" conservative, and Paul is already getting similar attacks; a group of foreign policy hawks has initiated a campaign against Paul, complete with TV ads, tarring him as insufficiently belligerent on the topic of Iran.
In a party whose issue positions were widely appealing, there wouldn't be a tension between winning over the base and appealing to the general electorate. Rand Paul's supporters aren't wrong when they say his ideological complexity (even as it becomes less complex) could make him more attractive next November than some of his more doctrinaire primary opponents. But it's the things most or all Republicans agree on — tax cuts for the wealthy, a return to George W. Bush's foreign policy, opposition to marriage equality, and comprehensive immigration reform — that make the general election such a challenge.
Rand Paul knows at least one thing everyone can agree on: This senator who's the son of a congressman will be running against Washington, just like every other candidate. His early campaign slogan is "Defeat the Washington machine and unleash the American dream." No one ever disagrees when you say Washington is a cesspool of corruption and twisted values — even if the people who say that the loudest are always the ones trying to get voters to send them there. I'm sure that before long, Paul will say that unlike his opponents he has a unique ability to transcend partisanship and bring Democrats and Republicans together to solve problems. Which is what Barack Obama said he could do, and George W. Bush said before him, and Bill Clinton said before him.
As much of a cliché as it has already become, Rand Paul is indeed interesting. He may not be an experienced candidate, but he's a smart guy who does retain nuanced views on at least a few policy issues, and has shown a talent for garnering glowing press coverage. But chances are that in his efforts to win over primary voters, he'll end up sounding pretty much like every other Republican. On the other hand, he could use this campaign to seriously question the GOP's current trajectory and force a more complex debate than we're likely to get (as opposed to just arguing about who hates Barack Obama and Hillary Clinton the most). Now that would be interesting — but it probably won't happen.

Continue reading for free
We hope you're enjoying The Week's refreshingly open-minded journalism.
Subscribed to The Week? Register your account with the same email as your subscription.