Will Republicans seek an Obama of their own in 2016?
Or will they veer toward his stylistic opposite?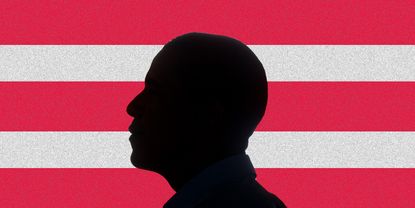 (Image credit: (Illustration by Lauren Hansen | Image courtesy AP Photo))
John Quincy Adams was the sophisticated son of the second president; he was also the last president to be truly connected to the Founders. Adams was extremely prepared for the nation's highest office, and won a narrow and controversial victory in 1824. But four years later, he lost his 1828 rematch with war hero Andrew Jackson, whose supporters mocked the intellectual scion with the slogan: "John Quincy Adams who can write; Andrew Jackson who can fight." Adams was painted as an effete academic. Jackson was the populist frontiersman, a real man of the people.
That contrast probably sounds familiar. It's been a pattern in our politics for nearly 200 years.
1828 was a "change" election. Early 19th-century America had an influx of immigrants, and a lot more voters than it once did. The nation was moving westward. The populace was becoming less sophisticated, or at least more skeptical of elites and intellectuals. There was a new ideal of what it meant to be the American president. Jacksonian populism seemed the wave of the future.
Subscribe to The Week
Escape your echo chamber. Get the facts behind the news, plus analysis from multiple perspectives.
SUBSCRIBE & SAVE
Sign up for The Week's Free Newsletters
From our morning news briefing to a weekly Good News Newsletter, get the best of The Week delivered directly to your inbox.
From our morning news briefing to a weekly Good News Newsletter, get the best of The Week delivered directly to your inbox.
And for awhile, it was. Indeed, after 12 years of Democrats Andrew Jackson and Martin Van Buren, Adams' Whigs could see the writing on the wall. To regain power, they would have to nominate their own folksy war hero: William Henry Harrison. In 1840, Harrison won.
Sometimes political parties return to power by aping their nemesis, as the Whigs did. Sometimes they do it by nominating his exact opposite. Voters are fickle, and are often all too ready to correct (or overcorrect) the last guy by going to the opposite extreme, at least superficially speaking.
Despite a thriving economy, Americans chose to exorcise the sins of Bill Clinton in 2000 by replacing him with a man who promised to "restore honor and dignity" to the White House. In short, Clinton's opposite. Eight years later, Americans would replace that swaggering cowboy with a professorial and cosmopolitan liberal: Obama. Stylistically speaking, could Obama be more different from Bush?
And that brings us to the question at hand: Was Barack Obama a paradigm-shifting president who "changed the trajectory of America" — or just a two-term president? The answer to that question will help determine whom Republicans will — or at least should — nominate. And because Hillary Clinton stands as a stark contrast to Barack Obama in many ways — most obviously generationally — it's possible the 2016 candidate best equipped to recapture that Obama magic may actually be a young conservative.
Recently, some commentators (including yours truly) have compared Ted Cruz's announcement speech to Barack Obama's rhetorical style. Cruz and Obama do indeed have some things in common, including an ambition to seize the brass ring after 15 minutes in the Senate, a keen intellect, and an Ivy League pedigree. But Cruz's Texas style and penchant for hurling red meat to the base make him awfully dissimilar to the professorial Obama.
A much better model might be Marco Rubio. As both Politico and Hot Air point out, Rubio could best be seen as the Republicans' Obama. This comparison has zero to do with political philosophy. And no, it's not because Rubio's is also a first-term senator (he made a pretty compelling case to Kasie Hunt about why he has more experience than then-Sen. Obama did in 2008). It's really about style and temperament. Obama and Rubio both seem calm, reasonable, intellectual, professorial. They seem like they'd be more comfortable in a big cosmopolitan city than clearing brush on a Texas ranch. They're telegenic thinkers, not brash doers.
Now, do Republicans really need their own Obama in 2016? Maybe.
What if 2008 marked a somewhat permanent political shift in presidential elections — away from the rural, rustic machismo of the Bush era and toward a more sophisticated, cosmopolitan ideal for a leader? Could it be that Republicans can only win again by playing this game — by casting aside the tough Southern thing, the Bush "swagger" — and nominating a young-ish, cosmopolitan conservative?
If the country has changed this way, and the GOP needs its own Obama — a conservative who can appeal to minorities, urbanites, and millennials — they might well turn to a Marco Rubio, a Bobby Jindal, or possibly a Jeb Bush.
But if they decide they want to go the exact opposite direction — that they want a fighter, not a writer — then it might just be a good year for a Ted Cruz, a Chris Christie, or a Rick Perry.
Then again, even the tough-talking former governor of Texas may be edging ever so slightly from fighter to writer. Because if those new glasses don't signal a cosmopolitan makeover, I'm not sure what does.
Editor's note: Matt Lewis' wife previously consulted for Ted Cruz's Senate campaign, and currently consults for RickPAC.

Continue reading for free
We hope you're enjoying The Week's refreshingly open-minded journalism.
Subscribed to The Week? Register your account with the same email as your subscription.