The absurd spectacle of the GOP's working-class nostalgia
The Koch brothers don't care where Scott Walker buys his sweaters. Neither should you.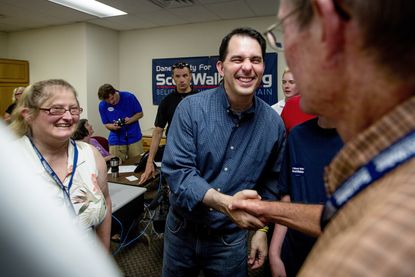 (Image credit: (Orjan F. Ellingvag/Corbis))
Scott Walker loves Kohl's. I mean loves Kohl's. Can't stop talking about the deals he gets there. He bragged so much about the time he used coupons and discounts to get a sweater at Kohl's for $1, Politifact did an analysis of the claim (verdict: "True"). Walker brings the department store up so often, you'd almost think he has an endorsement deal.
The Wisconsin governor will also tell you that his suits come from Jos. A. Bank, and you don't need a Ph.D. in political rhetoric to get what he's trying to accomplish. Scott Walker isn't some high-falutin' elitist in fancy clothes — he's just like you, a regular fella who gets you and what you go through.
Walker is far from alone in his poor-mouthing, even if the frontrunner for the GOP nomination is a guy whose grandfather was a senator and whose father was a president. "I grew up 16 miles from the closest place that had a post office, in a house that didn't have running water," says Rick Perry in a video released Tuesday by his PAC. "If I can't get down there and connect with the blue-collar worker, then nobody can." Marco Rubio describes himself as "the son of a bartender and a maid." Chris Christie, who had a family income of just under $700,000 in 2013, tells reporters, "I don't consider myself a wealthy man" (as Olivia Nuzzi of The Daily Beast argued, he may feel that way because he spends a lot of time hanging out with billionaires).
Subscribe to The Week
Escape your echo chamber. Get the facts behind the news, plus analysis from multiple perspectives.
SUBSCRIBE & SAVE
Sign up for The Week's Free Newsletters
From our morning news briefing to a weekly Good News Newsletter, get the best of The Week delivered directly to your inbox.
From our morning news briefing to a weekly Good News Newsletter, get the best of The Week delivered directly to your inbox.
Not only that, Republicans are planning to paint Hillary Clinton as a representative of the 1 percent, with her high-flying lifestyle and lucrative speaking gigs estranging her from ordinary folks. If you put the argument explicitly — "It would be bad to have a president who has too much money" — it sounds ridiculous, particularly coming from Republicans who simultaneously argue that the pursuit of profit is almost a divine calling and wealth a sign of virtue. But it's also about that most elusive of qualities, "authenticity." If you shop at Kohl's, you supposedly have it; walk into a Neiman-Marcus, and it's gone.
But is that really true? Isn't it possible to be wealthy and "authentic" or middle class (or even poor) and inauthentic? I've certainly known plenty of phonies who were of modest means.
The point, though, is to draw the connection between the candidate and the voters. Saying you came up the hard way or you still live in a small house and buy cheap clothes is a way of saying, "Vote for me because I'm like you and I understand you."
The problem is that there's no reason to think that this alleged connection has any implication at all for what happens in the Oval Office. In the abstract we could all agree that it's terrific if a president understands the struggles ordinary people go through — trying to find a job, worrying about making the mortgage, figuring out how to pay for your kids' college, and so on. It stands to reason that someone who had gone through those things him- or herself would advocate policies that would be the most help to those ordinary people. But there's no evidence that's actually what happens.
To take just a couple of examples, Franklin Roosevelt was American royalty, and he will be forever remembered for all he did helping struggling Americans through the Depression. Ronald Reagan grew up in far more modest circumstances, but he was determined to lower taxes on the wealthy. How rich or poor a president was in his youth (or even his adulthood) seems to tell us nothing about what they would do in office.
What does? Their party. Republicans might argue that trickle-down economics is indeed what's best for the folks waiting for the trickle, but they can't deny that the principal beneficiaries of their policies are those at the top (OK, they do actually deny it, but who believes them?). Democrats are far more likely to advocate things like an increase in the minimum wage or higher taxes on the wealthy. And most important, people in each party share their comrades' views, even though there are rich Democrats and poor Democrats, rich Republicans and poor Republicans.
Although the candidates' plans are still being formulated, I promise you that the economic ideas of the Kohl's-shopping Scott Walker will be almost indistinguishable from those of the Andover grad Jeb Bush — or, for that matter, from Marco Rubio, Ted Cruz, or Bobby Jindal (sons of immigrants all), Rick Perry of hardscrabble Paint Creek, Texas, or hyper-wealthy businesspeople Carly Fiorina and Donald Trump. There may be some small differences, but they're all Republicans, which means they'll advocate the same things: tax cuts (particularly on the taxes that hit the wealthiest hardest, like those on capital gains and inheritances), loosening of restrictions on Wall Street, and scaling back regulations that affect corporations.
Earlier this week, we learned that Charles and David Koch (worth a combined $84 billion), are looking with favor on Walker's candidacy, even if they aren't quite ready to make a formal endorsement and shower him with cash. That's because they think he can win, but also because he stands for the same things they do. The Kochs don't care whether Walker is "authentic," and they don't care where he buys his sweaters — he's their guy. There might be a lesson there.

Continue reading for free
We hope you're enjoying The Week's refreshingly open-minded journalism.
Subscribed to The Week? Register your account with the same email as your subscription.