Marco Rubio's tyrant trap
The 2016 hopeful wants to let freedom ring — except, perhaps, in the Middle East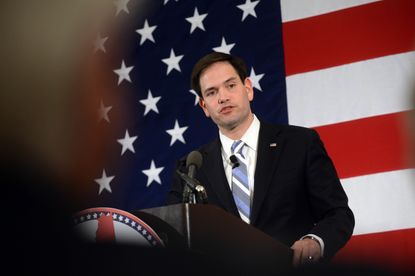 (Image credit: Darren McCollester/Getty Images)
Senator Marco Rubio (R-Fla.) is a on mission to look presidential. As foreign policy assumes a more prominent place in the nascent 2016 presidential election, he's at the front of the pack of White House hopefuls hoping to burnish their international bona fides.
And he's doing a pretty good job of it.
In what was billed as his first official foreign policy speech as a presidential candidate, Rubio provided voters with an inkling of what a Rubio Doctrine might be at the Council on Foreign Relations this week. He was polished and, at times, persuasive. Clearly comfortable discussing all affairs foreign, Rubio appeared to relish the minutia of hot-button foreign policy debates, such as the Cuban embargo and U.S. military spending.
Subscribe to The Week
Escape your echo chamber. Get the facts behind the news, plus analysis from multiple perspectives.
SUBSCRIBE & SAVE
Sign up for The Week's Free Newsletters
From our morning news briefing to a weekly Good News Newsletter, get the best of The Week delivered directly to your inbox.
From our morning news briefing to a weekly Good News Newsletter, get the best of The Week delivered directly to your inbox.
Though the speech was often short on specifics, Rubio seems to have given a great deal of thought to the proper use of American power in the 21st century. Outlining a foreign policy premised on democratic principles and the preservation of political and economic opportunity around the world, Rubio described a U.S. superpower designed to serve as the guarantor of global commerce and guardian of the little guy.
"We must recognize that our nation is a global leader not just because it has superior arms, but because it has superior aims," Rubio said. "America is the first power in history motivated by a desire to expand freedom rather than its own territory."
But if Rubio's rhetoric about freedom and democracy sounds familiar, that's because Americans heard much of the same from previous presidential occupants.
Although Presidents Bush and Obama both paid lip service to the aspirations of the world's politically and economically oppressed — especially those living under tyranny throughout much of the Muslim world — both were eventually curbed by the realities of American dependence on a circle of Arab strongmen. While Bush encouraged Muslims in the Arab world to stand up for democracy, he ultimately — and literally — held hands with the very sheiks and sultans who were keeping so many Arabs in shackles.
Obama, for his part, pledged a new beginning with the Muslim world in the early days of his administration, only to stand idly by while Sunni dictatorships in Egypt and Bahrain crushed and persecuted political dissidents. Both leaders opted for the familiar comforts of stability and order promised by the region's ruling Arab regimes.
And even though candidates must make gulfs out of gullies in order to grab attention and gain votes, the reality is that few presidents are willing to take that leap and deviate from the status quo of U.S. foreign policy. Presidents are often forced to dampen lofty campaign rhetoric once faced with crises and conflicts, as well as a global system that is inherently resistant to excessive boat rocking.
"At least 85 percent of American foreign policy does not change from president to president, and the presidents who do try to change more than that eventually discover the pitfalls of that approach," writes Tufts University professor, and Washington Post contributor, Daniel Drezner. This foreign policy learning curve, Drezner explains, has become a part of the pageantry of American politics, even if candidates eventually fail to live up to the ideals enumerated on the campaign trail once in the White House.
Early indicators suggest a similar letdown in a hypothetical Rubio presidency. Though the senator spoke abstractly about freedom and human rights during his speech, Rubio also heaped praise on Egyptian leader Abdel Fattah el-Sisi, and even went so far as to suggest that a Rubio administration would provide U.S. ground forces to help Saudi Arabia wage a primarily sectarian war in neighboring Yemen.
The Saudis have beheaded scores of their own citizens just this year alone, and the regime continues to coddle the very same Wahhabi clerics who help incubate and enable terrorist organizations like ISIS and al Qaeda. Now, the Saudis are threatening to plunge the entire Mideast into a nuclear arms race if the terms of the deal agreed to between Tehran and world powers are not amended in Riyadh's favor.
This presents Rubio with a real opportunity to make good on his foreign policy pledges, and speak out against Mideast sectarianism and extremism in all its forms, be it Sunni or Shia, Arab or Iranian. But will he?
While there is some reason to believe the one-term senator might challenge the status quo in the Middle East — he has, after all, evolved on the question of Iraq — history, and the senator's own statements, suggests that the answer is no.

Continue reading for free
We hope you're enjoying The Week's refreshingly open-minded journalism.
Subscribed to The Week? Register your account with the same email as your subscription.