George Stephanopoulos is not a journalist. He just plays one on TV.
Let's stop pretending this former political operative is held to the same standards as actual reporters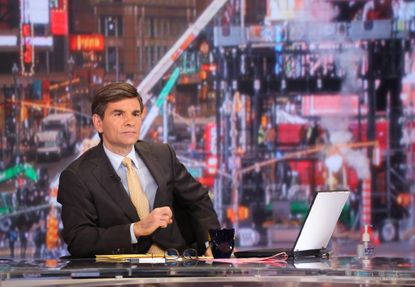 (Image credit: (Walter McBride/Corbis))
Sign up to our 10 Things You Need to Know Today newsletter
A free daily digest of the biggest news stories of the day - and the best features from our website
Thank you for signing up to TheWeek. You will receive a verification email shortly.
There was a problem. Please refresh the page and try again.
For decades, the Big Three broadcast networks practically defined national journalism. Not anymore. Rathergate blemished CBS News. Brian Williams' personal and professional fabulism tarnished NBC News. And George Stephanopoulos' cozy cash-giving to the Clintons tainted ABC News.
Network news is no longer the gold standard of American journalism. Instead, it's become a lot more like fool's gold.
The misbehavior of these network news stars raises a real and important question: What, exactly, is a journalist? Stephanopoulos in particular has prompted that question ever since he left the White House in 1996 to join ABC News.
Subscribe to The Week
Escape your echo chamber. Get the facts behind the news, plus analysis from multiple perspectives.
SUBSCRIBE & SAVE
Sign up for The Week's Free Newsletters
From our morning news briefing to a weekly Good News Newsletter, get the best of The Week delivered directly to your inbox.
From our morning news briefing to a weekly Good News Newsletter, get the best of The Week delivered directly to your inbox.
At first, Stephanopoulos joined ABC as a political analyst, a traditional role for high-ranking former administration officials. Stephanopoulos was seen as a political wunderkind for his role in Bill Clinton's "war room" in the 1992 election, and then as a political operative within the administration, Stephanopoulos certainly had the kind of experience that networks value when covering presidents and politics. In that sense, Stephanopoulos fit the same mold as fellow Clinton alum James Carville, Carville's wife and Republican operative Mary Matalin, and many other politicos-turned-TV-analysts, like David Gergen, Chris Matthews, Ari Fleischer, and so on.
Most of those analysts remain exactly that: analysts. It's an acceptable role for a former political operative with partisan baggage. But it wasn't enough for ABC, which quickly began investing in Stephanopoulos not as an analyst, but as an objective news presence on the network. Less than two years after the Clintons left the White House, ABC named him host of their Sunday talk show This Week. In 2009, ABC made him the host of the morning news program Good Morning America, and in 2014 the network named Stephanopoulos its "chief news anchor." Only the late Tim Russert's journalistic trajectory at NBC News comes close to matching that of Stephanopoulos among former political staffers.
If you take a few steps back, this is a pretty stunning shift in how America sees Stephanopoulos. His transformation has been so total, and his connections to the Clintons so buried, that few Americans under age 30 probably even know he was once among Bill Clinton's closest advisors.
Clearly, ABC News wanted to sell the former Clinton war room operator as a credible journalist. And okay, fair enough. People can and do change. Oddly, though, ABC hasn't held him to the same standards they apply to other journalists in their employ. Considering his Clintonian baggage, you'd think ABC would hold Stephanopoulos to a higher standard than normal journalists. Instead, there seem to be no standards for him at all.
Last week, the Washington Free Beacon revealed that Stephanopoulos had been one of the more generous individual donors to the Clinton Foundation, giving $75,000 over three years (2012-14), and had done work on behalf of the foundation in the years prior to his financial support. Yet Stephanopoulos hadn't bothered to disclose those financial connections — not to viewers, and not to ABC's news division either. Even when covering the foundation's controversial foreign donations, and telling Clinton Cash author Peter Schweizer that he hadn't come up with a smoking gun, Stephanopoulos had chosen to keep quiet about his own relationship with the Clinton Foundation. He later offered an apology of sorts for failing to "have gone the extra mile" for disclosure.
Stephanopoulos' behavior clearly violated ABC News' standards, which require journalists to at least internally disclose any such connections before covering stories related to those organizations. Geraldo Rivera, now at Fox News, noted that ABC fired him in 1985 for an undisclosed political donation to a friend running in a nonpartisan race. The amount? Two hundred dollars. That was a long time ago, sure. But it's also a pretty egregious double standard.
Jeff Greenfield told Brian Stelter on CNN's Reliable Sources on Sunday that the network should really consider recusing Stephanopoulos from any coverage of the upcoming presidential election. "[Y]ou wonder to what extent Stephanopoulos was trying to repair relations with the Clintons because the book he wrote in 1999, All Too Human, really put him on the outs with the Clintons," Greenfield said. "It simply is an indication that very smart people can sometimes be very foolish."
Carole Simpson, the former anchor of ABC News' weekend edition who retired almost a decade ago to teach journalism at Emerson College, expressed her disgust "that, again, the public's trust in the media is being challenged and frayed because of the actions of some of the top people in the business." The problem was more fundamental in the case of Stephanopoulos. "While he did try to separate himself from his political background to become a journalist," Simpson flatly stated, "he really isn't a journalist."
Oddly enough, both ABC News and George Stephanopoulos seem to agree on this point. The latter's weak apology claimed that full disclosure of financial connections to the subject of a story somehow qualifies as going the extra mile, when most journalists consider it the first step, short of outright recusal. ABC News, meanwhile, refuses to hold Stephanopoulos to the standard it applies to actual journalists, which makes it clear that the news division sees Stephanopoulos as some other kind of entity altogether.
So let's be honest. George Stephanopoulos is not a journalist. He just plays one on TV.
Continue reading for free
We hope you're enjoying The Week's refreshingly open-minded journalism.
Subscribed to The Week? Register your account with the same email as your subscription.
Sign up to our 10 Things You Need to Know Today newsletter
A free daily digest of the biggest news stories of the day - and the best features from our website
Edward Morrissey has been writing about politics since 2003 in his blog, Captain's Quarters, and now writes for HotAir.com. His columns have appeared in the Washington Post, the New York Post, The New York Sun, the Washington Times, and other newspapers. Morrissey has a daily Internet talk show on politics and culture at Hot Air. Since 2004, Morrissey has had a weekend talk radio show in the Minneapolis/St. Paul area and often fills in as a guest on Salem Radio Network's nationally-syndicated shows. He lives in the Twin Cities area of Minnesota with his wife, son and daughter-in-law, and his two granddaughters. Morrissey's new book, GOING RED, will be published by Crown Forum on April 5, 2016.