Can Republicans actually convince America that their lawsuit to destroy ObamaCare is all Obama's fault?
Never bet on logic in a political fight...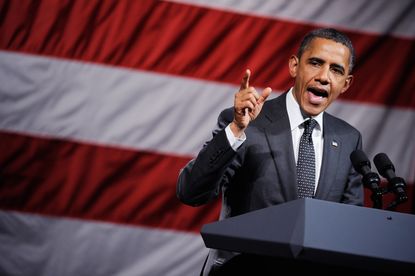 (Image credit: Kevork Djansezian/Getty Images)
It's hard to remember the last time a tweet from a politician got as much attention as the one Senator John Thune (R-S.D.) sent on Monday. Encapsulating so well the Republican position on the King v. Burwell lawsuit that threatens to strike a severe blow to the Affordable Care Act, it revealed the GOP's logic in all its glorious stupidity:
Thune wasn't just mocked on Twitter; people wrote entire articles (see here or here) about the tweet and how inane it is for a senator to argue that if Republicans succeed in taking away the ObamaCare subsidies that millions of people need to afford health insurance, that just shows how awful ObamaCare is.
Not that there isn't an audience for this sort of thing. It's the same sort of people who demand that government keep its hands off their Medicare. Although in fairness, the ACA is extremely complex, like health insurance itself, so it's no wonder lots of people don't understand what it does or how it works. It's that ignorance that Republicans are now counting on, just as they have since the debate on health care reform began over six years ago. But would it actually be possible for them to file an absurd lawsuit meant to take away the insurance subsidies people get through the ACA, convince Republican-appointed judges to take it seriously and find in its favor, refuse to pass the one-sentence piece of legislation that could restore those subsidies, and then blame the whole thing on Barack Obama? Unfortunately, the answer is probably yes.
Subscribe to The Week
Escape your echo chamber. Get the facts behind the news, plus analysis from multiple perspectives.
SUBSCRIBE & SAVE
Sign up for The Week's Free Newsletters
From our morning news briefing to a weekly Good News Newsletter, get the best of The Week delivered directly to your inbox.
From our morning news briefing to a weekly Good News Newsletter, get the best of The Week delivered directly to your inbox.
There may be no greater ongoing source of frustration for Democrats with regard to the ACA than the fundamental contradiction that lies at the heart of public opinion about the law. On one hand, when you ask people whether they like the law, it has never managed to get majority support. The details depend on how you ask the question — a majority would either like to keep it as it is or make changes to it, rather than repeal it outright as Republicans want — but it has never been broadly popular. On the other hand, most of the things the law does are extremely popular, and subsidies are just one example. Americans want to forbid insurance companies from denying coverage for pre-existing conditions, expand Medicaid, and give tax credits to small businesses; they like the closing of the Medicare "donut hole," and the fact that young people can stay on their parents' insurance. Many of them just aren't aware that the ACA includes those provisions.
Which is just dandy, as far as Republicans are concerned. In fact, there is no single ally that means more to the GOP in this ongoing debate than widespread ignorance.
Back when the law was first passed, there were two schools of thought on how the public would think of it over time. The more optimistic one said that once people started enjoying its benefits, the law would become popular and entrenched, making it impossible to undo even if Republicans ended up controlling both Congress and the White House. It would end up like Medicare, a program Republicans fought against when it was enacted and have always despised, but which is too beloved to actually dismantle, much as they might like to.
The other perspective said that once Democrats passed significant health care reform, they would "own" health care, and every problem anyone had with the system would become their fault. Every decision made by a doctor or insurance company that anyone doesn't like can now be blamed on Barack Obama. And that has, to a great extent, come true.
I've heard from many people who respond to my comments on the law by complaining that they don't like their provider network, so ObamaCare stinks — despite the fact that the narrowing of your network is a decision made by your insurance company to hold down costs, your doctor made a decision to be in your insurance company's network or not, and narrower networks is a trend that long pre-dated the ACA. People don't know that; they only know they're displeased. What's worse, under ObamaCare, you can still get sick and die.
Republicans were confident, with good reason, that the second school of thought predicted events accurately. Which is true: The law still struggles to achieve support and people don't attribute the successes of the law to the law itself. Just about every prediction Republicans made about ObamaCare has turned out to be wrong: Overall health care costs didn't skyrocket but slowed; the law cost less, not more than was predicted; it didn't destroy the economy but rather jobs have grown steadily since it went into effect; premiums haven't shot up; it didn't explode the deficit; millions more Americans now have insurance, and on and on. Yet those facts haven't penetrated to most of the public.
Nevertheless, there's a way in which the optimistic school of thought was right too. Whether people understand that the benefits they're getting come from the ACA, they still want those benefits. Republicans are now realizing this, which is what leads them to the level of absurdity that Sen. Thune reached. It's one thing to hold meaningless votes to repeal the law, but if your lawsuit to take away subsidies actually succeeds, you'll have to confront the fact that you're taking away health coverage from millions of people, and that might not go over too well.
Faced with that problem, the answer many Republicans have found up until now is to keep criticizing the law but take only symbolic steps against it. But as a decision in King v. Burwell approaches, they're realizing they may end up like the dog who caught the car; as a headline this week in The Hill read, "Republicans fear they will win ObamaCare court battle." Should that happen, they'll try to argue that it's all Barack Obama's fault: He's the one to blame because our lawsuit took away the subsidies he gave you.
As idiotic as that sounds, if you aren't one of the ones losing your health insurance, it might actually be persuasive. To an observer who doesn't have anything directly at stake — someone who gets insurance through their employer, or is lucky enough to be on one of the other government plans like Medicare — it may all sound like just one big mess, too complicated to bother trying to understand. All that many people will know is that people are losing their insurance, and it has something to do with ObamaCare. So maybe those Republicans are right when they say that the law should never have been passed.
It's not an argument that makes any actual sense. But that doesn't mean many people won't believe it.

Continue reading for free
We hope you're enjoying The Week's refreshingly open-minded journalism.
Subscribed to The Week? Register your account with the same email as your subscription.