Why John Kasich's moral concern for the poor isn't enough
The governor of Ohio makes a big show of caring for the poor. So why are all his anti-poverty policies so weak?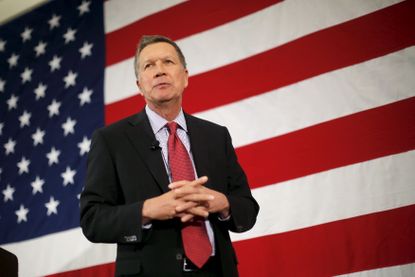 (Image credit: REUTERS/Brian Snyder)
On Tuesday, Ohio Gov. John Kasich joined the race for the presidency.
He is not your average Republican: He accepted ObamaCare's Medicaid expansion in Ohio, earning him the undying fury of many conservative commentators. He's pushed against the most punitive conservative responses to immigration, and he's willing to puncture the bootstraps mythos that economic success is a matter of personal character.
On the flipside, Kasich hasn't been above attempts at union-busting, or shifting Ohio's tax burden off of businesses and the wealthy and onto the middle class and the poor. But in a poignant piece that gets at the governor's messy humanity, Elizabeth Bruenig argued Kasich's Christianity has driven him to a genuinely striking moral stance (for a Republican) towards the poor and the safety net.
Subscribe to The Week
Escape your echo chamber. Get the facts behind the news, plus analysis from multiple perspectives.
SUBSCRIBE & SAVE
Sign up for The Week's Free Newsletters
From our morning news briefing to a weekly Good News Newsletter, get the best of The Week delivered directly to your inbox.
From our morning news briefing to a weekly Good News Newsletter, get the best of The Week delivered directly to your inbox.
That's put real daylight between Kasich and the rest of the GOP: "He's got to come up with an answer that is better than, 'I like poor people, I want to help poor people,'" Stephen Moore, of the arch-right-wing Heritage Foundation, told Bloomberg.
"That's not an answer that conservatives are very persuaded by."
The tragedy of John Kasich is that this moral bravery alone will not be enough. And the insufficiency is not about winning some kind of lefty-approval-for-Republicans contest. The insufficiency is a matter of concrete results: Admirable moral stances are, by themselves, of little use if uncoupled from economic know-how.
By all accounts, Kasich's attempts to cut income and business taxes in Ohio, while raising regressive sales taxes and other taxes on consumption, don't emerge from some random aristocratic urge to punish the poor. He has a very specific model in his head for how economic growth works, and which policies boost it. Crudely put, it's the "supply-side" theory of economic policy that has dominated right-wing thinking for some time: Businesses create new jobs when the costs of bringing on a new employee are outweighed by the benefits of tapping as-yet-unmet demand. And what stands in businesses' way are income and corporate taxes that suck the profit out of such moves.
Kasich has said he'd be down for similar income and corporate tax cuts on the national stage, and he wants to focus on increasing business investment — "the single biggest thing," in his judgment, "that would help us to overcome wage stagnation." To that same end, he wants to balance the federal budget to increase investor confidence, as well as alter expensing and depreciation rules — which he believes will make workers more productive and thus push up wages.
But America's corporate income tax, capital gains taxes, and the income tax are all at historic lows. And that nadir in tax rates has happened while business investment and research and development budgets in the economy have also been on a downslope.
Then there's the word of mouth from businesses themselves. The National Federation of Independent Businesses (NFIB) has been running surveys of small businesses for decades, and concerns with taxes as an impediment to business function are not at all high compared to the historical trend.
(Graph courtesy of the National Federation of Independent Businesses)
Also note the number of businesses saying sales are their biggest problem. The general critique from the left of the supply-side approach is that it assumes there's already enough demand out there to create plenty of jobs from. (Hence, "supply-side" not "demand-side.") Small businesses' concerns with sales are back to their historic norm, but only just, and after a massive upward spike with the Great Recession.
Finally, look at concerns with labor quality. They're ticking up — and news stories are proliferating about how employers can't find people with proper skills. But look at when concerns with labor quality peaked: the late 1990s, during the country's last genuine economic boom and burst of full employment. It would seem employers complain loudest about the quality of their employees when they can't pick and choose from the labor force — when jobs are so plentiful that any worker might leave at a moment's notice for a better deal.
This should be a reminder that the circumstances that make employers happiest are not necessarily the circumstances conducive to maximizing employment and broadly shared prosperity. The amount of demand and sales that satisfies business owners is one thing; the amount that delivers enough jobs for all Americans is quite another.
(And since Kasich is concerned with investment, also note that business owners' concerns over interest rates — the cost of borrowing and investment — are as low as they've ever been.)
It is not just possible, but probable, that the problem with the economy is not government burdens on businesses at all, but that there's simply not enough demand out there for businesses to tap into for job creation. If that's the case, then cutting or altering taxes won't help, nor will balancing budgets to instill confidence, since neither addresses the actual problem. Kansas relied on a similarly mistaken diagnosis when it cut its business taxes, and the result was a lot more money going into the pockets of upper class Kansans, but no new hires.
Other evidence that demand is the problem: Corporate profits as a share of the economy are up, while workers' wages as a share of the economy — and as a share of corporate revenue — are down. Seven years after the 2008 collapse, wage growth is still flat and there are still more people looking for work than there are jobs to be had. Employers aren't even looking that hard for employees: the time, effort, and money they devote to recruitment is still down from its pre-2008 level, and even further below its late-90s level.
This is not a picture of an economy where demand is plentiful, but businesses just can't tap into it. This is an economy in which demand is just not there, and the burden of taxation is simply not a relevant issue.
If Kasich wants to help the poor, and get us back on the road to full employment, he needs a strategy to fix that — one that actually responds to economic reality.

Continue reading for free
We hope you're enjoying The Week's refreshingly open-minded journalism.
Subscribed to The Week? Register your account with the same email as your subscription.