Let's talk about sex: How Donald Trump and Mark Zuckerberg revealed America's squeamishness with women's bodies
Recent events underscore that the unhelpful taboos surrounding sex are as strong as ever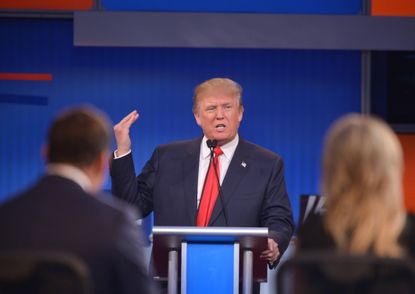 (Image credit: Getty Images)
Sign up to our 10 Things You Need to Know Today newsletter
A free daily digest of the biggest news stories of the day - and the best features from our website
Thank you for signing up to TheWeek. You will receive a verification email shortly.
There was a problem. Please refresh the page and try again.
Several public figures have recently discussed issues that Americans would generally rather not discuss in public. Last month, Facebook CEO Mark Zuckerberg and his wife, pediatrician Priscilla Chan, addressed their experiences with miscarriage. A few days later, presidential hopeful Chris Christie told a campaign crowd that he's "used birth control and not just the rhythm method." Then there was that Donald Trump/Megyn Kelly thing.
On the face of it, they were very different events: The first represents what most would consider a brave and generous honesty; the second was for many a case of oversharing; the third, of course, reminds us that Trump will always be Trump.
Yet these moments are joined at the hip by American attitudes immediately familiar to anyone who's spent any time in America: a deep and abiding discomfort with sex, and an even greater discomfort with the intersection between sex and women's bodies.
Subscribe to The Week
Escape your echo chamber. Get the facts behind the news, plus analysis from multiple perspectives.
SUBSCRIBE & SAVE
Sign up for The Week's Free Newsletters
From our morning news briefing to a weekly Good News Newsletter, get the best of The Week delivered directly to your inbox.
From our morning news briefing to a weekly Good News Newsletter, get the best of The Week delivered directly to your inbox.
In America, we like our sex titillating, or silly, or transcendent, but mostly covert, with women's bodies serving essentially as props. We don't like to admit the banality of the human sex drive, the sheer, boring ubiquity of genitalia, or the commonplace occurrence of frightening, sad, or unpleasant outcomes that often result from the human physicality of everyone involved.
The silence/giggling doesn't change the realities of human sexuality, however, and to the extent that it changes outcomes, it's pretty much only ever for the worse. Not talking to teens about sex, for instance, has been consistently shown to lead to more babies and more STDs — outcomes that, in theory, all that not-talking was meant to prevent.
But many of the undesirable outcomes of our reticence are harder to measure. We can know that because miscarriage is a verboten subject, Americans believe it affects fewer than 6 percent of pregnancies, even though the number is actually in the 10-20 percent range (or, one expert suggests, possibly closer to 50 percent).
What's much harder to calculate is the impact of that silence on grieving women and men; many women, knowing little and hearing less, presume they're to blame for their loss. That they could have — should have — done something different.
Miscarriage is not only sad, though, it's also messy. It's bloody. It upends our closely held notions of pregnancy as blessed, beautiful, and only unpleasant at the very end (and God help you if you should try to discuss the realities of labor and delivery — that's nasty).
All of which leads to the Trump moment, if only because the only thing bloodier and messier than a single miscarriage is a lifetime of getting your period.
Donald Trump is a magnificently disagreeable man, but possibly the single most disconcerting element of his disagreeableness is that he so often gives unvarnished expression to what a lot of people really think. And a lot of people really think that menstruating women are disgusting, raging bitches.
When you live with this knowledge — that those around you would recoil in horror and accuse you of dimwitted bitchery if they knew your body was doing something over which you have no control and which repeats itself every four weeks for most of your life — it's all too easy to fall into a kind a shame, and for some women, self-loathing. At the very least, we're trained to hide our menstrual cycles, our tampons, and any hint of emotional mood swing, lest we offend by daring to have functioning female reproductive organs.
All of which is why, even though I don't agree with Chris Christie on almost anything, I'm grateful to him for talking about birth control. Birth control, of any kind, is another cold hard reality of having sexual bodies, another cold hard reality of the actual inclusion of non-imaginary women in the sex act.
Humans who ejaculate semen during heterosexual sex may be able to walk away consequence-free, but humans who produce eggs? Not so much. But talking openly about birth control means we're tacitly talking about penises and vaginas, tacitly talking about women's sexual experiences, and tacitly admitting that men have responsibilities, too. None of which sits comfortably in the American national discourse.
There are many, many reasons for all of this, possibly too many to list, certainly too many to address here — religious strictures; the nature of American politics; pure, unadulterated sexism; on and on — but we need not address all of the reasons in order to start addressing the reality.
We need to talk about miscarriages. We need to talk about birth control. We need to talk about menstruation. We need to talk about sex and the bodies of the people who might, can, or do have sex — straight sex, gay sex, sex-that-defies-the-gender-binary, All The Sex — because only by talking about it will we begin to shed the layers upon layers of shame that far too often lead to very real human misery.
People have sex. People have sex a lot. Sometimes it's wonderful, sometimes it's not, and there are a lot of moving parts involved. For the love of God, let's talk about it.
Continue reading for free
We hope you're enjoying The Week's refreshingly open-minded journalism.
Subscribed to The Week? Register your account with the same email as your subscription.
Sign up to our 10 Things You Need to Know Today newsletter
A free daily digest of the biggest news stories of the day - and the best features from our website
Emily L. Hauser is a long-time commentary writer. Her work has appeared in a variety of outlets, including The Daily Beast, Haaretz, The Forward, Chicago Tribune, and The Dallas Morning News, where she has looked at a wide range of topics, from helmet laws to forgetfulness to the Israeli-Palestinian conflict.