Was Carly Fiorina really a bad CEO?
Her critics say her tenure at Hewlett-Packard was a mess. But the story is more complicated than that.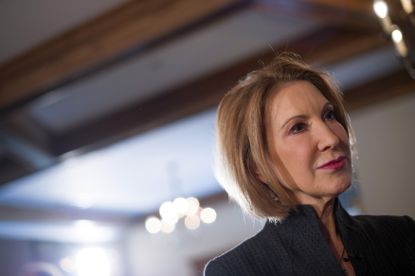 (Image credit: Ron Haviv/VII/Corbis)
Sign up to our 10 Things You Need to Know Today newsletter
A free daily digest of the biggest news stories of the day - and the best features from our website
Thank you for signing up to TheWeek. You will receive a verification email shortly.
There was a problem. Please refresh the page and try again.
Carly Fiorina wasn't polling high enough to get into Fox News' primetime Republican presidential debate earlier this month. But she did make the runner-up debate that was held earlier that evening, and everyone seems to agree she handily outshone the other candidates on the stage. Since then, Fiorina's poll numbers have shot up, bumping Chris Christie out of the top 10 in an exceedingly crowded field.
So people are talking about Fiorina's qualifications for the presidency again — and they are, to be sure, unusual.
She's never held elected office, though she took a failed crack at one of California's two Senate seats in 2010. What she does have is experience as a top-tier executive at several companies like AT&T and Lucent, eventually becoming CEO of Hewlett-Packard from 1999 to 2005. Even now, only about 5 percent of the CEOs of Fortune 500 companies are female, and Fiorina was one of the first to break through that particular glass ceiling.
Subscribe to The Week
Escape your echo chamber. Get the facts behind the news, plus analysis from multiple perspectives.
SUBSCRIBE & SAVE
Sign up for The Week's Free Newsletters
From our morning news briefing to a weekly Good News Newsletter, get the best of The Week delivered directly to your inbox.
From our morning news briefing to a weekly Good News Newsletter, get the best of The Week delivered directly to your inbox.
Her record has been picked apart pretty thoroughly by now. But her stint as CEO plays a central role in the stories both supporters and detractors tell. The implicit assumptions revealed therein — about the nature of executive office and what it means for a business to be "successful" — are worth examining again.
On the negative side of the ledger, the company's stock price fell significantly early in Fiorina's tenure, and didn't recover until after her departure. She also rammed through a difficult and expensive acquisition of Compaq — a major Hewlett-Packard rival — over the objections of many others in the company. Years later, the wisdom of that decision remains contested. Fiorina was ultimately forced out from the CEO desk in 2005, in what she herself termed a "boardroom brawl."
On the positive side, Hewlett-Packard's revenue doubled and then some while she was at the helm. "We quadrupled the growth rate to 6.5 percent," Fiorina has argued. "We tripled innovation to produce an average of 15 patents a day."
"Hewlett-Packard grew from the 28th- to 11th-largest company in the United States during my tenure."
There are problems with both versions of this story. But what makes the question tricky is something more fundamental: It's treacherously difficult to define what makes a business "successful." You'd think it's straightforward, but it's not. It involves lots of metrics and what they mean. And the one that gets top billing depends on subjective philosophic assumptions as much as anything. It all depends on whom you ask.
Andrew Ross Sorkin pointed out that revenue increases under Fiorina were largely an artifact of the Compaq takeover, driven by sheer volume rather than genuine improvements in the business model. He argued revenue is a poor metric for success because it can be gamed in precisely this fashion, and suggested profitability instead. But that measure is equally slippery. Profits can be driven up by rousing market success, or by practices like exploitatively low wages, or foolish and self-damaging cuts in necessary operations and things like research and development — the latter arguably a sin Hewlett-Packard itself committed.
It's important to remember that profits are the gravy that gets paid out to shareholders. Taking in revenue, paying workers and management, intelligently investing in new capital, credibly servicing debt, all while keeping the finances in the black long-term, are really all that's needed for a company to exist in perpetuity while doing something socially useful. Shareholder equity just doesn't play that large a role in most businesses' finances, meaning shareholder interests are largely detached from the interests of the company as a whole — which is the driving problem behind the surge in stock buybacks and "quarterly capitalism." At any rate, while profits didn't go up under Fiorina, they didn't tank either.
Another interest group that rarely gets a hearing is workers. They need their employer's business model to be sustainable, but they also need it to be just. As mentioned, treating workers like disposable widgets and constantly keeping them on the ropes is one way to drive up profits. Glenn Kessler looked at the jobs Compaq and other companies brought in before merging with Hewlett-Packard under Fiorina's leadership, and found the total number of jobs went down. Several of the other trend lines Fiorina cited in her favor also rely on cherry-picking starting and ending dates. (As for patents, they're not a great metric for genuine innovation either, as they can just as easily be driven by a company's determination to rent-seek via the patent office.)
Jeffrey Sonnenfeld, a Yale business professor, wrote that Fiorina didn't just oversee the loss of 30,000 jobs, but also the loss of "the company's revered employee morale, and the egalitarian, humble HP way culture. A new defensive, finger-pointing style of leadership led to waves of firing."
All that said, Fiorina took over Hewlett-Packard just before the dot-com bust hit, ravaging the fortunes, jobs, and stock prices of companies across the tech world. The layoffs are at least plausible in that context. And while Fiorina's executive compensation package was unseemly, it was business-as-usual given the way modern shareholders and top-tier management collude as a kind of trans-corporate ruling class.
There's also what's been termed the "glass cliff" — a documented tendency of major companies to bring female executives on during times of transition and turmoil, effectively setting them up to fail. Finally, Fiorina's white male replacement also oversaw steep cost-cutting, over 15,000 layoffs, and a struggle to produce results.
A company is a kind of mini-society in which all these interests — shareholders, management, revenues, profits, workers, customers — matter and compete for dominance. Success in any particular sphere can count as a company "thriving," as long as it doesn't completely demolish the other spheres. So how a CEO manages that ecology might be the best metric, but it's also hopelessly complex to judge. Even through this lens of analysis, Fiorina's record is mixed — and in an inconclusive, middle-of-the-road sort of way.
And that's also probably the most substantive or useful thing we can say about it.
At any rate, Fiorina has worked at other places besides Hewlett-Packard. More fundamentally, this whole discussion assumes that being a CEO actually has anything to do with being president. We're assuming the skills of diplomacy, war-making, wrangling Congress, overseeing a massive apparatus of executive agencies, and managing a national macro-economy overlap to some substantial degree with the skills of running one single corporation. That seems like a bit of a stretch.
Continue reading for free
We hope you're enjoying The Week's refreshingly open-minded journalism.
Subscribed to The Week? Register your account with the same email as your subscription.
Sign up to our 10 Things You Need to Know Today newsletter
A free daily digest of the biggest news stories of the day - and the best features from our website
Jeff Spross was the economics and business correspondent at TheWeek.com. He was previously a reporter at ThinkProgress.