Why 2016 Republicans are happy to shoot themselves in the foot over birthright citizenship
It's just the latest example of America's tortured relationship with the Constitution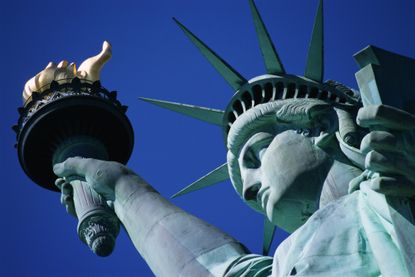 (Image credit: Reed Kaestner/Corbis)
Since Donald Trump released his immigration plan a few days ago, the issue of birthright citizenship — the 14th Amendment's guarantee that everyone born in the territory of the United States is an American citizen — has intruded into the 2016 presidential campaign. But given the somewhat shocked reaction of many in the media, you might think that the candidates are taking a position that is way out of the mainstream. Unfortunately, they aren't. The truth is that birthright citizenship — an absolutely fundamental American principle — is something plenty of Americans don't agree with.
Before long, most of the Republican presidential candidates could arrive at an opposition to birthright citizenship. After Trump released his plan, which includes revoking birthright citizenship, Scott Walker was asked about it and seemed to say that he agrees it should be eliminated (though now his campaign is trying to dodge the issue). Bobby Jindal said forthrightly that it ought to be eliminated, and other candidates who have suggested they're at least open to getting rid of it include Rand Paul, John Kasich, Chris Christie, Lindsey Graham, and Rick Santorum. Then on Tuesday, Ben Carson said, "it doesn't make any sense to me that people could come in here, have a baby, and that baby becomes an American citizen." That's nine out of the 17 candidates.
But they're only responding to their electorate. Look, for instance, at this 2011 Pew Research Center poll, which made clear in its question that ending birthright citizenship would entail amending the Constitution. Thirty-nine percent of Americans overall said that's what we should do to make sure the children of unauthorized immigrants couldn't become citizens. Forty-seven percent of Republicans, and 57 percent of Tea Partiers, agreed.
Subscribe to The Week
Escape your echo chamber. Get the facts behind the news, plus analysis from multiple perspectives.
SUBSCRIBE & SAVE
Sign up for The Week's Free Newsletters
From our morning news briefing to a weekly Good News Newsletter, get the best of The Week delivered directly to your inbox.
From our morning news briefing to a weekly Good News Newsletter, get the best of The Week delivered directly to your inbox.
So it may not be a clear majority of Republican voters, but it's plenty of them, and probably a majority of those committed enough to vote in the primaries. If the candidates are looking at the reception Donald Trump is getting for his anti-immigrant rhetoric and thinking they ought to get some of that action for themselves, that wouldn't be surprising. Within the next few days, polls testing this question will start being released, and I'd be shocked if at least some of them don't show a majority of Republicans supporting an end to birthright citizenship.
As it happens, this is an absolute disaster for the GOP. It was already going to be hard enough to spend the primaries talking tough on immigration, then turn around and convince Hispanic voters that they should vote Republican. But when much of your party goes so far as to say that we need to change the Constitution so Spanish-speaking immigrants whose parents are undocumented — and nobody's dumb enough to think that isn't exactly whom they're talking about — aren't really American, despite being born here and growing up here, well, just see how easy it is to win Hispanic votes. If Republicans don't improve their performance among Hispanics, they are all but guaranteed to lose the presidential election, given that the share of Hispanics in the electorate is rising and the share of whites is falling. They've taken this challenge and made it dramatically more difficult.
Nevertheless, this isn't exactly a new position for at least some Republicans to take. For some time there have been bills in Congress to revoke birthright citizenship for unauthorized immigrants, as the more extreme members fret about "anchor babies" (or even "terror babies," which I wish was a joke, but it isn't). The defenders of these measures say that the 14th Amendment doesn't apply to those who immigrated illegally (Trump seems to agree), an idea for which there is no support whatsoever. The text of the amendment — "All persons born or naturalized in the United States, and subject to the jurisdiction thereof, are citizens of the United States and of the State wherein they reside" — could hardly be clearer.
This isn't the only bedrock American principle that plenty of Americans aren't quite committed to. The First Amendment Center regularly polls Americans on freedom of speech; in 2014, they found that 38 percent believed that "The First Amendment goes too far in the rights it guarantees." That's less than the 49 percent they found in 2002, not long after the September 11 attacks; it's distressing, but not surprising, that the specter of an external threat makes Americans want to give up their rights. A recent Harris poll found 28 percent of Americans saying there are some books that should be banned outright (42 percent of Republicans thought so, compared to 23 percent of Democrats). And we've seen over and over again that plenty of Americans, and plenty of their representatives, think that the guarantees in the Bill of Rights should apply only to people they like, whether it's the right to be free of unreasonable search and seizure, the right to a fair trial, or even the right to freely exercise your religion. Supposedly patriotic Americans regularly advocate bans on mosques, and they can find support from at least some conservative leaders.
Adherence to constitutional principles often comes with a cost, and you can determine people's devotion to those principles by whether they're willing to pay it. Freedom of speech means having to put up with the expression of ideas you abhor, freedom of religion means tolerating not only your One True Faith but someone else's heathen superstition. And the fact that being American has nothing to do with who your parents are means that children of undocumented immigrants get to be American, too. But not only doesn't everyone feel that way, in many cases most of us don't feel that way. That's one of the reasons we have a Constitution in the first place: because there are some things so fundamental that we don't want the majority to be able to vote them away.

Continue reading for free
We hope you're enjoying The Week's refreshingly open-minded journalism.
Subscribed to The Week? Register your account with the same email as your subscription.