What liberals can learn from conservatives about losing the culture war
A new essay exposes the perils of the liberals' march to victory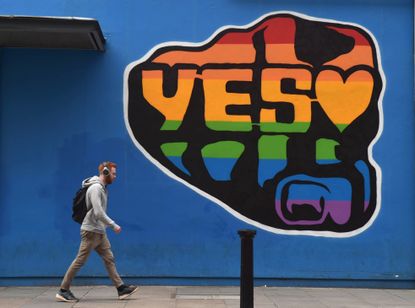 (Image credit: Charles McQuillan/Getty Images)
Sign up to our 10 Things You Need to Know Today newsletter
A free daily digest of the biggest news stories of the day - and the best features from our website
Thank you for signing up to TheWeek. You will receive a verification email shortly.
There was a problem. Please refresh the page and try again.
While the conservative movement tears itself apart in a hugely entertaining food fight, liberals looking to engage with conservative ideas in a more substantive and serious way really should read and ponder the issues raised in William Voegeli's thoughtful review essay in the Summer 2015 issue of The Claremont Review of Books. These liberals just might learn something illuminating about how conservative intellectuals are coming to terms with their loss of the culture war. They might even learn something important about themselves.
Voegeli's essay, "That New-Time Religion," reviews two recent books about the culture war and harkens back to several other books and essays from earlier moments in the history of social conservatism. As Voegeli notes early on in his essay, conservative ideology remains politically potent on a whole range of issues touching on the size of government, economic and tax policy, and regulation. But on social issues, conservatives have suffered something close to a rout. Why? And what does it mean?
One explanation favored by many conservatives — and nicely captured in Voegeli's title — is to describe the loss as a shift from one form of religion, orthodox Judeo-Christianity, to another. This new faith, which has made its peace with and may even be a direct outgrowth of the sexual revolution of the 1960s, has been given many names. Some call it a counter-orthodoxy of Autonomous Eroticized Individualism. Others dub it post-Protestantism. Still others prefer Moralistic Therapeutic Deism or the Church of Anti-Discrimination. But whatever its name, this new-time religion gets described in the same way — as a quasi-religious spiritual and moral system with its own reigning dogmas, demons, sins, and paths to redemption.
Subscribe to The Week
Escape your echo chamber. Get the facts behind the news, plus analysis from multiple perspectives.
SUBSCRIBE & SAVE
Sign up for The Week's Free Newsletters
From our morning news briefing to a weekly Good News Newsletter, get the best of The Week delivered directly to your inbox.
From our morning news briefing to a weekly Good News Newsletter, get the best of The Week delivered directly to your inbox.
As Voegeli recognizes, the limitation with thinking about recent events in these terms is that it tells us very little about what brought about the change from one faith to another. One day America was an orthodox Christian nation. The next — poof! — we were post-Christian hedonists, our new faith calling on us to dismantle the family and other core social institutions in the name of personal liberation. It just happened, like magic — or maybe black magic.
Somewhat more helpful, though even gloomier, is the outlook elaborated over two decades ago by the late historian Christopher Lasch. This view holds that (in Lasch's words), "liberal democracy has lived off the borrowed capital of moral and religious traditions antedating the rise of liberalism." Voegeli concludes his essay by endorsing this interpretation of a fundamentally parasitic liberalism — and by claiming that the consequence of having depleted this cultural capital without making provision for replenishing it has been the transformation of the United States into a country marked by "moral anarchy." (The phrase comes from founding neoconservative Irving Kristol.)
Liberals will scoff at such judgments, but Voegeli can point to an impressive roster of thinkers in support of his position. Virtually every political philosopher from Aristotle on down to James Madison maintained that good government depends on citizens possessing moral virtue. If we really have ended up with a society in the throes of moral anarchy, that would seem to be a cause for genuine, well-founded concern about the future of self-government in the United States.
But of course America today isn't really in the throes of moral anarchy — and Voegeli knows it. As he writes at one point, Americans today are "simultaneously latitudinarian about some questions, and righteously intolerant about others."
Precisely.
What can explain this strange combination of moral relativism and absolutism? Voegeli describes it well in a few passages, but he doesn't do much to identify its origins — which can be traced back to the very foundations of liberal democratic government.
Liberalism was devised in the immediate aftermath of the early modern Wars of Religion. It aimed to get people who disagreed strongly about God and other metaphysical matters — including the highest human good and the ultimate end or purpose of life — to stop killing each other and learn to live together in relative peace and order.
We would achieve this goal by getting government out of the virtue business. Instead of orienting itself toward a highest good or end, which is often a matter of violent dispute, liberalism would build on the low but comparatively solid ground of preventing the greatest evils in life, including violent death, gratuitous cruelty, and despotism. What makes this possible is the promulgation of a novel form of morality — a morality of individual rights — to replace or supplant the moralities of ends that until that time had dominated politics.
Liberal nations therefore tend to have two functional forms of morality — one based on goods or ends, the other based on individual rights. If the relation between them were static and fixed, there would be no culture wars, and maybe no ideological conservatives either. The morality of rights would specify a small number of fundamental, narrowly defined political freedoms enjoyed by individuals, while the old moralities of ends would dominate the large, thriving private sphere of life from where they would exercise a strong, even overwhelming, influence on the nation's public life, political debate, and law-making through democratic representation and public opinion.
There is reason to believe that James Madison and many others of the founding generation believed that this is exactly the way liberal government would work.
They were wrong.
One problem, often noted by conservatives down through the decades, is that moralities of ends tend to atrophy over time once they have been relegated to the private sphere. But the far greater problem is that when individuals armed with their rights begin pursuing privatized ends, they predictably go off in a thousand different directions. The ends proliferate. A pluralistic society becomes ever-more pluralistic. Eventually and inevitably, someone's private pursuit of the good collides and clashes with a still-extant public norm or law that traces its legitimacy to a morality of ends tacitly affirmed by large part of the population. (Think of a homosexual objecting to anti-sodomy laws, or a gay couple demanding the right to marry.)
That amounts to a direct conflict between the morality of rights and the morality of ends. And when that happens, sooner or later the morality of rights will prevail. All it takes is the claim of a rights violation, a receptive judge, and a partially sympathetic public for a new individual right to be recognized and an old end to be declared politically illegitimate, extracted from the nation's public life, and banished to the private sphere. The ratchet only moves in one direction — toward the increasing privatization (and political impotence) of moralities of ends.
Viewed in the broadest perspective, the world's liberal governments are conducting a multi-generational experiment to test if Aristotle was right to think that politics is invariably an activity in which various groups contest with one another over how to define a shared vision of the good life. The liberal bet is that a society can function perfectly well, and individuals can thrive, with no publicly affirmed vision of a highest good — and with an ever-expanding vacuum at the core of its public life where such visions used to be.
Not that most liberals today are aware that such an experiment is in progress — let alone understand how audacious it is, or the enormously high stakes involved in seeing it through to completion. Contemporary liberals more typically treat the novelty of a society lacking an overarching vision of the good as the most normal (even the only defensible) thing in the world.
Conservatives are, of course, far less sanguine. One need not share their disconsolation to gain something important from exposure to it. In flirting with despair about the likely results of the experiment, conservatives at least testify to the fact that it is underway.
For liberals interested in gaining some much-needed perspective on the radical project to which they are implicitly committed, William Voegeli's stimulating essay is a very good place to start.
Continue reading for free
We hope you're enjoying The Week's refreshingly open-minded journalism.
Subscribed to The Week? Register your account with the same email as your subscription.