The big problem with liberal solutions to America's horrible gun violence problem
They channel anger at the NRA — but do they actually tackle the underlying problem?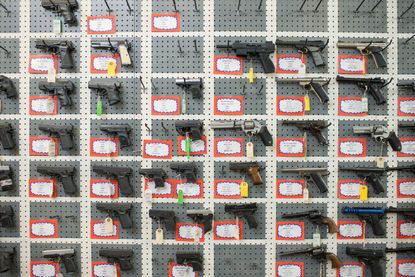 (Image credit: CENGIZ YAR, JR./AFP/Getty Images))
Sign up to our 10 Things You Need to Know Today newsletter
A free daily digest of the biggest news stories of the day - and the best features from our website
Thank you for signing up to TheWeek. You will receive a verification email shortly.
There was a problem. Please refresh the page and try again.
To hear some politicians tell it, the only thing standing in the way of preventing tragedies such as the Oregon community college massacre is the zealots of the National Rifle Association.
Were it not for the NRA and its money, the argument runs, Congress would do the right thing and stop the easy access to guns. Republicans in particular "wage a right-wing ideological crusade fashioned by the National Rifle Association and Gun Owners of America," according to Senate Minority Leader Harry Reid. (Can you believe the NRA considered endorsing Reid just five years ago?)
But the growing gulf between what liberals appear to believe drives the country's problem with gun violence and the measures they are openly proposing to solve it suggests they realize that there is more to it than the gun lobby's intransigence.
Subscribe to The Week
Escape your echo chamber. Get the facts behind the news, plus analysis from multiple perspectives.
SUBSCRIBE & SAVE
Sign up for The Week's Free Newsletters
From our morning news briefing to a weekly Good News Newsletter, get the best of The Week delivered directly to your inbox.
From our morning news briefing to a weekly Good News Newsletter, get the best of The Week delivered directly to your inbox.
The implication of recent comments by President Obama and Hillary Clinton isn't simply that we have too few gun control laws, although they do contend that explicitly. It is that America has too many guns.
Some of their grassroots supporters say it out loud. At Vox, Dylan Matthews writes that "large-scale confiscation [looks] like easily the most promising approach for bringing U.S. gun homicides down to European rates." MoveOn.org circulated a petition to repeal the Second Amendment. The liberal writer Amanda Marcotte averred in Rolling Stone that the amendment "was written by slaveholders before we had electricity" and that its enthusiasts should "feel free to live in a powdered wig and shit in a chamberpot while trying to survive off what you can kill with an 18th century musket."
Many identify Australia and Great Britain, countries where there are sweeping restrictions on private firearms ownership, as models for the U.S. to follow on gun control. Yet Obama and Clinton actually propose little more than expanded background checks, something that won't put a dent in our vast supply of guns.
Before its vaunted 1996 law that instigated a buyback of hundreds of thousands of firearms and severely restricted their possession, Australia had a personal gun ownership rate of only about 7 percent compared to 34 percent in the contemporary United States. Even if gun control down under had been effective, which is a matter of some debate, it is of limited applicability to America. Indeed, a Harvard study frequently cited in support of the Australian law says in its conclusion, "It does not appear that the Australian experience with gun buybacks is fully replicable in the United States."
There has always been a culture war element to the American gun control debate. Cities in blue states with tough gun laws nevertheless have high rates of gun crime, while well-armed rural citizens where the laws are lax — such as Bernie Sanders' Vermont — enjoy relatively low rates of crime. The hope is that imposing stricter gun controls on the latter will reduce the supply available to the former.
The horrors of recent mass shooting episodes have at least some liberals contemplating a more direct challenge to America's gun culture. Their politicians may share their anger, but they don't yet share their enthusiasm for such a quixotic quest.
Background checks and assault weapons bans are practically the only viable gun control measures not because of the NRA's money or power but because of the high number of guns in the United States, the very fact that proponents who would like to go further lament.
Gun buybacks are unlikely to work. Confiscation would pose serious constitutional problems to the Fourth Amendment as well as the Second. The 300 million guns already here and the significant private demand for weapons would make for a potent black market. And the political resistance that tougher gun control would face comes from a large number of engaged gun owners for whom this is a salient issue, not just nefarious groups seeking to organize them.
Far too many people have lost their lives due to guns. The seeming frequency of mass shootings makes a desire for easy fixes understandable, as is the anger and frustration that makes polemicists on behalf of gun control tire of hearing pro-gun counterarguments. But neither the sincerity of those feelings nor the seriousness of the underlying problem obviate the obligation to spell out what policies are really being proposed here and marshal evidence that they will actually work.
Continue reading for free
We hope you're enjoying The Week's refreshingly open-minded journalism.
Subscribed to The Week? Register your account with the same email as your subscription.
Sign up to our 10 Things You Need to Know Today newsletter
A free daily digest of the biggest news stories of the day - and the best features from our website