Hillary Clinton will finally slay the controversy in Thursday's Benghazi hearing
Things are not looking good for the Select Committee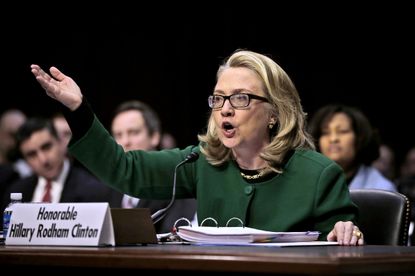 (Image credit: AP Photo/Pablo Martinez Monsivais, File)
If you're a Republican on the Select Committee on Benghazi, Hillary Clinton's testimony this week could hardly come at a worse time. When this endeavor started 17 months ago, you probably told yourself, "Sure, the tragic deaths of four Americans in Benghazi on September 11, 2012, have been exhaustively investigated, by multiple panels and committees, many of which were controlled by Republicans. And yes, they weren't able to locate any crimes or malfeasance committed by the Obama administration. But we know they're guilty of something, we just haven't found it yet. And just wait until we get Hillary Clinton in our sights."
But now everything has fallen apart.
The committee did discover that Clinton had a private email server, which caused her some problems, even if none of her emails turned out to contain anything shocking. But then Kevin McCarthy bragged that the committee's work brought down her poll numbers, which gave reporters permission to stop pretending that the whole endeavor is about anything other than pursuing her. Then you had revelations about the committee members' wine and gun clubs, the lawsuit by a former staffer, committee chair Trey Gowdy falsely implying that Clinton outed a CIA source in an email — just one thing after another. You're now seeing stories about the committee with headlines like "Another Bad Day for the Benghazi Committee" and "The House Benghazi Committee Unravels." Gowdy, says The New York Times, "is struggling to uphold his panel's credibility and his own personal standing after a string of embarrassing blunders."
Subscribe to The Week
Escape your echo chamber. Get the facts behind the news, plus analysis from multiple perspectives.
SUBSCRIBE & SAVE
Sign up for The Week's Free Newsletters
From our morning news briefing to a weekly Good News Newsletter, get the best of The Week delivered directly to your inbox.
From our morning news briefing to a weekly Good News Newsletter, get the best of The Week delivered directly to your inbox.
So now, they must surely be asking themselves: Was bringing Clinton in to testify such a great idea?
In hearings like this one, the members of Congress often think that the fantastically clever line of questioning they've prepared is really going to trap the witness and reveal her for what she is; it'll be like Perry Mason breaking a witness down until she shouts, "Yes, I did kill him, and I'd do it again!"
But that's not how it usually turns out. More often, the witness looks like the one in command, someone being pelted with unfair and hostile questions from a bunch of partisan clowns who barely know what they're talking about.
Let's also remember that, as the recent Democratic debate reminded us, while Hillary Clinton may not have the natural political skill of her husband, she performs best when she has time to prepare and a pretty good idea of what's going to happen. As one Clinton ally told the Los Angeles Times, "Good luck trying to break Hillary Clinton."
Consider the recent hearing of the Government Oversight Committee on Planned Parenthood, in which Republicans expected that once they put the group's leader Cecile Richards on the hot seat, she'd wilt and show her organization to be the dastardly gang of baby-killers they really are. Instead, Richards calmly answered all their questions, corrected all their misperceptions, and generally looked like an adult being asked silly "gotcha" questions by a collection of morons. One highlight was the insanely dishonest chart of the group's activities that chair Jason Chaffetz put up, which led to days of internet ridicule.
So word now is that the members of the Benghazi committee are going to tread carefully, lest they repeat that performance. They're going to stick to the facts, not worry too much about Clinton's emails, and convince everyone that this is a serious investigation of what actually occurred on that night in Libya.
The problem is that doing that won't get them what they always wanted: Hillary Clinton's hide. A respectful and informative hearing that does no damage to Clinton will be a terrible disappointment.
So maybe it isn't surprising that even before the hearing, conservatives were already attacking the committee for failing to bring them the scalp they wanted. Rush Limbaugh went on a rant on Monday about how they'd be soft on her because of her gender ("Democrats will praise her for her cervix, and Republicans will ask innocuous questions in order to not be blamed for beating up on her. See, that's the main reason Republicans don't do anything. It's because they don't want the Democrats and the media accusing them of hitting the girl"). Question her too aggressively and they'll look bad; don't go hard enough on her and their own allies will attack them for being soft.
Once it's over, and the committee members weather all the criticism from both left and right, they may start asking whether it's time to issue some kind of final report and close up shop. And just as they felt about Bill Clinton, Republicans will remain convinced that she did something too terrible for words, but they just couldn't discover what it was.

Continue reading for free
We hope you're enjoying The Week's refreshingly open-minded journalism.
Subscribed to The Week? Register your account with the same email as your subscription.