Jeb Bush and Marco Rubio hate their jobs. Can you blame them?
Being a politician can be a real drag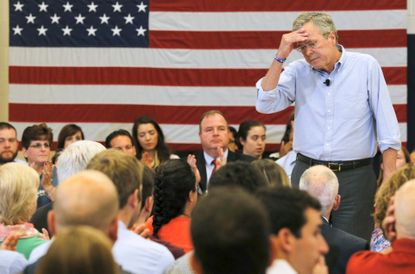 (Image credit: REUTERS/Brian Snyder)
Sign up to our 10 Things You Need to Know Today newsletter
A free daily digest of the biggest news stories of the day - and the best features from our website
Thank you for signing up to TheWeek. You will receive a verification email shortly.
There was a problem. Please refresh the page and try again.
If you're like most people, you've had at least one job you couldn't stand. Maybe it was the drudgery, which left you watching the clock in quiet misery as it slowly made its way toward 5. Or maybe it was your jerk of a boss, the very thought of whom gave you a pit in your stomach as you headed to work every day. And what a relief it was when you finally got out of there.
If so, then you can probably feel for Jeb Bush and Marco Rubio, who are reminding us that being a politician can be a real drag.
Bush, who initially said he'd only run for president if he could do it "joyfully," now seems a little exasperated with the whole thing. "If this election is about how we're going to fight to get nothing done, then I don't want anything — I don't want any part of it," he told an audience in South Carolina last weekend. "I've got a lot of really cool things I could do other than sit around, being miserable, listening to people demonize me, and feeling compelled to demonize them. That is a joke. Elect Trump if you want that."
Subscribe to The Week
Escape your echo chamber. Get the facts behind the news, plus analysis from multiple perspectives.
SUBSCRIBE & SAVE
Sign up for The Week's Free Newsletters
From our morning news briefing to a weekly Good News Newsletter, get the best of The Week delivered directly to your inbox.
From our morning news briefing to a weekly Good News Newsletter, get the best of The Week delivered directly to your inbox.
Can you blame him for feeling that way? He's royalty in the GOP, the party that was once guided by the noblesse oblige of men like his grandfather Prescott and his father George, and has now been taken over by nihilists who only want to throw sand in government's gears.
Meanwhile, Jeb's fellow Floridian Marco Rubio is fed up with the Senate, a place many politicians work much of their lives to reach. Not only has he announced that he won't be running for re-election, he's pretty much stopped bothering to show up for votes. And it isn't just because he's busy running for president. "He hates it," a friend of his told The Washington Post. "I don't know if 'hate' is the right word," Rubio himself says diplomatically. "I'm frustrated."
And you can't blame him, either. Earlier in his term, Rubio made some attempts to pass meaningful legislation, particularly immigration reform, but it never happened. A Congress controlled by conservative Republicans has all but given up bothering to legislate, because Barack Obama wouldn't sign any of the things they want anyway, and compromise has become anathema to their party. This is the bed they made when they decided — literally on the day Obama was inaugurated — to oppose everything he might want to do. Whatever you think of it as a political maneuver, it takes a lot of what's interesting out of being senator.
Even in ordinary times, it takes a special kind of character to enjoy being a politician. There are certainly perks, like the ability to shape the country's future, the attentions of a doting staff, and the ego boost that comes from being treated like a big-shot. But the job is also filled with unpleasantness. There's the endless need to raise money, often by sitting in a little room cold-calling people you've never met to beg them for cash (known in the business as "dialing for dollars"). There are the boring hearings you have to endure. And there's the relentless requirement that you be nice to everyone.
This may be the most demanding part of the job. Imagine not only having to be "on" every moment you were in public, knowing you were being watched (and probably recorded), but to be nice to everyone you encountered. To be required to pretend that you're super-stoked to meet every yahoo who walks up to you in the airport, that you care deeply about every absurd complaint you get from a constituent, that you're awed by every dumb idea a contributor has for revamping your campaign strategy.
And who demands this of politicians? Why we do, of course. We want them to live up to our ridiculous expectations, to be down-to-earth yet super-human. We want them to be just like us, but better: smarter, wiser, braver, stronger, practically bursting with integrity and common sense.
Imagine if you saw your congressman in the supermarket, and you walked over to tell him what you thought of the latest trade deal. And imagine that before you could deliver that piece of your mind, he said, "Look, I'm really sorry, but I've had a long day, and I just need to grab a gallon of milk and get home. It was nice to meet you, but if you have something you need to tell me, please call my office in the morning." What would you think? Most people would walk away saying, "What a jerk. I'm not voting for him again, that's for sure." And just because he showed himself to be a human being.
So with only the rarest exceptions, they don't do that. They nod knowingly at whatever you say, and promise they're going to get right on it. They say, "It's great to be back at the state fair!" when they'd actually rather be playing golf. When asked why they're running for some office, they don't say, "Because I think this would be an interesting job, and one day I'd like to be president;" instead, they go with, "Because I care so deeply about the future of our nation." When a politician comes along who lets the mask slip now and then — admitting that it's hard, or that she's tired, or that some parts of the job actually aren't much fun — then we treat them like they're some kind of pathetic freak who shouldn't be let anywhere near the reins of power.
Maybe that's just the price that must be paid — if we're going to let them represent us and make decisions on our behalf, then they better do it with a smile on their faces and thank us for the privilege.
But when it gets to be a little much for them, we also ought to have some sympathy.
Continue reading for free
We hope you're enjoying The Week's refreshingly open-minded journalism.
Subscribed to The Week? Register your account with the same email as your subscription.