Face it: America is terrible at nation-building
It's time for the U.S. military to end its foolhardy obsession with endless war and occupation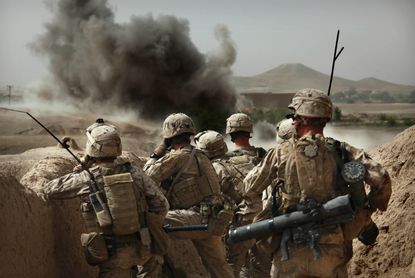 (Image credit: AP Photo/Kevin Frayer, File)
Sign up to our 10 Things You Need to Know Today newsletter
A free daily digest of the biggest news stories of the day - and the best features from our website
Thank you for signing up to TheWeek. You will receive a verification email shortly.
There was a problem. Please refresh the page and try again.
The U.S. just can't quit Iraq.
Secretary of Defense Ash Carter announced this week that with current efforts not working out particularly well, more American troops would be put into action against ISIS in Iraq. Other critics of Obama-era American efforts abroad are going even farther, arguing that Carter simply isn't going far enough — and that the U.S. should re-occupy the country.
I've got a different idea: Since basically 100 percent of America's recent war-making efforts have not worked out, suppose we pivot away from nation-building and war? If we can't try hard enough to have a reasonable chance of success, it stands to reason that we shouldn't try at all.
Subscribe to The Week
Escape your echo chamber. Get the facts behind the news, plus analysis from multiple perspectives.
SUBSCRIBE & SAVE
Sign up for The Week's Free Newsletters
From our morning news briefing to a weekly Good News Newsletter, get the best of The Week delivered directly to your inbox.
From our morning news briefing to a weekly Good News Newsletter, get the best of The Week delivered directly to your inbox.
On the "more intervention!" side, Jared Keller wrote about a RAND Corporation study that examines the U.S. record of nation-building. The results are mixed. New, stable democracies were created in Japan and Germany, but efforts in Haiti, Iraq, and Afghanistan were disasters. Following RAND, Keller argues that the sucking power vacuum behind the rise of ISIS and other militant groups means that the U.S. will have to grudgingly commit itself to rebuilding Iraq again, only properly this time.
The RAND study goes well with a much more cynical and realistic article in The American Conservative by John Hay, a former Republican staffer. He carefully examines two infamous decisions very early in the Iraq occupation — the disbanding of the Iraqi army, and purging most of the Baath Party members from the government — and finds that they were the product of bureaucrats. Senior Bush administration figures seem to have decided that the army would be kept around and Baath purges would be moderate in scope, but officials on the ground, particularly L. Paul Bremer and Walter Slocombe, went ahead with spectacular idiocy before anyone could raise objections. (After that it became party dogma, "never admit a mistake" being a keystone neoconservative doctrine.)
That doesn't excuse George W. Bush of course, who is guilty of disastrous staffing if nothing else. But it provides a window into one of the many problems with using the United States military to overturn entire societies. It means putting incomprehensible amounts of power into numerous hands — many of whom may have little or no oversight. Most of these newly empowered nation-building bureaucrats may well be truly brilliant. But some will surely be incompetent, others moral degenerates. How will restraint and quality policy be assured?
That leads me to the biggest problem with the RAND perspective: Its unquestioning assumption that U.S. power is always and everywhere a force for good.
Consider Germany and Japan, as the study notes, the two unquestionable successes of U.S. occupation and nation-building. They both took place at the same time, during a unique moment in international politics. Western powers, anchored by American economic power, had just defeated the most evil regimes in world history (though the Soviets had done much of the actual fighting).
In 1945, as the only Allied power to survive the war largely unscathed, the U.S. produced roughly half of world economic output. It was led by a liberal movement at the peak of its prestige, strength, and competence. New Deal Democrats had vanquished the Great Depression, then simultaneously beaten Imperial Japan in a vicious war while arming the Soviets to beat the Nazis (and helping finish them off toward the end).
With the USSR coalescing as the great enemy of the West, the defeated Axis powers were urgently needed as strong buffer states against the Soviets. And so the entire diplomatic and economic weight of probably the most competent and relatively powerful government the U.S. has ever had was brought to bear on Germany and Japan. It bound them into an international order that could never again threaten the West, while furiously stoking their economies. Worries about competition from Japanese or German firms (which had been a major concern before, and would be again) were set aside. Of further assistance were key German and Japanese national characteristics: Both countries had strong, effective states, a reasonably unified populace, and had recent experience of at least quasi-democratic structures.
The failure of the Treaty of Versailles further provided a strong argument for what could happen if the Axis powers were not stood up as prosperous democracies. Hence, basically the entire developed world outside the Soviet bloc not only helped U.S. efforts, but eagerly welcomed American hegemony as a stabilizing anti-Soviet influence after years of brutal war (for awhile, at least).
Given those conditions, it is obviously possible for an American nation-building effort to go reasonably well. But those conditions are rare. When it's done halfheartedly in a tougher situation, as in Kosovo, it doesn't work nearly as well. And if it's done with a deliberately stripped-down occupation force without proper training or armor, a bunch of C-list powers bullied into providing "support," and the occupation run by a half-wit ideologue more concerned with passing the 2004 Republican platform by decree than getting the lights back on, the result is calamitous failure and mass death.
The sheer mouth-breathing incompetence of the entire Bush administration is, I think, what drives conclusions like Keller's that "active nation-building supported by international powers is an essential part of restoring war-torn nations — and the U.S. simply phoned it in with Iraq." That's only true if the phone was hooked up to an innocent Iraqi civilian's genitals, but I can see how people might think that the Bush crowd were so jaw-droppingly awful that even an average president would have done a lot better.
And sure, maybe President Joe Smith wouldn't have disbanded the Iraqi army, or instituted pointless torture as a signature American policy. But it strains credulity to imagine that any such occupation would have produced anything so very different from the Hussein regime that came before. I'd bet my left arm it would be a corrupt, poor, weak pseudo-democracy, like so many basketcase ex-dictatorship nations in sub-Saharan Africa and elsewhere.
If absolute maximum effort is a precondition of a successful nation-building effort, perhaps if we can't muster one up (including gigantic tax increases and re-instituting the draft at the least), maybe we shouldn't do it in the first place. Occupation done on the cheap is worse than leaving well enough alone.
Continue reading for free
We hope you're enjoying The Week's refreshingly open-minded journalism.
Subscribed to The Week? Register your account with the same email as your subscription.
Sign up to our 10 Things You Need to Know Today newsletter
A free daily digest of the biggest news stories of the day - and the best features from our website
Ryan Cooper is a national correspondent at TheWeek.com. His work has appeared in the Washington Monthly, The New Republic, and the Washington Post.