Can Ted Cruz topple Donald Trump in Tuesday's big GOP debate?
The new frontrunner in Iowa needs to swat down a maniacal attack from The Donald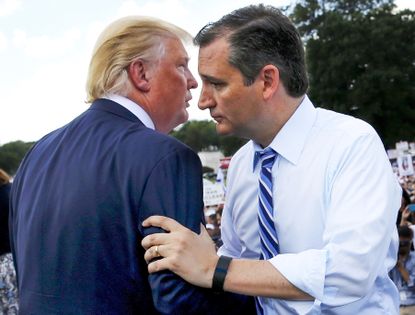 (Image credit: REUTERS/Jonathan Ernst)
Sign up to our 10 Things You Need to Know Today newsletter
A free daily digest of the biggest news stories of the day - and the best features from our website
Thank you for signing up to TheWeek. You will receive a verification email shortly.
There was a problem. Please refresh the page and try again.
The GOP presidential race has been a wild ride — and yet in many ways, remains incredibly static. Despite the controversies that have erupted around Donald Trump, the real estate mogul still leads national polling by a mile. Ben Carson, the other outsider in this anti-establishment cycle, has only recently begun to slide in national polling, but he's scored well enough to still get the number two position on the CNN/Salem Media Group debate stage on Tuesday. Indeed, the lineup for the main debate looks remarkably similar to past debates. The very fact that the GOP still has to field an undercard debate is a testament to the static nature of the national contest.
In so many ways, it seems like the more things change, the more they stay the same. However, that view can be deceiving. At the state level, a major shift has taken place, and it may change the character of the national race, and of the debate on Tuesday night.
Until recently, Trump has not only led nationally, but also in Iowa and New Hampshire, the first two states to cast ballots in the presidential race. Though Trump still has a long way to go to convince many in his own party of his seriousness as a candidate, winning both states would have made the argument for inevitability for Trump very strong. However, the last three polls in Iowa have shown Ted Cruz with a lead among likely caucus-goers, the most recent of which comes from the respected Des Moines Register/Bloomberg survey. That poll shows Cruz ahead of Trump by 10 points — 31-21 — with Carson and Marco Rubio also scoring double digits.
Subscribe to The Week
Escape your echo chamber. Get the facts behind the news, plus analysis from multiple perspectives.
SUBSCRIBE & SAVE
Sign up for The Week's Free Newsletters
From our morning news briefing to a weekly Good News Newsletter, get the best of The Week delivered directly to your inbox.
From our morning news briefing to a weekly Good News Newsletter, get the best of The Week delivered directly to your inbox.
In any other cycle, this would not surprise anyone. Cruz has organized well in Iowa. Months ago, Cruz had already named campaign chairs in every Iowa county, showing the kind of organization that pays dividends in caucus states, especially Iowa. Trump, on the other hand, has spent nearly nothing on organizing. As of the end of the third quarter in his campaign's FEC report, the Trump campaign had spent a total of $5.5 million for the year, far below other campaigns. Trump claimed that this showed his superior business acumen, but an analysis of this report showed that much of that spending went to the necessary consultants, lawyers, and pollsters of any campaign. Some of that — around $500,000 — went to buy campaign swag, such as the "Make America Great Again" gear that Trump uses for fundraising. There is not much evidence of resources going to the kind of ground game that is necessary to win caucuses.
Because Cruz has focused such substantial resources on organizing his ground effort in Iowa, he's become the first candidate to break through the Trump blockade. In doing so, he has become Trump's greatest threat, and Trump recognized it this week. The two men had formed a public mutual admiration society for most of the year, but Trump has now gone on the attack, calling Cruz "a little bit of a maniac" in an interview on Fox News Sunday. "I don't think he has the right temperament. I don't think he's got the right judgment," Trump said, complaining for the first time about Cruz's lousy reputation in the Senate.
Trump, anticipating that Cruz might not fire back, sneered on CNN's State of the Union that Cruz would agree with everything Trump says, including criticism of Cruz. "I mean I could be saying anything and he'd say, I agree I agree," Trump told Jake Tapper. Cruz, still mindful of the risks in alienating Trump supporters, offered a humorous response by tweeting out a video from the film Flashdance, with Jennifer Beals dancing to "Maniac."
Can Cruz continue to take it easy on Trump? The Iowa caucuses are less than two months out, and New Hampshire's first-in-the-nation primary follows shortly afterward. The Republican field has largely refrained from frontal attacks on Trump even in the debates, but the end of the truce between Trump and Cruz and the ticking clock should put an end to that strategy, which hasn't worked for anyone except Cruz.
Trump's sudden vulnerability should be enough for the other candidates to really go after Trump. Rather than directly attack his more controversial statements, they may just take on Trump's own temperament. Policy fights don't hurt Trump, at least thus far, as Trump has succeeded in maintaining his support while shifting positions on immigration, abortion, taxes, and the war on ISIS, even within the past year. Trump will have to undermine himself, but other candidates will have to provoke him to do so; standing on the sidelines and fighting with each other has mostly allowed Trump to skate in the debates without taking any damage at all.
Cruz might be the only candidate who runs a risk of going on offense against Trump, but after Trump's comments on Sunday, there may be more risk in remaining silent. After all, Cruz is now the Iowa frontrunner, and Rubio will take aim at him, perhaps even ahead of Trump. If Cruz lets Trump define him as obsequious and insincere, it could leave openings for attacks from Rubio and others on stage. Cruz has built his reputation as a fearless rebel fighting the establishment; keeping up one end of a mutual admiration society could endanger his own brand.
The stars are aligned for a donnybrook in the Las Vegas desert. The only question is whether the stars on the stage are ready to rumble.
Continue reading for free
We hope you're enjoying The Week's refreshingly open-minded journalism.
Subscribed to The Week? Register your account with the same email as your subscription.
Sign up to our 10 Things You Need to Know Today newsletter
A free daily digest of the biggest news stories of the day - and the best features from our website
Edward Morrissey has been writing about politics since 2003 in his blog, Captain's Quarters, and now writes for HotAir.com. His columns have appeared in the Washington Post, the New York Post, The New York Sun, the Washington Times, and other newspapers. Morrissey has a daily Internet talk show on politics and culture at Hot Air. Since 2004, Morrissey has had a weekend talk radio show in the Minneapolis/St. Paul area and often fills in as a guest on Salem Radio Network's nationally-syndicated shows. He lives in the Twin Cities area of Minnesota with his wife, son and daughter-in-law, and his two granddaughters. Morrissey's new book, GOING RED, will be published by Crown Forum on April 5, 2016.