Bernie Sanders is not nearly as progressive as you think he is
He's certainly to Hillary Clinton's left. But his record on several key issues is awfully shaky for a self-declared socialist.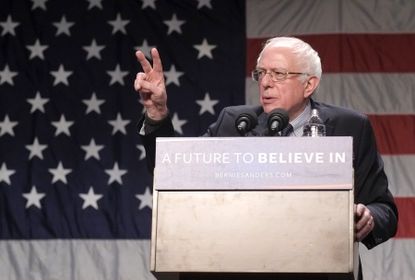 (Image credit: Jerry Mennenga/ZUMA Press/Corbis)
Sign up to our 10 Things You Need to Know Today newsletter
A free daily digest of the biggest news stories of the day - and the best features from our website
Thank you for signing up to TheWeek. You will receive a verification email shortly.
There was a problem. Please refresh the page and try again.
Sen. Bernie Sanders (I-Vt.) has been doing some serious sub-tweeting about Hillary Clinton.
Following her ever-so-narrow win in Iowa, Clinton touted her bona fides as a "progressive who gets things done," much to Sanders' distaste. "Most progressives I know were against the war in Iraq," Sanders tweeted, without specifically naming Clinton. "One of the worst foreign policy blunders in the history of the United States."
Indeed, measured against Clinton, Sanders is right to claim the mantle of progressivism. The former secretary of state is (and should be) dogged by her close and profitable ties to Wall Street and big business, and her foreign policy is consistently hawkish in a style Dick Cheney would admire.
Subscribe to The Week
Escape your echo chamber. Get the facts behind the news, plus analysis from multiple perspectives.
SUBSCRIBE & SAVE
Sign up for The Week's Free Newsletters
From our morning news briefing to a weekly Good News Newsletter, get the best of The Week delivered directly to your inbox.
From our morning news briefing to a weekly Good News Newsletter, get the best of The Week delivered directly to your inbox.
But evaluated on the basis of his own lengthy record, Sanders is not as progressive as he makes himself out to be on at least three big issues: guns, criminal justice reform, and — despite the Iraq vote — foreign policy.
Sanders' mixed history on guns is a chink in his progressive armor that Clinton aims at whenever she has the chance. "If we're going to go into labels, I don't think it was particularly progressive to vote against the Brady Bill five times," she said at the latest debate. "I don't think it was progressive to vote to give gun makers and sellers immunity."
Sanders often sounds like a gun control hardliner. "The president is right: Condolences are not enough," he said after a shooting this past fall. "We've got to do something … We need sensible gun control legislation." But Clinton's claims are still basically accurate. Per this Politifact tally of Sanders' significant gun votes in Congress, he backs additional control about half the time, albeit with a trend toward more gun regulation in recent years. Sanders' staff has tried to explain his comparative conservatism here as part and parcel of representing Vermont, a left-wing but gun-friendly state, but either way, his is hardly a super-progressive record on guns.
Then there's criminal justice reform, an issue which has netted Sanders the endorsement of several well-known figures in the Black Lives Matter movement. Speaking in New Hampshire the same day as the subtweets, Sanders vowed, "There will be no president who will fight harder to end institutional racism" than he will.
"We have got to reform a very, very broken criminal justice system," he added. "It breaks my heart, and I know it breaks the hearts of millions of people in this country, to see videos on television of unarmed people, often African-Americans, shot by police. That has got to end."
The rhetoric is right. But Sanders' record says otherwise.
For instance, Sanders sounded a similar note back in April 1994, decrying America's ballooning prison population and its ties to poverty. But just one week later, he voted to pass the Violent Crime Control and Law Enforcement Act of 1994, a centerpiece of Bill Clinton's "tough on crime" shtick, which, among other things, mandated a life sentence for anyone convicted of three drug crimes; expanded the list of death penalty crimes; lowered the age at which a juvenile could be tried as an adult to just 13; and appropriated billions to expand the prison system and hire 100,000 new police officers.
That's the biggest blot on Sanders' criminal justice record, but it's not the only one. In 1995, he voted against a measure which would have prohibited police acquisition of tanks and armored vehicles like those he critiqued in Ferguson. Likewise, in 1998, Sanders prioritized gun control over prison reform and voted for mandatory minimum sentences for crimes where the offender carried, brandished, and/or fired a gun. The gun in question doesn't have to be used for the criminal act, so, for example, a nonviolent crime like smoking pot while carrying a legally owned weapon would trigger the mandatory minimum.
Now that criminal justice reform is en vogue, Sanders has shifted — but it's an uncomfortable fit. His responses to Ferguson highlighted poverty more than police brutality; and the bill to ban private federal prisons he introduced this past fall had a clearer connection to his socialist economic policies than anything else. Alex Friedmann of the Human Rights Defense Center, whom Sanders consulted in crafting the proposal, says, "It appears to be more for political purposes than to actually address the many problems in our criminal justice system."
Finally, foreign policy. Sanders regularly touts his vote against invading Iraq in 2003, and that is unquestionably to his credit. But then there's the rest of his record on matters of war and peace, which figures heavily into the wariness many actual socialists maintain toward Sanders' campaign.
As Stephen M. Walt writes at Foreign Policy, Sanders is hardly "a reflexive dove." He intends to retain President Obama's drone program if elected. He voted in favor of Clinton's pet intervention in Libya, in favor of the interminable war in Afghanistan, and even in favor of multiple funding measures to maintain the war in Iraq — a repeated "yes" to bankrolling the very conflict he so often boasts of opposing.
Sanders also speaks enthusiastically of coalition-based wars. "I would say that the key doctrine of the Sanders administration would be no, we cannot continue to do it alone; we need to work in coalition," he said at the last debate. In practice, though, that doesn't mean no more wars; it means non-Americans fighting and dying in pursuit of American goals.
Writing at the socialist Jacobin Magazine, Paul Heideman contends that though "Sanders is willing to criticize many of the most egregious over-extensions of American empire" — like the invasion of Iraq — "it seems he has no interest in contesting the American suppression of democracy across the globe." The candidate cheered King Abdullah II of Jordan for his opposition to ISIS, of which Heideman snarks, "It is never a good look for a socialist to praise a monarch."
More broadly, it is never a good look for a progressive to have such an uncertain record in three major policy areas. Running against Clinton, Sanders can rightfully lay claim to progressive voters' support. But they could be forgiven for suspecting he is less one of their own than his tweeting suggests.
Continue reading for free
We hope you're enjoying The Week's refreshingly open-minded journalism.
Subscribed to The Week? Register your account with the same email as your subscription.
Sign up to our 10 Things You Need to Know Today newsletter
A free daily digest of the biggest news stories of the day - and the best features from our website
Bonnie Kristian was a deputy editor and acting editor-in-chief of TheWeek.com. She is a columnist at Christianity Today and author of Untrustworthy: The Knowledge Crisis Breaking Our Brains, Polluting Our Politics, and Corrupting Christian Community (forthcoming 2022) and A Flexible Faith: Rethinking What It Means to Follow Jesus Today (2018). Her writing has also appeared at Time Magazine, CNN, USA Today, Newsweek, the Los Angeles Times, and The American Conservative, among other outlets.