Can Hillary Clinton survive Bill Clinton's help?
It's complicated with Bubba, because everything always is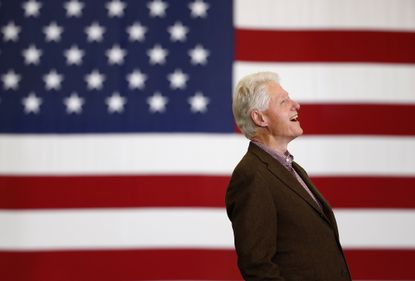 (Image credit: AP Photo/John Locher)
Sign up to our 10 Things You Need to Know Today newsletter
A free daily digest of the biggest news stories of the day - and the best features from our website
Thank you for signing up to TheWeek. You will receive a verification email shortly.
There was a problem. Please refresh the page and try again.
Some kind of help is the kind of help that helping's all about, as the song says, but some kind of help is the kind of help we all can do without. You have to wonder which category of help Hillary Clinton thinks her husband is providing her.
The short answer is, of course she wants Bill's help. He was an extremely successful president, one who brings back good memories of the peace and prosperity of the 1990s. In this polarized age, he may be the only major political figure from either party who has approval numbers well over 50 percent. And he has legendary retail political skills, which he'll put to good use on the campaign trail. Voters will still go out of their way to see him, much more so than they would for any other political spouse.
And yet, it's complicated with Bill Clinton, because everything always is.
Subscribe to The Week
Escape your echo chamber. Get the facts behind the news, plus analysis from multiple perspectives.
SUBSCRIBE & SAVE
Sign up for The Week's Free Newsletters
From our morning news briefing to a weekly Good News Newsletter, get the best of The Week delivered directly to your inbox.
From our morning news briefing to a weekly Good News Newsletter, get the best of The Week delivered directly to your inbox.
Back in the 1990s, people would talk about the "Clinton Rules," which the media applied to the Clintons and only to them (and still do). Among them are that any allegation against the Clintons, no matter how ludicrous, should be treated as probably true and trumpeted on the front pages. Another is that even more so than other politicians, they are assumed to do everything only for cynical political reasons. But we might want to add a new rule, which is that just about everything that Bill Clinton does will be treated as though it reflects poorly on his wife.
So this week, when Bill is campaigning in New Hampshire and makes the same criticisms of Bernie Sanders that his wife and other campaign surrogates have made, The New York Times runs a story headlined "Bill Clinton Unleashes Stinging Attack on Bernie Sanders." The article explains how he criticized Sanders "harshly," with a "harder edge" and an "angrier recitation of grievances." Politico agreed, calling his speech "brutal." (The Week reacted similarly.)
But if you read the actual quotes they don't sound different from the rather run-of-the-mill critiques other Clinton supporters have made of Sanders, not to mention the candidate herself. About the meanest thing Bill seems to have said about Sanders is, "When you're making a revolution, you can't be too careful with the facts." Compared to the way the Republicans are going after each other, that's practically a love tap.
I have no idea if Bill Clinton thought his criticizing Sanders would get the kind of response it did. But he has been repeatedly surprised, appalled, and amazed by how he's treated by the media, as though he never quite grasped what motivates them and how they operate. They're always looking for a new angle of controversy that will engulf the Clintons, and whether it's by saying something he shouldn't or just being attached to her, "Bill hurts Hillary's campaign" is a story reporters are always eager to write.
On a certain level, Bill Clinton should be no more important to the campaign than any of the other candidate spouses. The rest of them are the subject of an occasional "human interest" story, but no one particularly cares what duties Jane Sanders or Jeanette Rubio will be taking on if either gets to be first lady, nor should they. In the scope of things, it just isn't all that important (even if there are conservatives whose hatred of Barack Obama is so all-encompassing that they actually spend time worrying about whether Michelle Obama is oppressing Americans with her advocacy for exercise and healthy eating). Neither Bill nor Hillary has suggested that he'll have any formal policy role in her administration. And if he'll just be giving her advice, then that's not different from what any political spouse does.
But of course, the spouse question is much more complicated for Clinton than for any other candidate, because she's a woman, and because her husband was president. Yet it's easy to forget that no less than him (and perhaps more), she was tagged as a superstar from a young age, her 1969 commencement speech at Wellesley reported in The New York Times and Life magazine. She built her political career atop her husband's not because she was less capable than he was but because when she reached adulthood that was still just about the only path a woman with such ambitions could see. And as both the spouse of the candidate in 1992 and then as first lady, she became the target of all manner of attacks, supposedly some kind of radical feminist shrew who was not a woman at all but actually a man (the punch line of a thousand lazy jokes on late-night shows), because how could an ambitious woman be anything but?
Today, Bill Clinton doesn't seem like quite the politician he was in his prime, the "natural" with an intuitive sense of what people want to hear, how to read a room, and how to beguile voters with an earnest nod, a hand on an arm, and a look deep into the eyes. After all, the last time he ran for office himself was 20 years ago. And when you see them together, there's no question whose show this is.
But both of them should have learned long ago that the press will be waiting to turn almost anything he says or does into a controversy. And of course, their common opponents are always eager to make her pay for his sins, both the real and the imagined. Nobody's ever going to tell Bill Clinton to sit down and be quiet, but they shouldn't be surprised if he becomes an issue plenty more times before we get to November.
Continue reading for free
We hope you're enjoying The Week's refreshingly open-minded journalism.
Subscribed to The Week? Register your account with the same email as your subscription.
Sign up to our 10 Things You Need to Know Today newsletter
A free daily digest of the biggest news stories of the day - and the best features from our website
Paul Waldman is a senior writer with The American Prospect magazine and a blogger for The Washington Post. His writing has appeared in dozens of newspapers, magazines, and web sites, and he is the author or co-author of four books on media and politics.