The fantasy of a Trump landslide
Trump supporters are crowing about how he'll put all 50 states in play in November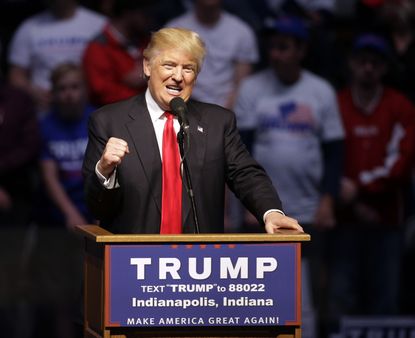 (Image credit: AP Photo/Darron Cummings)
After Donald Trump's thumping of Ted Cruz in Tuesday's Indiana primary — causing Trump's last real challenger to drop out of the race — the billionaire seems on the verge of clinching the Republican presidential nomination. And yet, the available data shows the Republican frontrunner in a particularly difficult position in a general election.
National polling shows Trump trailing the all-but-certain Democratic nominee Hillary Clinton, with an average gap in Clinton's favor of 6.2 points in Real Clear Politics' aggregation. Trump might be the most disfavored of major-party nominees seen in decades, with favorability ratings among general-election voters deeply in the negative. A poll last week from George Washington University that put Trump within three points of Hillary Clinton nonetheless showed him with a disapproval rating of 65 percent, worse than Clinton's dismal 56 percent.
Trump gets a "strongly unfavorable" rating from 52 percent of respondents who have voted Republican since 2000, and 56 percent of those who say their vote has been "competitive." More than six in ten women rate Trump "strongly unfavorable," and a majority in every age group except seniors do likewise. Sixty percent of the unemployed also give Trump the most unfavorable rating. Eighty-two percent of African-Americans and Asians, and 62 percent of Latinos, give Trump the "strongly unfavorable" rating — but so do 46 percent of white voters, more than those who rate him in the two favorable categories combined (38 percent).
Subscribe to The Week
Escape your echo chamber. Get the facts behind the news, plus analysis from multiple perspectives.
SUBSCRIBE & SAVE
Sign up for The Week's Free Newsletters
From our morning news briefing to a weekly Good News Newsletter, get the best of The Week delivered directly to your inbox.
From our morning news briefing to a weekly Good News Newsletter, get the best of The Week delivered directly to your inbox.
Gallup's tracking polls in April show Trump's net favorable rating (subtracting unfavorable percentage from favorable) at -29 points among adults nationally. The most recent Suffolk poll shows Trump's favorability at 28.2/61.4, a net -33.2 rating. Those fall right into the GWU Battleground poll results: a net -33 favorability.
Given all of this, a claim from Newt Gingrich about the ability of Trump to expand the Electoral College map seems particularly curious. In a Facebook Live event on Monday, the former speaker of the House insisted that Trump will make the GOP competitive in every state, confounding conventional wisdom about swing states. "I think if Trump runs as aggressive [of a] campaign in the general election as he has done in the primaries," said Gingrich, "all 50 states could be in play." Gingrich based this in part on the negative perceptions of Clinton and the populist uprising that has characterized the 2016 cycle, citing millennial rejection of Clinton in particular. "Hillary Clinton represents all of the elements of Washington, D.C., that people are in rebellion against," he explained. "A lot of the millennials who were voting for Bernie Sanders are not going to vote for Hillary Clinton."
It's an interesting hypothetical, and Gingrich isn't the only one raising it. Trump himself claimed he'd put the big blue states of New York and California in play, and his supporters insist that dismissing the possibility is a repeat of snooty analysts' scoffing dismissal of Trump's chances in the primary. Certainly, cable news, magazines, newspapers, and websites were full of predictions of Trump's imminent demise all through 2015, assuming that voters were not taking the race seriously. Everyone underestimated Trump then, and his supporters argue that naysayers continue to do so.
But there is no evidence here. All we have is the argument.
Take California and New York as examples. Four recent polls in the Golden State show Clinton with a huge lead over Trump by an average of over 25 points. In a new SurveyUSA poll released on Monday, Trump had a 34-point lead in the GOP primary, but trailed Clinton head-to-head by 22 points, 56/34. (Cruz did even worse at 57/29.) In New York, Clinton's average lead over Trump is 21.2 points, and Trump scores no higher than 37 percent.
Mitt Romney got 36 percent of the New York vote in 2012's general election, and 37 percent in California — about where Trump lands now. And Romney also got 62 percent of the vote in the 2012 primary in New York and thundered to a majority in each of the other four Acela Corridor Tuesday states, just as Trump did last week. All this demonstrates is that primary outcomes do not provide even a correlative relationship to general-election results.
What about other states? Republicans have had a solid lock on Arizona for decades, but neither of the two general-election polls taken in the past show Trump leading. One shows a tie, while another gives Clinton a seven-point edge. Polling in the critical state of Ohio shows Clinton with a narrow lead over Trump. In Florida, where Trump's resort businesses provide him a high level of visibility, he's trailing Clinton in three of four polls since the beginning of March. Far from Trump bagging blue states, he may get put into play swing states and red states that Republicans can ill afford to lose.
This data comes with its own caveats. Normally, head-to-head polling at this stage of a primary is not very predictive, perhaps especially when the nominees have not clinched their position on the ticket. In 2012, though, most head-to-head polling in March and April had Barack Obama in front of Romney. In this cycle, both Clinton and Trump are highly known quantities, both having been in the national spotlight for decades, and voters may not have much of a change of heart about either over the summer and fall.
What about all the other failed predictions? Trump's supporters are correct that pundits too often predicted Trump's political demise — but they did so while ignoring the evidence, specifically the polling. Trump has managed to perform in primaries at or near the level indicated by his polling, with some overperformance in the Acela Tuesday states. Again, so did Romney in 2012. Even if Trump overperformed by a few percentage points in California and New York, he still doesn't come close to putting either state in play in November.
None of this is to say that it's impossible that Trump could flip the map. Outside events could affect the race, or he could change his campaign approach and outflank Clinton and the Democrats. At this point, however, Gingrich is making a speculative argument based on faith rather than evidence, and Republicans had better realize that if they want to compete in the fall with Trump at the top of the ticket.

Continue reading for free
We hope you're enjoying The Week's refreshingly open-minded journalism.
Subscribed to The Week? Register your account with the same email as your subscription.