Trump, Clinton, and the end of the Snowden era
Here's one thing Donald Trump and Hillary Clinton agree on: The NSA should keep spying on Americans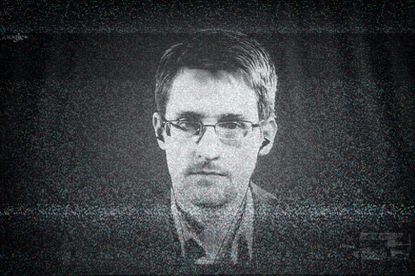 (Image credit: Illustration | Images courtesy of FREDERICK FLORIN/AFP/Getty Images, iStock)
Two years before Donald Trump declared his candidacy for president, he took to Fox & Friends to discuss Edward Snowden's then-recent revelation of the unconstitutional mass surveillance of innocent Americans by the National Security Agency (NSA).
"I think Snowden is a terrible threat; I think he's a terrible traitor and you know what we used to do in the good old days when we were a strong country," Trump said. "You know what we used to do to traitors, right?"
"Well, you killed them, Donald," one of the hosts replied — and Trump agreed.
Subscribe to The Week
Escape your echo chamber. Get the facts behind the news, plus analysis from multiple perspectives.
SUBSCRIBE & SAVE
Sign up for The Week's Free Newsletters
From our morning news briefing to a weekly Good News Newsletter, get the best of The Week delivered directly to your inbox.
From our morning news briefing to a weekly Good News Newsletter, get the best of The Week delivered directly to your inbox.
Since then, Trump has only doubled down on his adamant support for warrantless spying on a grand scale. "I tend to err on the side of security" over privacy, he said in December, supporting in the same breath a full restoration of the Patriot Act and all the civil liberties abuses that entails.
Likely Democratic nominee Hillary Clinton is little better. Though she hasn't outright called for Snowden's execution, Clinton has grievously misrepresented his actions and wants to see him in jail. Her language on privacy issues is notoriously vague, and though she doesn't use Trump's "traitor" terminology, her position is not substantively far off: While Trump only wishes he could bring back the Patriot Act, Clinton actually voted for its reauthorization in 2006. In October, she vehemently defended that vote, calling it "necessary" to American security and refusing to take a stand against bulk metadata collection.
Most Americans disagree. To be fair, polling on this issue is historically mixed, no doubt thanks to confusion over what the NSA actually does (a strong majority believe, for instance, that mass surveillance has been instrumental in preventing terrorism, but there's no evidence that's true). Still, Americans across party lines oppose NSA spying and the sacrifice of civil liberties in the name of security more broadly.
Some 54 percent say they "disapprove of the U.S. government's collection of telephone and internet data as part of anti-terrorism efforts," a Pew Research study found, while three in four rejected trading away liberty for promises of security. Americans also overwhelmingly want to be able to control what information about them is collected and who collects it — but only one in 10 believes the federal government has left them that protection. Even those who favor the security side of the debate still tend to insist that civil liberties must not be unduly abused.
So how do we have a generally pro-privacy public — and a pair of aggressively anti-privacy major party candidates? I'm inclined to lay the blame on two notorious gangs of scoundrels, namely ISIS and the United States Congress.
ISIS's role here is fairly straightforward: It's scary, so people are scared. After a decade and a half of grinding, faceless war in the Middle East, ISIS's graphic videos of beheadings and crucifixions have prompted a new impulse of fear. As my fellow The Week contributor James Poulos argues, "Islamic State panic — as far as panics go, reasonable enough — sucked the wind out" of a more civil libertarian approach to security policy. It's hard to talk about things like freedom, inclusion, and the Fourth Amendment when "public opinion has screwed itself into the dark certainty that a third-generation foe has overwhelmed us all."
Yet Congress is arguably the greater culprit: Neither party is offering a pro-privacy candidate because Congress has convinced the public the problem is already fixed.
That supposed fix came in the form of the bipartisan USA Freedom Act, which passed last summer. Though touted as Snowden's vindication, the law's title was more deceptive than descriptive, as it changed much less than it left alone.
An early version of the bill offered robust reforms, and as such earned the support of the most civil libertarian members of Congress. The final version, however, was a different story. Bulk data collection was simply outsourced to telecommunications companies, available to the NSA en masse via court order. Because the court in question is the FISA court — which rubber-stamps secret government surveillance requests more than 99 percent of time — this in practice means little to nothing has changed.
Meanwhile, the NSA was not required to delete all the data it collected under the original Patriot Act provisions. Given the agency's past behavior, it seems safe to assume they won't volunteer a records purge.
Moreover, the USA Freedom Act's text was so complicated that even tech policy experts couldn't be certain of all its implications. As Snowden himself warned in The New York Times even while celebrating some progress for his cause, "the right to privacy — the foundation of the freedoms enshrined in the United States Bill of Rights — remains under threat."
It will not find any protection in a Clinton vs. Trump race. And if a frightened public remains convinced that last summer's bill "fixed" our privacy problem, this election could well mark the end of the Snowden era altogether.

Continue reading for free
We hope you're enjoying The Week's refreshingly open-minded journalism.
Subscribed to The Week? Register your account with the same email as your subscription.