Obama's VA scandal is much bigger than a callous Disney analogy
It's time to truly reform a broken system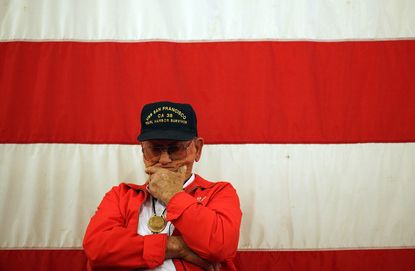 (Image credit: (Justin Sullivan/Getty Images))
For more than two years, the Veterans Affairs department has struggled to deal with a long-buried crisis in its service to veterans, a systemic and widespread fraud that concealed long wait times at its hospitals and clinics.
Now, the length of time that veterans are forced to wait for initial medical care has long been an issue in the single-payer VA system. Both Barack Obama and John McCain made the lack of responsiveness at the VA a campaign issue all the way back in the 2008 presidential election. Obama appointed retired Gen. Eric Shinseki, who had a reputation for bucking bureaucracies and challenging established leadership, specifically to clean up the VA. Among the reforms adopted were incentives for improving wait times, including bonuses for executives who succeeded at making the VA competitive with private-sector providers.
Five years later, however, whistleblowers produced evidence that dozens of veterans had died while being denied access to care at the Phoenix VA. Evidence emerged that the wait-list fraud was not localized to one VA center but was standard operating procedure in much of the country. VA executives earned bonuses while veterans languished in medical limbo — and some of them perished in it, too. Obama sacked Shinseki, the only Cabinet official to resign under pressure from the president, and appointed Robert McDonald to clean up the VA.
Subscribe to The Week
Escape your echo chamber. Get the facts behind the news, plus analysis from multiple perspectives.
SUBSCRIBE & SAVE
Sign up for The Week's Free Newsletters
From our morning news briefing to a weekly Good News Newsletter, get the best of The Week delivered directly to your inbox.
From our morning news briefing to a weekly Good News Newsletter, get the best of The Week delivered directly to your inbox.
The measure of how well that worked out came in McDonald's shocking suggestion this week that wait times don't matter in medical care. While discussing reforms with reporters, McDonald wondered why anyone worries about them at all. "When you got to Disney, do they measure the number of hours you wait in line?" he asked. "What's important is, what's your satisfaction with the experience? And what I would like to move to, eventually, is that kind of measure."
So would many veterans. Unfortunately, they first have to board the actual ride to have that "experience," and unlike at Disney's grand facilities, veterans don't come to the VA for their own amusement. For many, they only come when their health is in serious question, when time is of the essence for both accurate diagnosis and effective treatment.
McDonald's remarks amount to a white flag of surrender on veterans care at the VA. After years of increasing concern and anger at long wait times and unresponsive bureaucracy at the VA, McDonald wants everyone to just shrug it off. Rather than fix the problem, McDonald wants to stop measuring the failures, leaving veterans locked into a system it takes weeks and months to even access.
The inevitable demands for McDonald's resignation mostly focus on his Disney analogy. But this misses the larger point. McDonald shouldn't resign because he made a terrible analogy that trivialized the risks that veterans face in a corrupt and hidebound VA bureaucracy. McDonald should resign because he clearly cares more about protecting the VA bureaucracy than he does about veterans.
However, another resignation and appointment won't solve the problems that ended up co-opting McDonald and his attempts to reform the VA. Those problems exist as part of the single-payer system itself, where most veterans have no real choice of providers and only access care through the whims of bureaucrats. These wait times simply do not exist in the private sector, even at HMOs, where competition and demand creates a more dynamic environment of providers and insurers. The real solution to the long-standing crisis at the VA is not just another figurehead at the top of a closed system, but the elimination of the closed system itself by providing veterans with coverage that allows real choice of providers, with VA facilities being one of several options on the table.
Democrats shriek about the evils of privatization whenever this reform is proposed. And so we have spent the last several years pursuing their preferred path of changing nameplates on the same desks, promising improvement but inevitably delivering nothing but lip service and failure. It's time to address the systemic flaws within the VA system.

Continue reading for free
We hope you're enjoying The Week's refreshingly open-minded journalism.
Subscribed to The Week? Register your account with the same email as your subscription.