Clinton supporters' newest delusion about Bernie Sanders
Liberals who think Sanders supporters don't support his policies are fooling themselves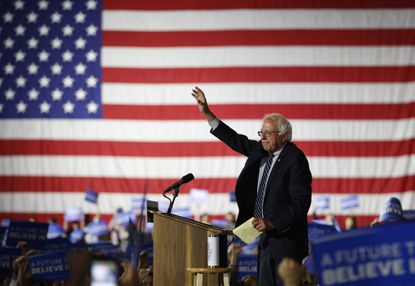 (Image credit: AP Photo/John Locher)
The Democratic primary is over, and Hillary Clinton won by a comfortable margin. Given the overwhelming handicap that Bernie Sanders faced, from big money donors to simple name recognition, it is staggering that the contest was even remotely close. But now that it's finished and the bitter and rather pointless fighting between Clinton and Sanders supporters is finally dying down, it's worth taking a step back to consider what this primary was all about — in particular, what Sanders' candidacy represents.
A number of liberals, perhaps unaccustomed to being on the conservative side of an argument, have been busily convincing themselves that the Sanders insurgency is little more than a coincidence, and does not represent any meaningful advance for the American left. Foremost among them are two political scientists, Christopher Achen and Larry Bartels, who used survey data and their theoretical work to argue that Sanders' ample support resulted from "social identities, symbolic commitments, and partisan loyalties," not actual left-wing ideology.
They particularly emphasized that, according to this database, Sanders did better with men than women, whites than nonwhites, and independents than registered Democrats. The pretty obvious implication is that much of Sanders' support came from racism, sexism, and hatred of the Democratic Party rather than left-wing ideology.
Subscribe to The Week
Escape your echo chamber. Get the facts behind the news, plus analysis from multiple perspectives.
SUBSCRIBE & SAVE
Sign up for The Week's Free Newsletters
From our morning news briefing to a weekly Good News Newsletter, get the best of The Week delivered directly to your inbox.
From our morning news briefing to a weekly Good News Newsletter, get the best of The Week delivered directly to your inbox.
This has been the Clintonite line for months now, and it has that data-driven gloss that technocratic liberals adore. Paul Krugman seized on the Achens/Bartels piece to construct a frankly bizarre taxonomy of Sanders supporters, from the naive young idiots to the outsider experts, all driven by their fervent resentment of the influence and esteem that people like Paul Krugman enjoy. Jonathan Chait, who had previously argued that Sanders was merely the candidate of good government, suggested that the way Clinton could win over Sanders supporters was to actually move right.
There were some problems with the Achens/Bartels analysis, as Shawn Gude and Matt Karp pointed out. Most glaringly, the survey they used includes a lot of Republicans — about a quarter of the sample. If you restrict the sample to Democrats and Democrat-leaners only, the picture is quite a bit different, and shows Sanders generally to Clinton's left, on average. Sanders Democrats rate income inequality as hugely more important than Clinton Democrats, but they are also to the left on issues of race and gender, ironically.
But on a more fundamental level, it's important to recognize how profoundly elitist the Achens/Bartels theoretical framework is. In their book, they argue that ordinary voters have basically zero control over government policy, because they have no idea what's going on, politically speaking. They don't understand government, they don't understand policy, and they don't have a good grasp on what politicians believe. They vote based on identity and partisanship, and, when given the chance in plebiscites, regularly make ignorant and self-damaging choices.
It should be noted that this bleak picture blows apart just about all traditional political arguments. If all voters are clueless partisan chowderheads then that must include Clinton supporters, whose votes cannot then be invoked as support for fiddly tax credits or anything else, aside from the dumbest herd model of identity politics.
But this theory goes way too far. Political ignorance is indeed very common, and a chowderhead model might make useful predictions at times. But as a comprehensive picture of how democratic societies and citizens actually function, it's too clever by half. Gude and Karp's analysis aside, it would necessitate whole shelves of American history books be thrown in the trash. If they really believe it, one wonders why they bothered writing the piece in the first place.
What is needed, I think, is a retreat from endless parsing of The Data and a little common sense. Bernie Sanders has been for years the most left-wing member of the Senate, from the second-smallest state in the nation. He ran on extremely aggressive and easy-to-understand left-wing policy. In contrast to the other white man in the race, the young, handsome, and (before the primary started) much more famous Martin O'Malley, Sanders stubbornly embraces one of the most toxic labels in American politics. But he completely blew O'Malley out of the water, and gave Clinton a serious run for her money, on the strength of colossal margins among young people — most of whom have come of political age in the worst economic environment in 80 years.
Surely some of that support is due to raw anti-Clinton animus or other distasteful characteristics, just as some of Clinton's support can be chalked up to a selfish refusal to pay the higher taxes that Sanders' program would require. But anyone who can talk themselves into thinking that his candidacy does not represent a resurgent American left has another thing coming.

Continue reading for free
We hope you're enjoying The Week's refreshingly open-minded journalism.
Subscribed to The Week? Register your account with the same email as your subscription.