Kiyoshi Kurosawa's frighteningly obsolete return to horror
Japan's master of disquiet has finally made another movie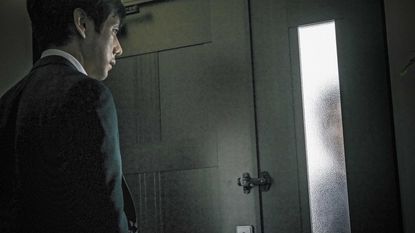 (Image credit: 2016 Creepy Film Partners/Film Society Lincoln Center)
The internet has always been terrifying, but the reasons for its terror have changed pretty drastically in the last 15 years. In 2016 the internet engenders severe anxiety because everyone knows everything about everyone, all the time. You can run, you can delete, but you can't hide. In Pulse, Kiyoshi's Kurosawa's 2001 techno-horror masterpiece, the internet induced similar horror, but for a very different reason: Many people knew almost nothing about it. They run, they get deleted. We've gone from fear of the unknown to fear of the ubiquitously known.
The apprehension that consumes the characters in Pulse proves not entirely unfounded, since ghosts are using the then-nascent technology to reenter the corporeal world (they're sad ghosts, not malevolent ghosts). The movie is profoundly melancholic — Kurosawa tapped into the anxiety of the permanent spectral imprint you leave on the internet a decade before Twitter took off. The grating sound of a dial-up tone that once coursed through landlines, cackling like something conjured up by a tech-savvy witch, is now a relic of a bygone era, akin to the Betamax cassettes of David Cronenberg's Videodrome and VHS of Hideo Nakata's Ringu (remade ineptly for Americans as The Ring, with more horse deaths and CGI). Like Cronenberg and Nakata's films, Pulse only feels more surreal, more frighteningly fantastical, now that its technology has lapsed into archaism.
The past pervades Kurosawa's oeuvre. It's at odds with the present, trying to reclaim relevance, trying to revive halcyon days. Most of his movies concern the anxieties of technology and modernity, ghosts stranded like obsolete machinery. He uses stasis and static and pummeling quietude to create dread and feelings of sinister stagnation. Think of his brilliant Bright Future (2002), shot in grainy, ugly digital: Kurosawa uses precise, neat shots to depict the precise, neat world of factories and factory workers stuck in a Sisyphean rut. Throw in enough ennui and a poisonous jellyfish and everything falls apart.
Subscribe to The Week
Escape your echo chamber. Get the facts behind the news, plus analysis from multiple perspectives.
SUBSCRIBE & SAVE
Sign up for The Week's Free Newsletters
From our morning news briefing to a weekly Good News Newsletter, get the best of The Week delivered directly to your inbox.
From our morning news briefing to a weekly Good News Newsletter, get the best of The Week delivered directly to your inbox.
Kurosawa's newest, Creepy, screening as part of the fabulous New York Asian Film Festival, is being marketed as Kurosawa's first horror film in a decade, though, like Pulse, it's more of a psychological thriller with horror hues. In keeping with the prevailing theme of Kurosawa's career, Creepy is tethered to a bygone era, an attempt to make relevant an out-of-fashion style of filmmaking. It harkens back to Cure and his early J-horror efforts in its depiction of desiccated marriages and cramped, claustrophobic suburban homes, but it's somehow lighter in tone, brighter in its palette. Technology isn't really as prominent here as his previous films, but the past still skulks, sticking like a splinter in the mind.
The film opens with elegiac strings and a sun-drenched white room. A man in a shirt the color of sherbet steps in front of a window and the camera pulls back — it's an interrogation room, the man in the orange shirt a serial killer.
Hidetoshi Nishijima plays Koichi, the detective brought in to interview the killer. He's brooding and collected and excited to talk to "the perfect psychopath," but the psychopath, being perfect, escapes his confines, stabs the detective, and kills a woman with a fork before being shot down by cops. Koichi consequently retires to become a teacher, and, with his wife, Yasuko (Yuko Takeuchi, who played one of the young victims in Ringu), moves to the suburbs, where he becomes obsessed with a missing person's case. Also his neighbors might be evil.
For most of his career, Kurosawa has approached morbid material with clinical precision and detachment, letting the camera linger, letting us watch the lives of compromised characters unfurl and fall apart. Wide-open spaces, hallways, alleys, doorways, horizontal blinds, antiseptic offices — he depicts a world of straight lines and nebulous rules. In a scene that brings to mind an early fright in Pulse, the camera dawdles behind a plastic curtain as Koichi investigates a creepy old house. Sallow light leaks in like an infection through a bandage, and Kurosawa's root-to-stem style of composition leads your eyes and misleads your imagination.
Like archaic technology rendered surreal and discomforting after years of disconnect, Kurosawa's approach to horror — quiet, calm, collected scenes of quotidian normality laced by that lingering feeling of something wicked this way coming — feels refreshingly out of touch. Horror movie aesthetics eddy, the favored fear of the day waxing and waning (Devils and demons, slashers, meta-horror, Japanese ghosts, torture porn, vampires, zombies, James Wan, rinse and repeat). American remakes of Asian horror movies saturated the aughts. It seemed like every other movie featured a pallid little girl with tar-black tendrils for hair. Then James Wan's Saw ushered in a series that redefined diminishing returns, and Eli Roth's inane fetish for torture inspired a generation of hack indie filmmakers to hew their way into the Netflix Violent Movies section.
For many fans of Kurosawa's work, Cure and Pulse remains his crowning achievement. With every new film he releases, fans clamor for a return to his horror roots, which is apt, given how the past perpetually haunts his characters. Creepy gives fans what they want, but perhaps not how they want it. It might feel too stagnant, too content to ponder instead of perturb, but it's hard not to appreciate the director's persistence. Less lethargic than Journey to the Shore, less melancholic than Bright Future, and less anxiety-inducing than Cure, Creepy is lesser Kurosawa, but offers insights that elude horror's lesser lights.

Continue reading for free
We hope you're enjoying The Week's refreshingly open-minded journalism.
Subscribed to The Week? Register your account with the same email as your subscription.