The undeniable sadness of Zac Efron
It almost makes you feel bad for a guy who could crush you like a beer can in the crevice between his pecs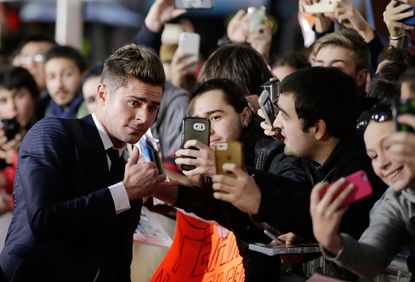 (Image credit: Mark Metcalfe/Getty Images)
Sign up to our 10 Things You Need to Know Today newsletter
A free daily digest of the biggest news stories of the day - and the best features from our website
Thank you for signing up to TheWeek. You will receive a verification email shortly.
There was a problem. Please refresh the page and try again.
What would Plato think of Zac Efron?
Well, Plato, by way of Donna Tartt, once quipped, "χαλεπὰ τὰ καλά," which translates to "beauty is harsh." Few modern actors embody this existential idea as deeply as Efron. Yes, he's rich and famous and hyperbolically sexy, a guy whose muscles test the pliability of human skin and who surely visits many thirsty millennials in their nocturnal fantasies. But under that swath of tan, veiny flesh and behind that piercing glare, there's an undeniable sadness.
Efron ascended to stardom as a gaunt, gawkish boy with bad bangs in the Disney Channel movie High School Musical. (My high school girlfriend had a really creepy, life-size cardboard cutout of Efron that skulked sinisterly in her room and made me feel deeply insecure about my own lesser mop top. He's been haunting me for a decade.) Several years and several thousand push-ups later, Efron has re-branded himself. After all the requisite rom-coms and Nicholas Sparks adaptations and an earnest attempt at "serious acting" with Richard Linklater's Me and Orson Welles (also, Nicole Kidman pees on his face in The Paperboy), Efron reemerged, with moxie and muscles, in Neighbors, playing the antagonistic frat boy opposite Seth Rogen's squishy dad. Rose Byrne often steals the movie from her manly co-stars, but Efron has an indelible presence you can't teach in acting school.
Subscribe to The Week
Escape your echo chamber. Get the facts behind the news, plus analysis from multiple perspectives.
SUBSCRIBE & SAVE
Sign up for The Week's Free Newsletters
From our morning news briefing to a weekly Good News Newsletter, get the best of The Week delivered directly to your inbox.
From our morning news briefing to a weekly Good News Newsletter, get the best of The Week delivered directly to your inbox.
We now know that Efron was overcoming substance abuse during production, and it's impossible to not think about that indescribable struggle when watching the mania swell in his eyes — when he lifts his arched arms above his head and flexes, when he dons a mohawk and emulates Travis Bickle, when he attacks Rogen with a fat dildo. He's a physical performer, and his body, while putting to shame that of most mere morals, is part of his presence. How an actor looks will always affect how moviegoers react to their performances. No one who looks like him should elicit such feelings of ennui.
Neighbors 2, heralded for being progressive (it gives women speaking roles), earned him more praise. Efron, even beefier, reprises his frat bro role, but now acts as an agent of chaos working as an ally to Rogen and Byrne. There's a meta-textual malaise to the performance: He's a beautiful manchild who can't grow up because being a beautiful manchild is all he has.
Being an object of intense objectification is a paradoxical honor. Empowering yet enslaving, it allows someone with an enviable physique to nab roles in Baywatch reboots, because no one wants to pay to see ugly people run on the beach, but also tethers them to those sexy roles. When your abs are sharp enough to chip a tooth, no one wants to see you swaddle your body in schlubby everyday Joe clothes and play a loser; they want you to aggregate pictures of you into a listicle.
Efron is drawn to roles about people trying to escape the banality of their lives, or who are unable to escape, especially artists harboring ambitions they can't seem to reach. In We Are Your Friends, which sunk like a bass drop at the domestic box office, Efron plays an aspiring DJ trying to escape the crushing disappointment of his early 20s. In Dirty Grandpa, he's a stiff corporate lawyer stewing in a stagnant relationship, and his perverted, chronic masturbator grandpa (Robert De Niro) teaches him how to live, man. Talking to Ellen — while wearing tight leather pants — Efron mentioned how De Niro had no idea who he was. "What could [he] have possibly even seen that I've been a part of? High School Musical?" Sad.
In his newest movie, Mike & Dave Need Wedding Dates, which is easily his most unabashed, unironic bro comedy yet, Efron plays Dave. Dave sells alcohol with his brother, Mike (Workaholics' Adam DeVine), who is an idiot. Dave is the hot one, the movie incessantly reminds us; even their father tells him that he's the less inept of the two. The brothers need to find "nice girls" to bring to their sister's wedding, because going stag riles them up, and causes them to hit on girls and burn down buildings and stuff. They get grifted by con-gals Aubrey Plaza and Anna Kendrick, who are not nice girls (but actually they kind of are).
The movie doesn't pretend to peddle in profundities, but Efron still delivers some minute moments of earnestness. Dave wants to draw his own graphic novel, and while that particular subplot is never fleshed out (though Efron does bare some flesh, briefly), it feels like an unintentional extrapolation of how Efron manipulates his on-screen and public persona, exhuming demons through slapstick comedy. As good at yelling as Efron is, he's better at brooding. It feels natural. He doesn't get mad when he learns of the girls' deception, like Mike does. He gets sad. Maybe it's his eyelashes, which could be the subject of the best song Morrissey never wrote, but you almost feel bad for a guy who could crush you like a beer can in the crevice between his pecs.
Compared to DeVine's desperate hotdogging and howling, Efron exudes inexplicable loneliness. Though at the movie's beginning Dave is a rowdy, riled-up hunk with an affinity for fireworks and booze, he quickly dismantles that veneer — jarringly quickly, actually, as if Efron just wants to get it over with — and reveals himself to be a lonely loser who's afraid he'll amount to nothing.
Dave gets the girl at the end, because of course he does — people paid good money to see sexy stars straddle sexy stars on picnic tables — but it feels like less of a natural budding romance than just a manufactured product of this genre of movie. Audiences don't want to see Zac Efron get rejected, because if he can get rejected, what chance do the rest of us have? That would be too sad — almost as sad as Efron himself.
Continue reading for free
We hope you're enjoying The Week's refreshingly open-minded journalism.
Subscribed to The Week? Register your account with the same email as your subscription.
Sign up to our 10 Things You Need to Know Today newsletter
A free daily digest of the biggest news stories of the day - and the best features from our website
Greg Cwik is a writer and editor. His work appears at Vulture, Playboy, Entertainment Weekly, The Believer, The AV Club, and other good places.