Ruth Bader Ginsburg shouldn't have criticized Donald Trump. But his response was far more disturbing.
This is how anaesthetized we've become to Trump's profound threat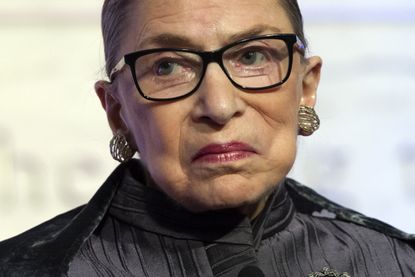 (Image credit: AP Photo/Cliff Owen)
Sign up to our 10 Things You Need to Know Today newsletter
A free daily digest of the biggest news stories of the day - and the best features from our website
Thank you for signing up to TheWeek. You will receive a verification email shortly.
There was a problem. Please refresh the page and try again.
No one has any illusions that the members of the Supreme Court are apolitical. While many of the cases they decide have no partisan answers and most of the justices occasionally depart from the wishes of their preferred party, we all know that the Court is divided between four liberals, three serious conservatives, and one conservative-more-often-than-not. In any presidential election, the justices would rather that their party wins, since it means they'll not only see policies they agree with, but that it's more likely that the next appointee to the Court will be someone they agree with, which might help them enter or stay in the majority.
We all understand that. But we also have a norm which says that Supreme Court justices don't comment on partisan politics. Even if everybody knows what their preferences are, it's valuable to at least pay lip service to the idea that the Court is a non-partisan institution. So when Ruth Bader Ginsburg said in an interview, "I can't imagine what this place would be — I can't imagine what the country would be — with Donald Trump as our president," it was surprising. When she followed that up with another interview calling Trump "a faker" and wondering how he has gotten away with not releasing his tax returns, it was shocking.
As you might expect, critics on the left, right, and center have condemned Ginsburg for this breach of decorum. But I want to argue that the bigger problem is how Trump responded.
Subscribe to The Week
Escape your echo chamber. Get the facts behind the news, plus analysis from multiple perspectives.
SUBSCRIBE & SAVE
Sign up for The Week's Free Newsletters
From our morning news briefing to a weekly Good News Newsletter, get the best of The Week delivered directly to your inbox.
From our morning news briefing to a weekly Good News Newsletter, get the best of The Week delivered directly to your inbox.
Before we get to that, though: This was indeed a mistake on Ginsburg's part. The best argument in her favor is that Trump is so far outside the ordinary range of politics and such a profound threat that it becomes necessary to set aside some of the norms of civil behavior in order to stop him from becoming president. The problem in that argument is the second part: If you're going to discard a valuable norm, it can't just be because you're exceedingly mad. It has to be because doing so has some meaningful impact on an important goal. And there's no reason to think that there are significant numbers of voters — or any at all — who were undecided about Trump before, but will be persuaded to change their votes by Ginsburg's assessment of him.
Having said that, I want to focus on Trump's response, particularly this:
I suspect that most people who saw that didn't bat an eye. It's easy to say, well, Trump attacks everybody, so what's the difference? One of the problems Trump presents is that his appalling statements and actions zoom by at such a furious clip that we become desensitized to them. So it's always good to pause and take a close look at what's going on here.
In that spirit, try to imagine what the reaction would be if Hillary Clinton heard about some critical comments Clarence Thomas or Samuel Alito made about her, and said in response, "His mind is shot. He ought to resign." Not only would conservatives yell about how appallingly inappropriate it is for a potential president to be hurling crude personal insults at a Supreme Court justice, and how pressuring a justice to resign ought to be grounds for impeachment were she actually the president, every editorial page and every centrist pundit (and most of the liberal ones, too) would emphatically agree with them.
But that's not how Hillary Clinton would have reacted to a barb from a Supreme Court justice. She would have said, "Justice so-and-so is entitled to his opinion, but I'm focused on what I want to do for America," or something equally banal. That wouldn't have made for an exciting headline, but it also wouldn't have raised the possibility of a president mounting a public campaign to discredit and pressure a sitting justice.
That's also how any nominee of either party would have reacted. Can you imagine Mitt Romney or John McCain or George Bush or John Kerry saying what Trump did? Of course not.
Remember how appalled everyone was when Barack Obama criticized the Supreme Court's Citizens United decision during the 2010 State of the Union? Obama didn't hurl a personal insult at any of the justices, or say they ought to resign; he voiced a substantive disagreement over a matter of constitutional law.
"With all due deference to separation of powers, last week the Supreme Court reversed a century of law that, I believe, will open the floodgates for special interests, including foreign corporations, to spend without limit in our elections," Obama said.
CNN called what ensued a "political furor," with Republicans condemning the president for being so inappropriate and Democrats defending him. More than a few pundits were outraged at the president's temerity in taking issue with a ruling while the justices were in the room. "My mouth dropped open when the president looked the justices of the Supreme Court in the eye and criticized their recent decision on campaign finance law," wrote a contributing editor at U.S. News and World Report.
Donald Trump, on the other hand, tells a justice that she's losing her mind and ought to quit. This is a lot more important than whether he sent out an anti-Semitic tweet. Trump's outright contempt for the institutions and norms that govern our politics is so all-encompassing that we barely bother to note it as something worrying anymore. We're vigilant about the possibilities for his statements to rouse controversy, but to be honest, I'm not worried about whether Trump will blithely toss around white supremacist photo collages when he's president. I'm a lot more worried about how he'll treat issues like the separation of powers and the scope of presidential authority.
As Trump wrote in one of his books, "When someone crosses you, my advice is 'Get Even!' That is not typical advice, but it is real life advice. If you do not get even, you are just a schmuck! When people wrong you, go after those people because it is a good feeling and because other people will see you doing it. I love getting even." This campaign has proven that he meant every word. So what does it mean when we take a man who believes that — and has time and again expressed his admiration for dictators and the use of brutality, even gross human rights violations and war crimes — and make him the most powerful person on Earth? If he abuses that power, will we say that we're surprised, that we thought the norms of behavior we've lived by and the institutions that sustain our democracy would restrain him?
So yes, Ruth Bader Ginsburg should have declined to say in public what she thinks about Trump, even if we already knew. But hers is far from the most shocking and disturbing thing we've heard in this campaign, or even in the last week.
Continue reading for free
We hope you're enjoying The Week's refreshingly open-minded journalism.
Subscribed to The Week? Register your account with the same email as your subscription.
Sign up to our 10 Things You Need to Know Today newsletter
A free daily digest of the biggest news stories of the day - and the best features from our website
Paul Waldman is a senior writer with The American Prospect magazine and a blogger for The Washington Post. His writing has appeared in dozens of newspapers, magazines, and web sites, and he is the author or co-author of four books on media and politics.