Why Ted Cruz torched the GOP's quest for unity
The night was supposed to highlight Republican Party unity. Then along came Ted Cruz.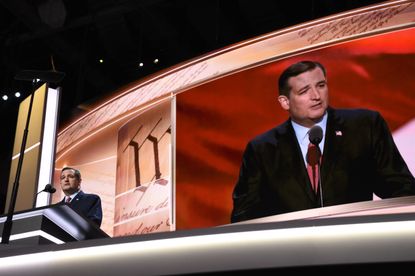 (Image credit: Dominick Reuter/AFP)
Sign up to our 10 Things You Need to Know Today newsletter
A free daily digest of the biggest news stories of the day - and the best features from our website
Thank you for signing up to TheWeek. You will receive a verification email shortly.
There was a problem. Please refresh the page and try again.
It was only fitting that on a night meant to highlight Republican Party unity, what actually occurred Wednesday night was a festival of division, resentment, and intra-party anger.
The night was scheduled to feature a trio of vanquished rivals whose very presence even more than their words would highlight the importance of uniting behind Republican presidential nominee Donald Trump — no matter how he had belittled them, mocked them, and humiliated them during the primaries, they would come when called and testify to his greatness. Lest anyone get any ideas, the evening's first featured speaker, radio host Laura Ingraham, told them to know their place: "We should all, even all you boys with wounded feelings and bruised egos, and we love you, we love you, but you must honor your pledge to support Donald Trump now."
It worked for Scott Walker, whose address was about as enthralling as his candidacy this year. Then appeared Marco Rubio — whom Trump had so relentlessly bullied during the primaries — not on the stage in Cleveland, but rather in a pre-recorded video that made it seem like he was being held hostage somewhere, forced to say positive things about Trump before he and his family would be released.
Subscribe to The Week
Escape your echo chamber. Get the facts behind the news, plus analysis from multiple perspectives.
SUBSCRIBE & SAVE
Sign up for The Week's Free Newsletters
From our morning news briefing to a weekly Good News Newsletter, get the best of The Week delivered directly to your inbox.
From our morning news briefing to a weekly Good News Newsletter, get the best of The Week delivered directly to your inbox.
And then came the most exciting speech of the night, from Ted Cruz. Some had been wondering whether Cruz would endorse Trump, but that was plainly not in the cards. Cruz's speech was typical of any he's given over the last couple of years — painstakingly rehearsed, delivered nearly impeccably, full of pregnant pauses, practiced gestures, and that extraordinary smarminess that gives Cruz his unique charm. But not only did it contain no endorsement, it had a not-too-subtle plea for Republicans to vote against Trump, or at least not vote in the presidential race.
"Please, don't stay home in November," he said, as the pro-Trump crowd began applauding in anticipation of what would surely come next. "If you love our country and love your country as much as I know that you do, stand and speak and vote your conscience. Vote for candidates up and down the ticket who you trust to defend our freedom and to be faithful to the Constitution." At the words "vote your conscience," the boos began, the crowd realizing that Cruz was there for himself and not for Trump.
As for those boos, journalists reported that the Trump campaign, knowing what was coming, made sure to encourage them. And once Cruz finished, the jeering rose in a crescendo of anger; Cruz's wife Heidi had to be escorted out by security while delegates shouted insults at her. "On the donor suite level, people approached Cruz and insulted him," CNN's Dana Bash reported. "One state party chairman reacted so angrily that he had to be restrained."
There are many ways to look at Cruz's choice. On one hand, maybe it was just personal. The primary campaign between Cruz and Trump was not merely "hard-fought," as the cliche has it. Trump ridiculed Cruz as "Lyin' Ted," insulted his wife, and suggested that his father was involved in the Kennedy assassination. In response, Cruz called Trump a "a snivelling coward," "a pathological liar," "a narcissist," "a bully," and "utterly immoral." Maybe Cruz believed those things when he said them and believes them still, so he took the opportunity to give a speech about Republican ideals (one of the few speakers at the convention so far who has actually done that, by the way), and had too much integrity to endorse someone he knows would be a disastrous president.
Or maybe Cruz is looking ahead to his nearly-inevitable 2020 presidential campaign, and he assumes that Trump will lose badly in November. At that point, he can say that unlike Rubio, Walker, and others who swallowed both pride and principle to genuflect at the feet of the party's vulgarian nominee, he stood strong for what he believed.
Or perhaps it's both, sincere sentiment and careful calculation pointing him toward the same decision. We can't know yet how it will all turn out; a year or two from now Cruz may be reviled by Republicans as a traitor to the cause or hailed as a hero of principled conservatism, the boos of the delegates only offering proof of his courage in the face of the angry crowd. Either way, it's an interesting turn of events that while Trump was supposed to be the ultimate anti-establishment candidate, it's now the party insiders who are most displeased with Cruz for not getting behind him.
But even if the effort to make a show of party unity failed in Cleveland, amongst the voters it's actually coming along quite well. Polls have shown Republican voters getting behind Trump in pretty much the same numbers you'd expect they would for any GOP nominee, all that talk of #NeverTrump notwithstanding. The party's problem, though, isn't that they can't secure their own voters, it's that securing their own voters isn't nearly enough. Mitt Romney got 93 percent of Republicans to vote for him four years ago, and lost pretty easily to Barack Obama; this year's electorate will be even more skewed toward the demographic groups that favor Democrats. If they're to win, Republicans need to reach out to the people who don't already support them, winning over independents and even some Democrats.
That is something they seem utterly incapable of doing, and this convention is showing why. The party's most charismatic politicians are staying away, the Trump campaign seems to explore new frontiers of incompetence with each passing day, and the convention is likely to be remembered primarily for its rancid spirit of hatred directed at Hillary Clinton; "Lock her up!" is practically the new GOP slogan, chanted with glee again and again and again.
And on Thursday, Donald Trump, the most reviled politician in America, will take the stage and try to turn all that around, to show America that he's wise and steady and trustworthy, that he cares about everyone and is capable of handling the presidency.
How likely do you think that is?
Continue reading for free
We hope you're enjoying The Week's refreshingly open-minded journalism.
Subscribed to The Week? Register your account with the same email as your subscription.