The political genius of Donald Trump's big speech
Donald Trump's big speech wasn't meant for most of America. It was meant for 5 states.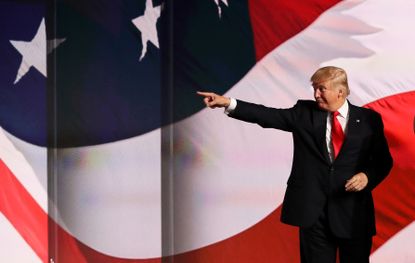 (Image credit: Joe Raedle/Getty Images)
Sign up to our 10 Things You Need to Know Today newsletter
A free daily digest of the biggest news stories of the day - and the best features from our website
Thank you for signing up to TheWeek. You will receive a verification email shortly.
There was a problem. Please refresh the page and try again.
Donald Trump's unstinting focus on law and order, his repeated flouting of liberal social pieties, and his promise to restore luster and a pulse to America's economy, landed on many deaf ears Thursday night. Of that I have no doubt.
But given the realities of his personality and his appeal, both the electoral real estate as yet unclaimed by him or Hillary Clinton and the very significant and indelible limits his own rhetoric has placed upon him, it was probably the best speech he could have given.
"Together, we will lead our country back to safety, prosperity, and peace," he said at the outset. "We will be a country of generosity and warmth. But we will also be a country of law and order."
Subscribe to The Week
Escape your echo chamber. Get the facts behind the news, plus analysis from multiple perspectives.
SUBSCRIBE & SAVE
Sign up for The Week's Free Newsletters
From our morning news briefing to a weekly Good News Newsletter, get the best of The Week delivered directly to your inbox.
From our morning news briefing to a weekly Good News Newsletter, get the best of The Week delivered directly to your inbox.
"My message is that things have to change — and they have to change right now. Every day I wake up determined to deliver for the people I have met all across this nation that have been neglected, ignored, and abandoned."
"I have visited the laid-off factory workers, and the communities crushed by our horrible and unfair trade deals. These are the forgotten men and women of our country. People who work hard but no longer have a voice."
Let's distill the political goals of his convention to their essence: Blow apart the Obama coalition by dividing its idealists from its mainstays, and motivate, through an admixture of fear and aspiration, white voters who believe they are "forgotten" to turn out in record numbers.
"Beginning on January 20, 2017, safety will be restored," he said. "The most basic duty of any government is to defend its citizens. Any government that fails to do so is unfit to lead."
The last Republican presidential nominee, Mitt Romney, fell 64 electoral votes short of 270, which, had the election been thrown in the tie to the House of Representatives, would have probably given him the presidency. It is not a coincidence that the four states Donald Trump is targeting most heavily — Pennsylvania, Wisconsin, Michigan, and Ohio — collectively make up 64 electoral votes.
Although the nation's demographic diversity is driving Democrats to an eventual majority, this coalition is not growing quickly enough in the Rustbelt for a Democratic candidate to win a general election without higher-than-normal turnout among well-educated white voters and among minorities, particularly blacks.
"In some ways, Democrats have been living on borrowed time in the Rustbelt," wrote Ron Brownstein, one of the nation's most accurate political demographers. He means that a majority of voters in those states (and one more, Iowa), are working class and white. They are a minority, or a large plurality, in the states where Hillary Clinton holds significant leads right now — a cluster of seven battleground states in the nation's sunbelt. Clinton leads in North Carolina, which went Republican in 2012, which means that Trump still has to flip Iowa and one other state if he wants to win the election, but the election, as you know, is many, many moments away.
Can Trump do well enough — significantly better, actually — than Republicans have done in the past five elections in the Rustbelt among white, working-class-identified voters? If he can't, he will lose in a landslide.
Everything Trump said Thursday night was tuned to these voters, those who identify as being part of the working class, those who are pessimistic about the direction of the economy and the country, those who feel left behind and marginalized by the great demographic inversion that is turning America into a majority-minority nation.
There are discontinuities; you can't call these voters "non-college whites," because white voters with college degrees voted in 2012 more for the Republican than they did for the Democrat in three of these states. The term conflates those who don't have a degree with those who are working towards their degree. In Wisconsin, Barack Obama won both groups in 2012 by an average of 4.5 percentage points; collectively, they made up 58 percentage of the electorate. Trump would need to offset Clinton's margins among college students by either dampening turnout or by triggering a landslide that rolls up 60,000 new voters into his total.
In Michigan, Mitt Romney beat Obama by 11 points among whites, who made up 77 percent of the electorate. Obama beat Romney by 90 points among black voters, and that, plus his margins among the sprinkling of Hispanic voters in Michigan, gave him an edge of more than 400,000 votes. In Pennsylvania, Mitt Romney won among voters with just a college degree. He won among voters making more than $50,000 a year. He won among voters who wanted a strong leader and who shared his values. He still lost the state by 300,000 votes. Obama's turnout among minorities, young voters, suburbanites, and whites with post-graduate degrees was just too high.
Throwing political reality aside, it is not normal to pretend that the argument Trump is making comports with the facts. When Trump promised to "honor the American people with the truth and nothing else," he let loose a stream of statistics that had little to do with the observable universe. Crime rates are up, but they're down among illegal immigrants, who are being deported in higher numbers (and at higher rates) than ever before. The chance that a white person in America will be the victim of a crime committed by someone who is not a family member is tiny. Those are facts.
But his speech comported with real fears. And if fears matter more — and can motivate a million more people across five states to vote and a million fewer people in another five states to stay home — Donald Trump can win.
Continue reading for free
We hope you're enjoying The Week's refreshingly open-minded journalism.
Subscribed to The Week? Register your account with the same email as your subscription.
Sign up to our 10 Things You Need to Know Today newsletter
A free daily digest of the biggest news stories of the day - and the best features from our website
Marc Ambinder is TheWeek.com's editor-at-large. He is the author, with D.B. Grady, of The Command and Deep State: Inside the Government Secrecy Industry. Marc is also a contributing editor for The Atlantic and GQ. Formerly, he served as White House correspondent for National Journal, chief political consultant for CBS News, and politics editor at The Atlantic. Marc is a 2001 graduate of Harvard. He is married to Michael Park, a corporate strategy consultant, and lives in Los Angeles.